Chicken Wrap
A Chicken Wrap to Ensure You Get Plucky, Tonight
Feel like chicken tonight? This wrap from Roti Rollers is seasoned with Indian-inspired flavors for a sandwich that's not bland and cold.
"We found that there is a misconception that Indian food is cheap, low quality, and unhealthy," owner Ahsan Kahlon said. "There was no focus on branding and marketing by these establishments to change the perception, so we decided to seize the opportunity of this untapped market and create rolls that would challenge the conventional way people think about sandwiches and Indian food."
Under the direction of Master Chef, Samer, they've got a menu of fun-filled names including this Up All Night to Get Plucky. With two branches in Dubai, it's also available on Talabat, Deliveroo and Zomato.
"Up All Night to Get Plucky" Chicken Wrap
Roti Rollers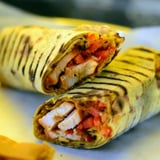 Ingredients
300g Tomato, chopped
1,000g Chicken tikka, chopped
300g Red onion, julienne
20g Red chili julienne
50g Lime (for juice)
100g Red bell pepper
400g Avocado, ripe
15g Cumin seed
100g Green coriander leaves
50g Parsley, curly leaves
20g Ginger, peeled
15g Garlic, peeled
15g Salt, cooking
5g Red Chilly powder
10g Coriander powder
5g Green chilly
30ml Oil, cooking refined
Directions
FOR THE AVOCADO ROTI
Add little salt and flour, mix well, mix with Avocado flesh and mix well, make a soft dough using just enough water, cover and allow it to rest for 20 minutes, knead again using oily hands and divide into 5 equal portions.

Roll out dough into thin roti, cook quickly on hot griddle without any fat, till its cooked without any brown spots appearing. Keep aside covered with a dry cloth until use.

Blend together parsley, ginger, garlic with sale and green chilly till smooth chutney is achieved, keep in refrigerator.

Cut bell pepper into julienne, 50g onion in to julienne and keep in refrigerator.

Grind ginger and garlic to make paste.

Chop tomato, coriander leaves, and 250g onion.

Heat oil in a pan, saute chopped onion until brown, add ginger-garlic paste and cook till moisture evaporates, add chopped tomato, red chilly powder, coriander powder and cumin powder. continue cooking on slow heat till raw flavor is cooked out. Remove from heat, add salt to taste and allow to cool, blend till smooth sauce consistency is achieved, keep aside.

Skewer and cook chicken tikka in oven/Tandoor for 15-20 minutes or till done, check by cutting with knife, it should ooze our clear juice and no raw texture of chicken should be visible.
FOR ARRANGING ROLL
Spread Avocado Roti on a plate, spread onion-tomato sauce all over it. Spread chicken tikka in a row, on the Roti, sprinkle parsley chutney on it, top it with red bell pepper julienne and red onion julienne.

Close roll, arranging ingredients as tightly as possible.

Finish on hot panini grill or flat griddle till it has crisp sides with deep golden marks (25-30 seconds).
Information
Category

Sandwiches

Cuisine

Indian

Yield

8