Roe Deer Tartare
Feeling Fancy? Try Tartare Like You've Never Had It Before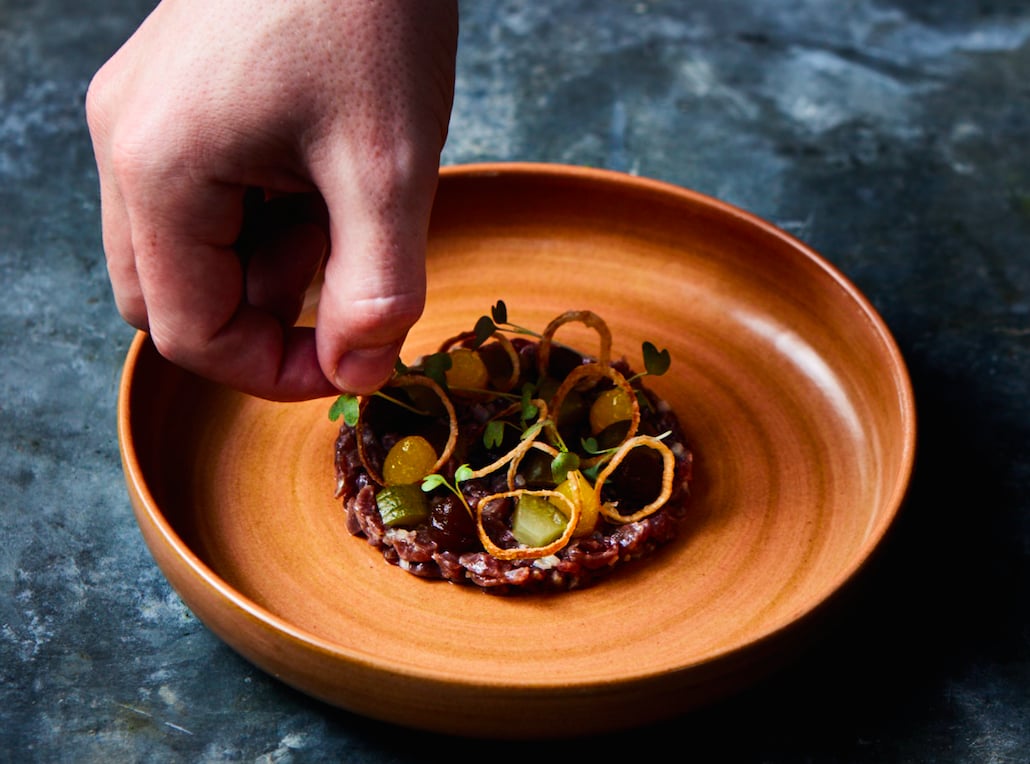 Culinary innovation is at its peak thanks to dishes like this deer tartare, an appetizer sure to leave your jaw dropped. Trained by Gordon Ramsay, Chefs Nick Alvis and Scott Price, owners of Folly Restaurant in Madiant Jumeirah, are turning up the volume with their eccentric approaches to classic dishes. Keep reading to find out how you can master your own work of art at home!
Roe Deer Tartare with Charcoal and Worcestershire Sauce
Folly Restaurant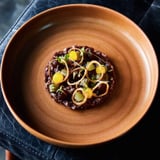 Ingredients
200g diced Venison shoulder
30g chopped shallots (rinsed in cold water)
Curing Salt:
500g Salt
500g Sugar
70g 5 Spice
Worcestershire Sauce Gel:
650g Worcestershire Sauce
350g Mineral Water
15g Agar Agar
Egg Yolk Confit:
15x Egg Yolks
2g Salt
Cornichons:
500g Cucumber
130g Salt
450g Water
3x Cloves
2x Bay Leaves
1x Garlic Clove
20x Black Peppercorns
Shallot Rings:
2x Medium banana shallots
Plain flour
Table Salt
Charcoal vinaigrette:
250g Pomace charcoal oil (pomace olive oil infused with hot charcoal)
50g White Vinegar
Directions
Curing Salt:
Combine salt, sugar, and spice together in a bowl, set aside.
Remove all sinew from the shoulders of the meat
Cover completely with cure mixture and leave in the fridge for 4 hours.
Remove salt and rinse in cold water. Leave on drying rack for another 4 hours.
Dice the meat into 1/2 cm sized cubes, allowing 50g for each serving. Keep in a bowl in the fridge.
Worcestershire Sauce gel
Whisk all ingredients together and bring to a boil.
Blend in a bar blender then pour into a tray to set.
Once firm, break into pieces and blend again until a smooth gel being careful not to over blend and make

warm as, this will ruin the end result.

Pass through a fine sieve and keep in a squeezy bottle until needed.
Egg Yolk Confit:

Place whole eggs in the water bath for 17 minutes at 75 degrees Celsius, then remove the yolks add salt.
Pass through a fine sieve to give you a gel like appearance.
Chill and keep in a piping bag.
Cornichons:
Place cucumbers in a bowl, bring all other ingredients to the boil.
Pour over cucumbers and

marinate for 4 weeks.

To serve dice into 1 cm cubes and serve 5/7 per person.
Charcoal Vinaigrette:
Blend the oil and vinegar together to emulsify, keep in a squeezy bottle leaving 3cm gap at the top as you need to shake to emulsify again just before using.
To assemble the tartare:
In a small mixing bowl add the shoulder, shallots and a good dressingof the vinaigrette.
Taste the seasoning and adjust if needed (but due to curing all should be perfect).
Using a stainless steel ring or cutter, place equal amounts of the mix in and push flat to make a nice shape without squashing too hard.
Remove the rings and squeeze 5 evenly spaced dots of Worcestershire gel on the surface.
Do the same with the egg yolk, wherever there is space then place the cornichon dice, garnish with baby rocket cress and crispy shallot rings.
Information
Category

Appetizers

Cuisine

Other

Yield

4