Beauty Works X Jen Atkins Hair Extensions
Why Beauty Works X Jen Atkin Are The Only Hair Extensions You Need to Try
If you have had short hair for a while and want to rock longer locks without damaging your locks, then these are the hair extensions for you. Without the stress of clip ins, and with no sign of them being extensions, Beauty Works X Jen Atkin is the best way I've found to add length to your look. Beauty Works online collaborated with Kardashian hair stylist Jen Atkin to create this amazing quality hair that lasts you up to 6 weeks.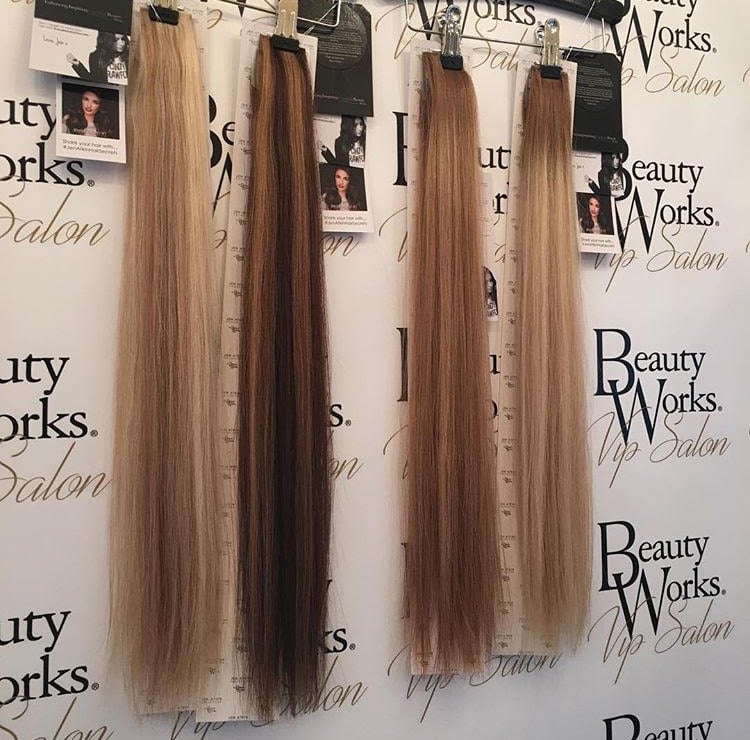 If you are a beginner and want a temporary yet natural transformation these are great. Made from Mongolian hair and available in 20 colors, these tape-ins, which are hand-made, are designed to mimic the roots of hair. There are 4 pieces per pack (8 "sandwiches") 6 packs were used on my short hair to create thick luscious hair that falls to 8 inches.
Being a hair extension virgin, you would think there would be discomfort, but these extensions are very light weight and the reason I picked these over clip-ins was because I wanted long hair for a while. The styling along with the fitting was a great experience.
One strand of hair is a sandwich that sticks together with a small section of your hair in between, the band of the hair extension is matched to your hair so there is no visible hair track. The width per strand is an inch and it's flexible. The adhesive on the tape-ins is invisible, and not damaging to the hair.
With some extensions, removal can be messy, but these were pretty easy. Once there is some root growth, it is time to take the extensions out. The process is easy, and you just use a removing oil that gently pulls each strand out individually without damaging hair.
The best part of these extensions is that they're great for short-term change.
Insider tip: At Belle Femme salon in Dubai, you can book to have a consultation where your hair is matched, along with advice on how long you should go.