Celebrating all things punk rock, the 2013 Met Gala, hosted by Beyoncé Knowles [1], is poised to be a memorable one. But fashion's most anticipated night out has always been a feast for the eyes, especially in terms of beauty. We've rounded up 10 of the most iconic looks from Met Galas past. Click through to take a walk down memory lane . . . or should we say the red carpet?
Rosie Huntington-Whiteley
Rosie's vintage red lip looked dramatic and chic at the 2015 Met Gala.
Alicia Keys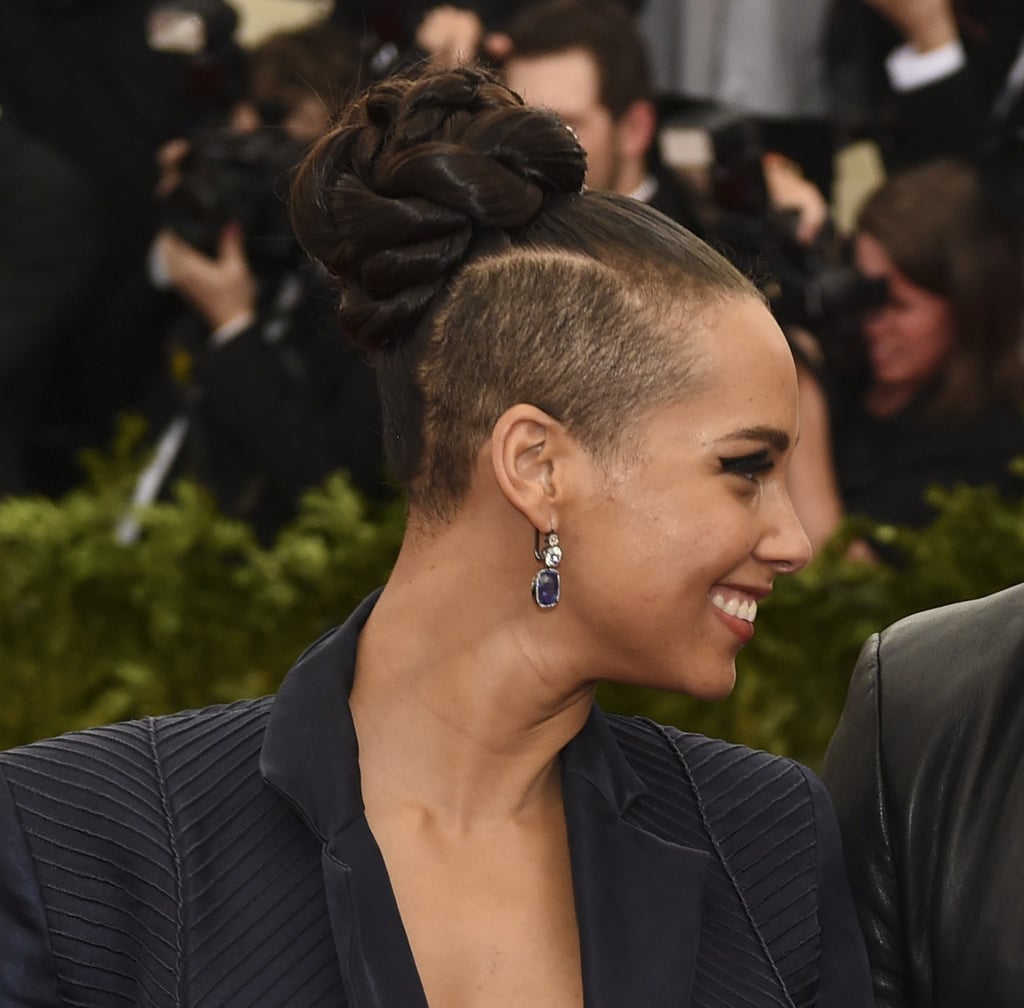 Alicia Keys [2]'s dramatic undercut at the 2015 Met Gala looked especially bold thanks to her voluminous updo.
Kate Beckinsale
Kate showed off "babylights" and a demure rose pout as she looked back at the cameras at the 2015 Met Gala.
Rihanna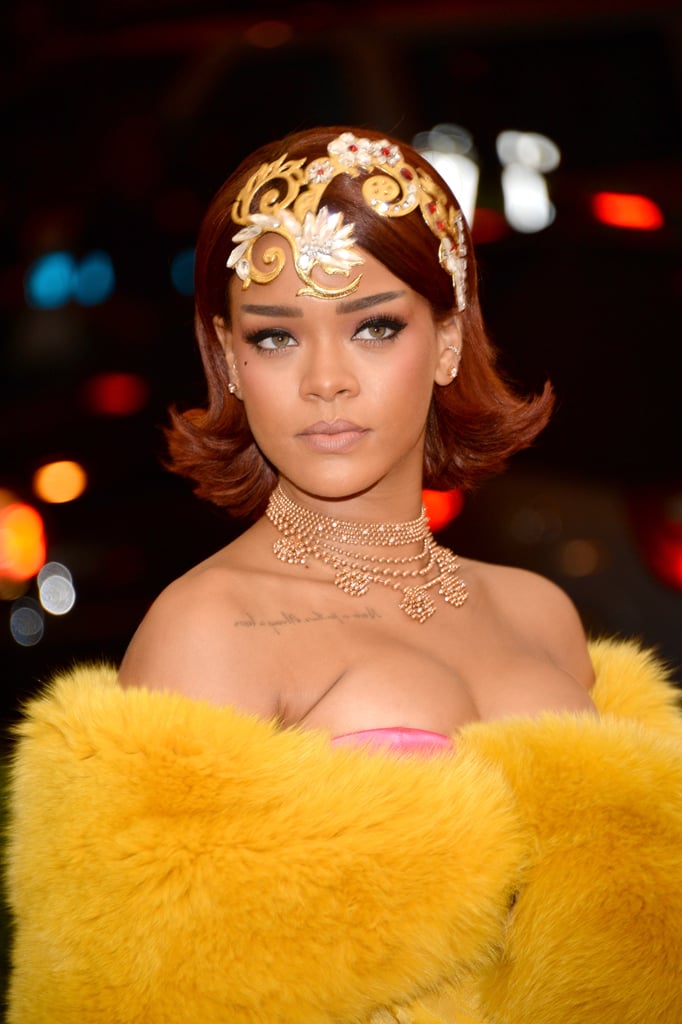 At the 2015 Met Gala, Rihanna [3]'s blunt eyebrows and auburn hair [4] added extra edge to her vibrant look.
Lupita Nyong'o
Lupita stretched her cropped Afro to the max for this one-sided pompadour look at the 2014 Met Gala, which she paired with a green headband and purple eyeliner.
Kim Kardashian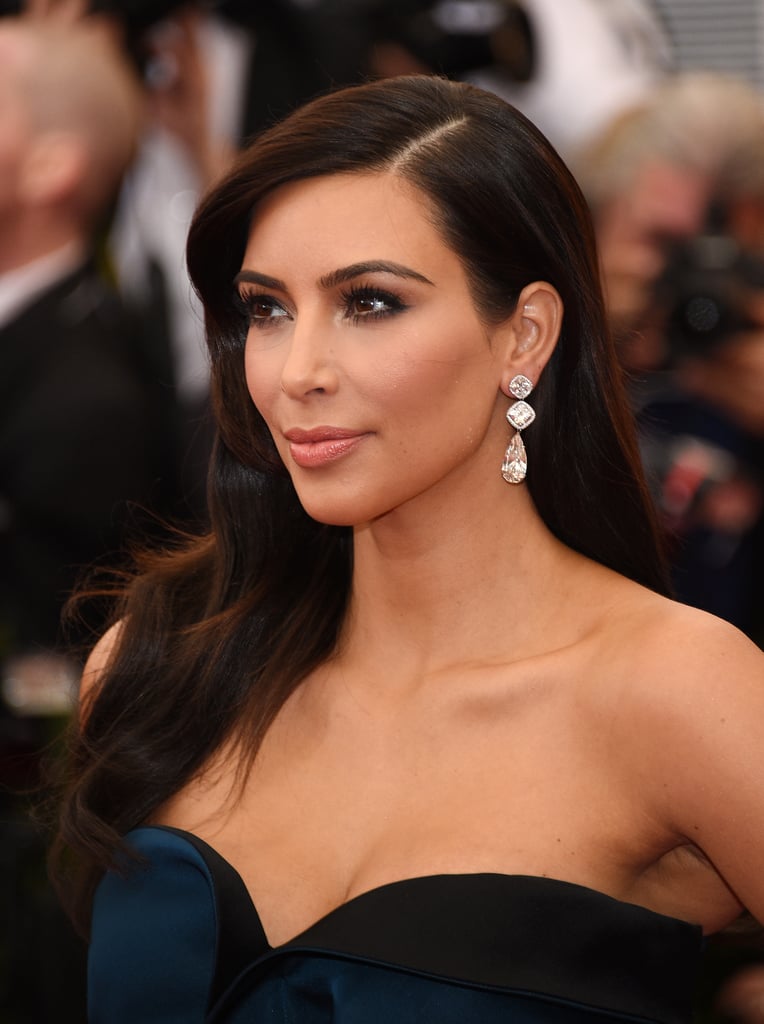 Of all the looks on the 2014 Met Gala red carpet, Kim fell on the tamer side of the spectrum with sideswept waves and glossy lips.
Beyoncé Knowles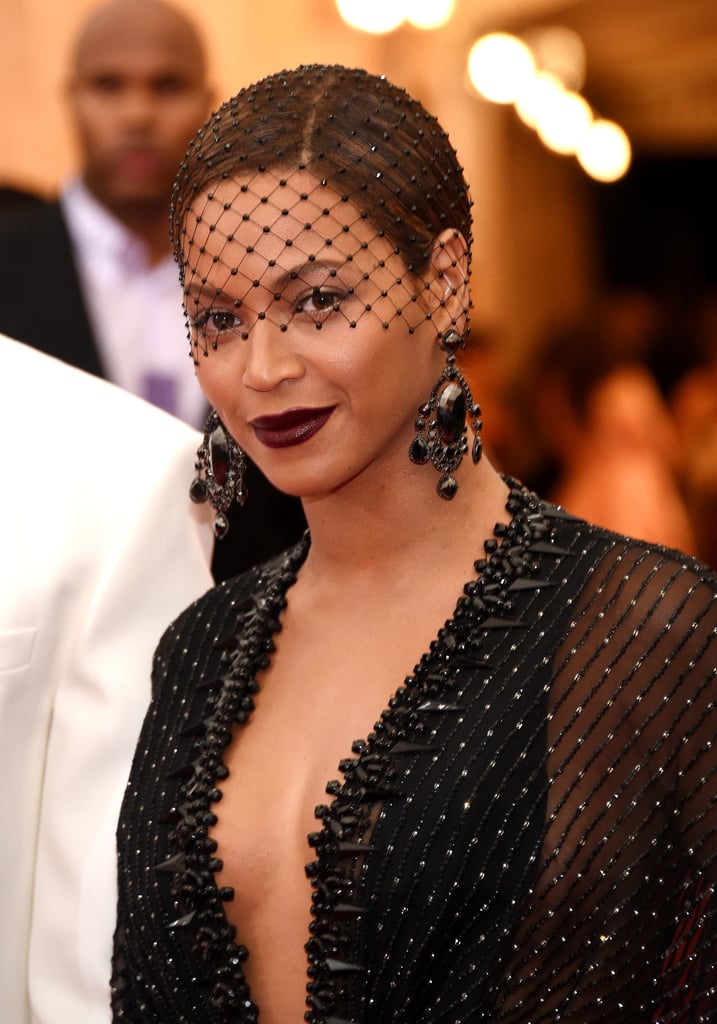 This beaded veil and aubergine lip on Beyoncé at the 2014 Met Gala was more goth than glamorous, but couture all the same.
Blake Lively
With Blake's golden locks, there is really no wrong hair move on the red carpet. She wore this vintage-inspired look to the 2014 Met Gala.
Joan Smalls
An extralong side braid and an electric bluish-purple lipstick set Joan apart from all the other minimal makeup looks at the 2014 Met Gala.
Jessica Alba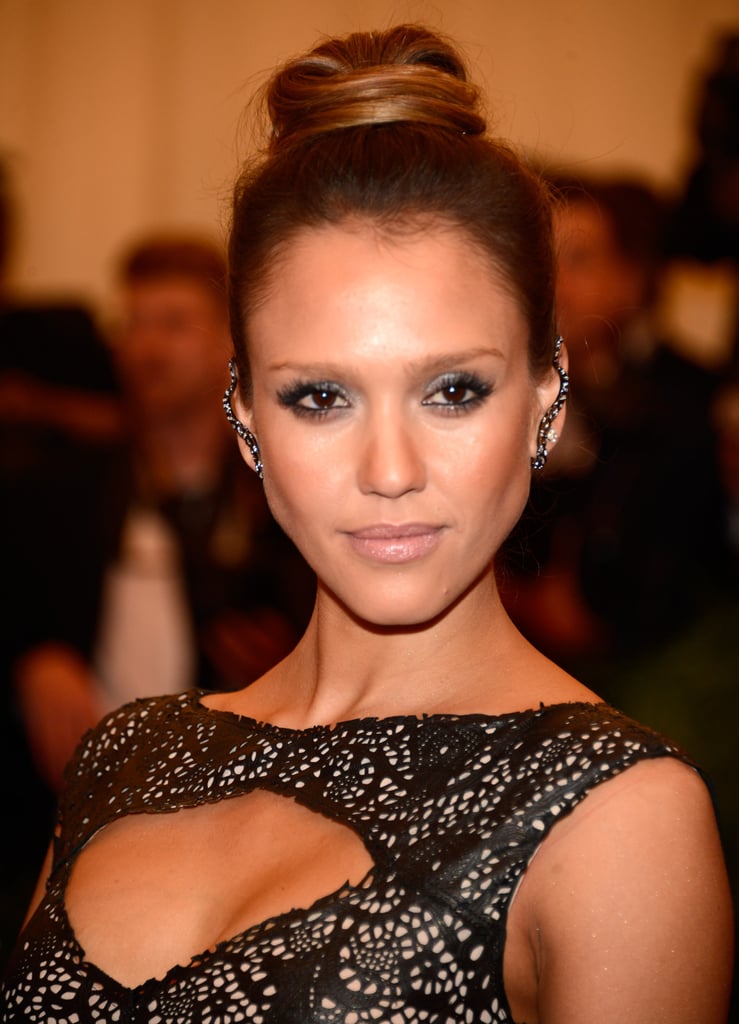 At the 2013 Met Gala, Jessica Alba [5] wore a mix of gunmetal eye shadows and a sleek topknot.
Emmy Rossum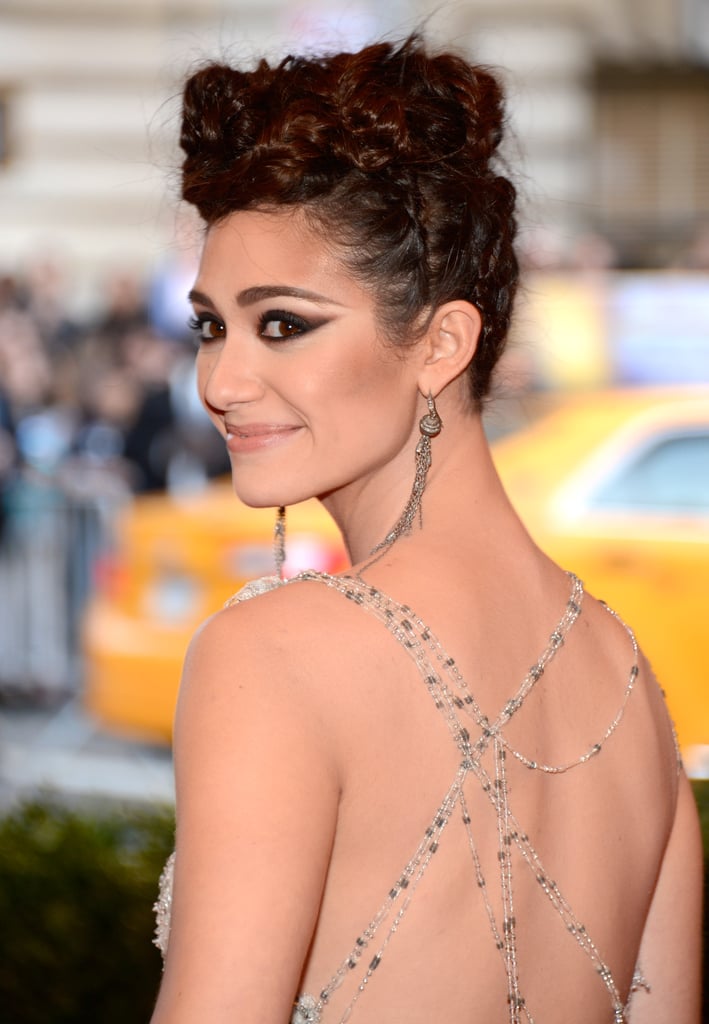 Emmy Rossum's look was a topic of conversation long after the 2013 red carpet was over, but what did love more: her angular eye makeup or twisted updo?
Nicole Richie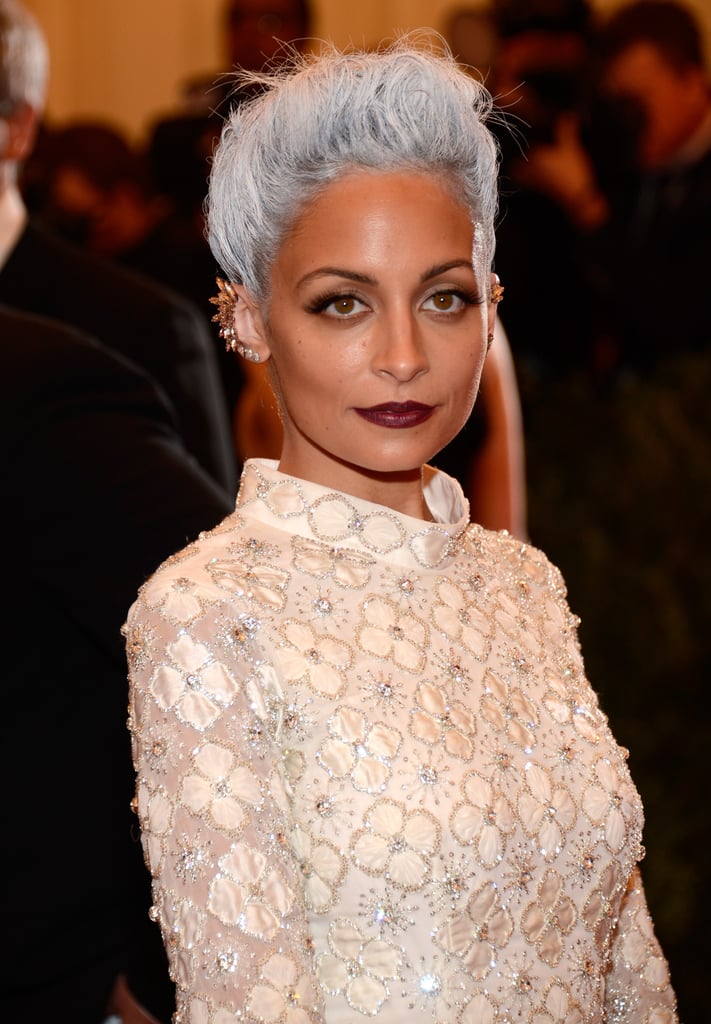 Nicole Richie [6] wowed us all with a white-hot hair makeover and vampy red lips for the 2013 Met Gala.
Coco Rocha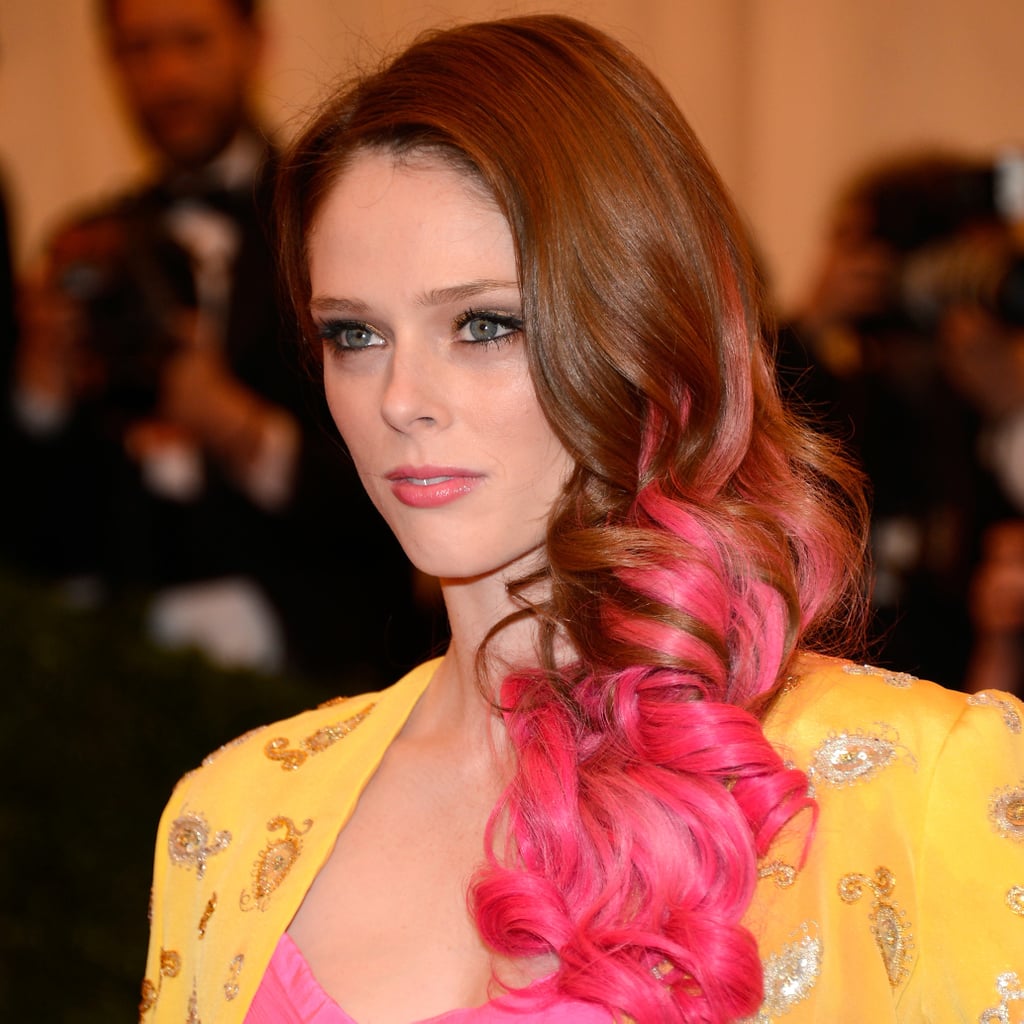 Coco Rocha dip-dyed her red hair with a Schiaparelli pink hue (in line with the night's designer honoree) for the 2012 Met Gala.
Beyoncé Knowles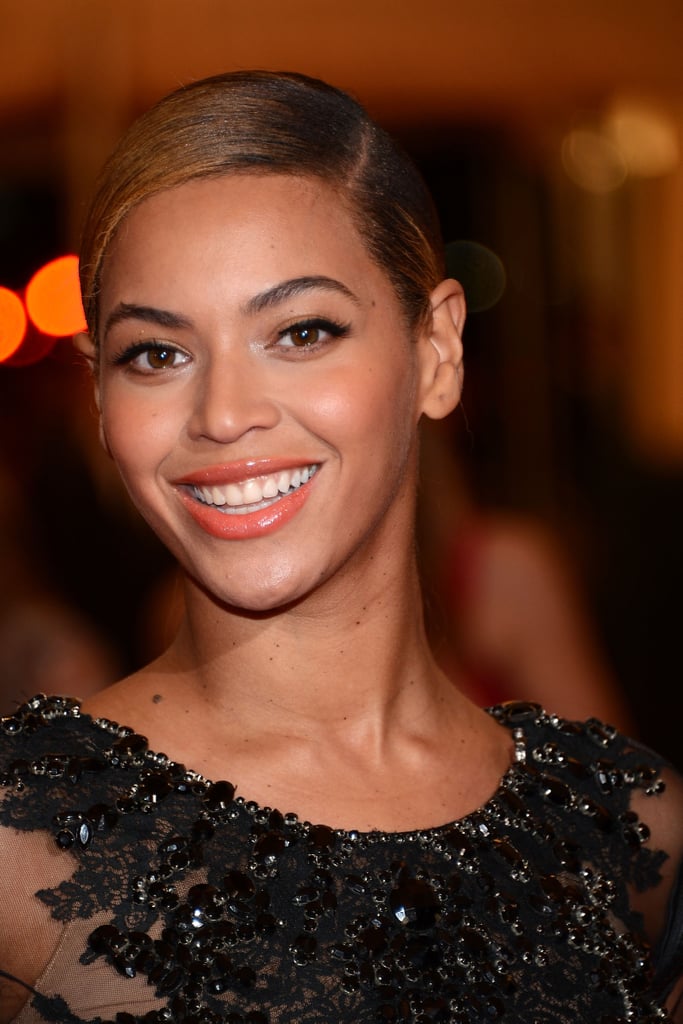 Looking simple yet sophisticated at the 2012 Met Gala, Beyoncé parted her hair to the extreme side and fastened her hair in a slick low ponytail.
Demi Moore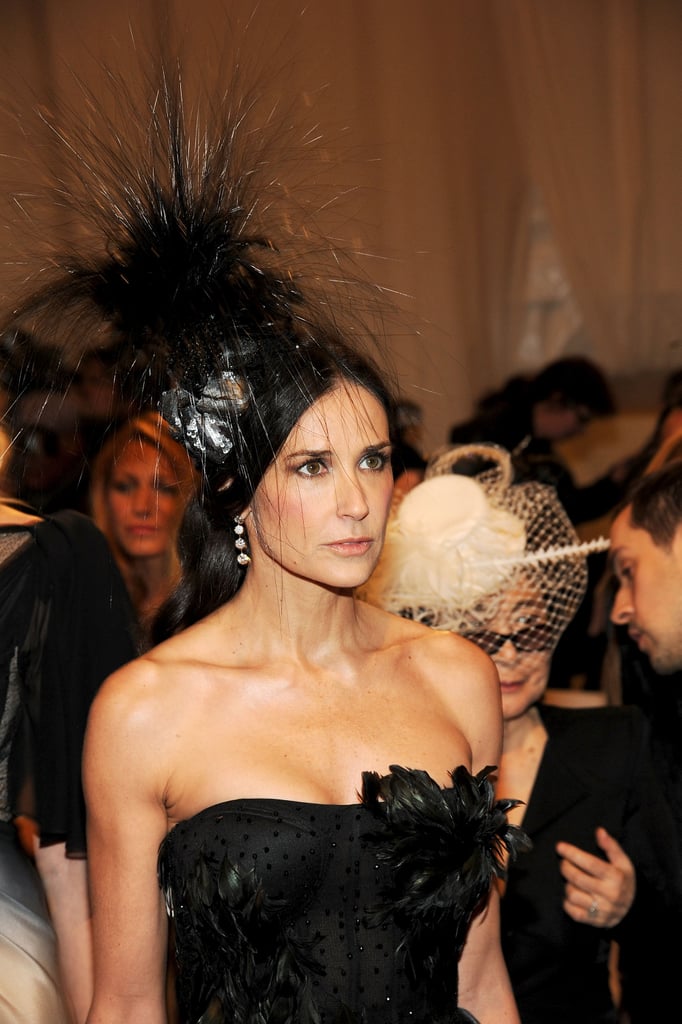 For the 2011 Met Gala, Demi Moore [7] opted for an oversize fascinator to pull together her sophisticated hair and makeup look.
Rihanna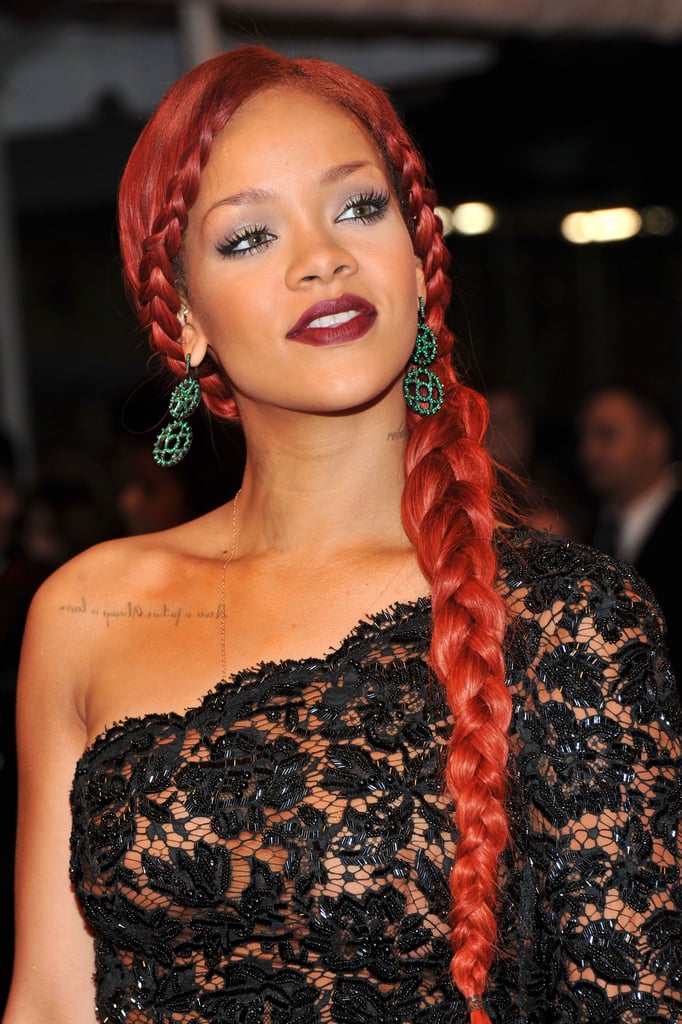 At the 2011 Met Gala, Rihanna [8] winded her long, red hair into an envy-inducing, Rapunzel-like braid.
January Jones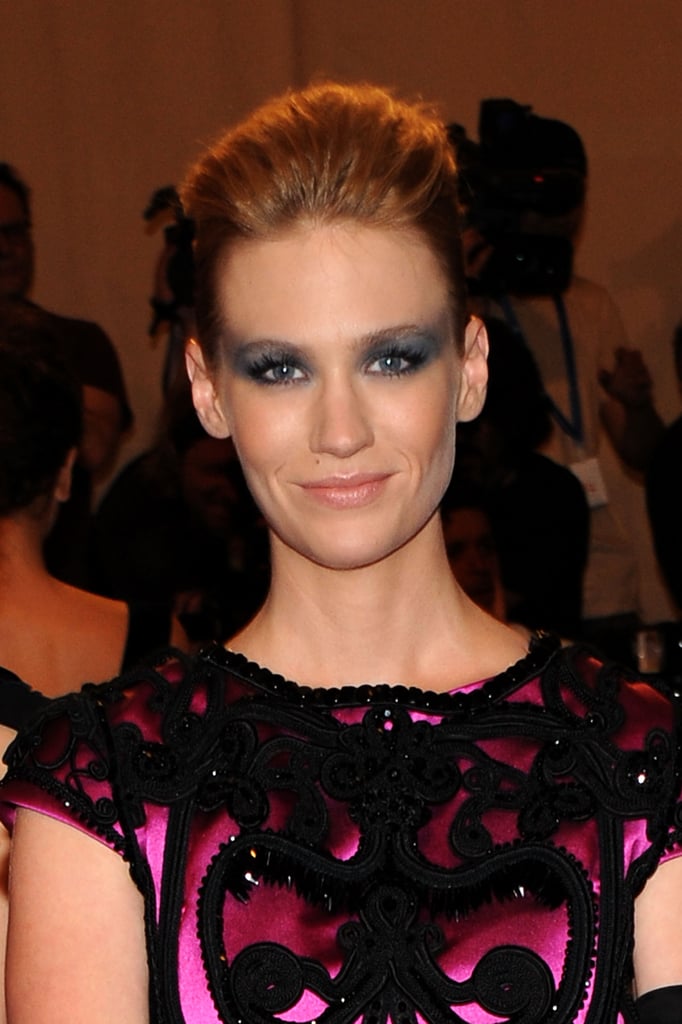 A futuristic blue smoky eye and slicked-back hairstyle made for a memorable look for January Jones [9] at the 2010 Met Gala.
Jessica Simpson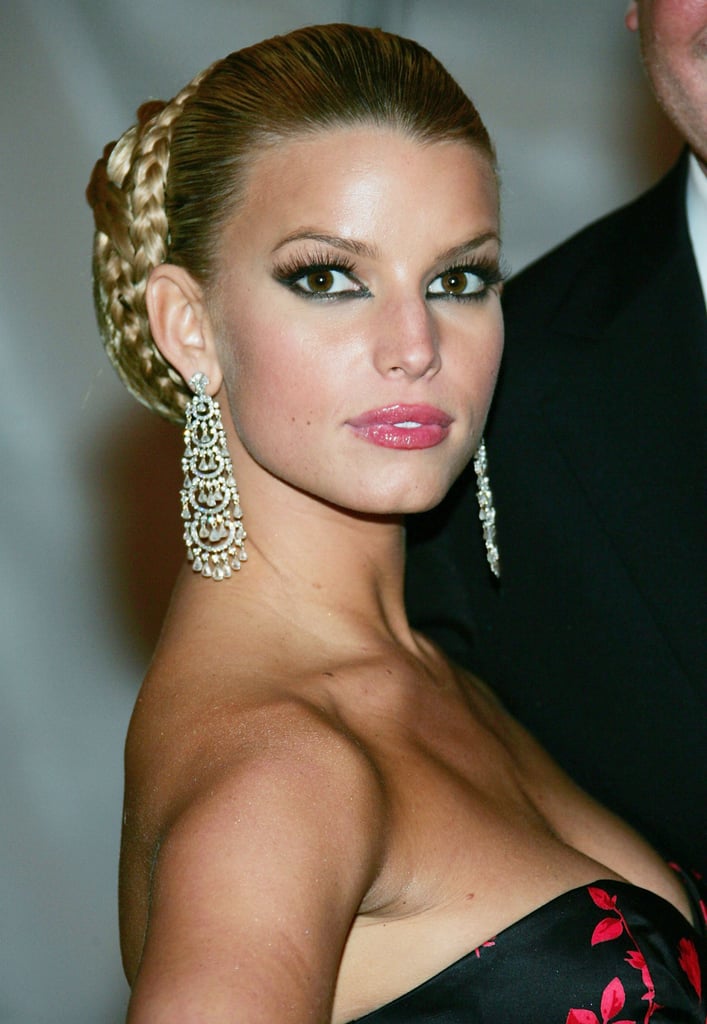 At the 2005 Met Gala, Jessica Simpson [10] paired a seriously braided bun with thick, emerald eyeliner.
Iman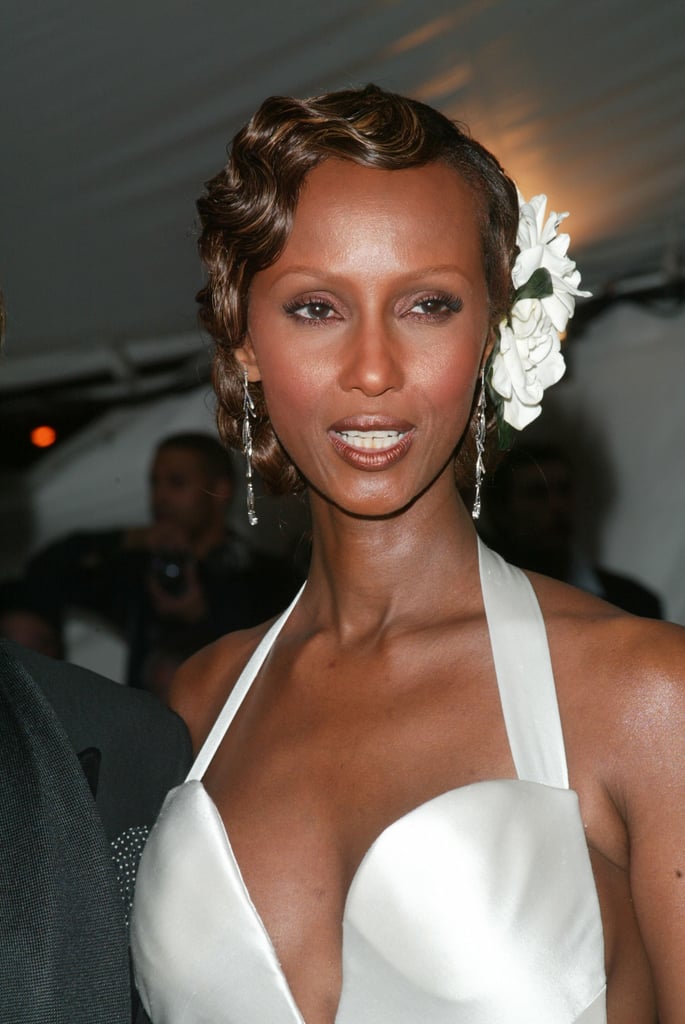 Iman channeled Billie Holiday at the 2003 Met Gala with finger waves and an oversize flower in her hair.
Jennifer Lopez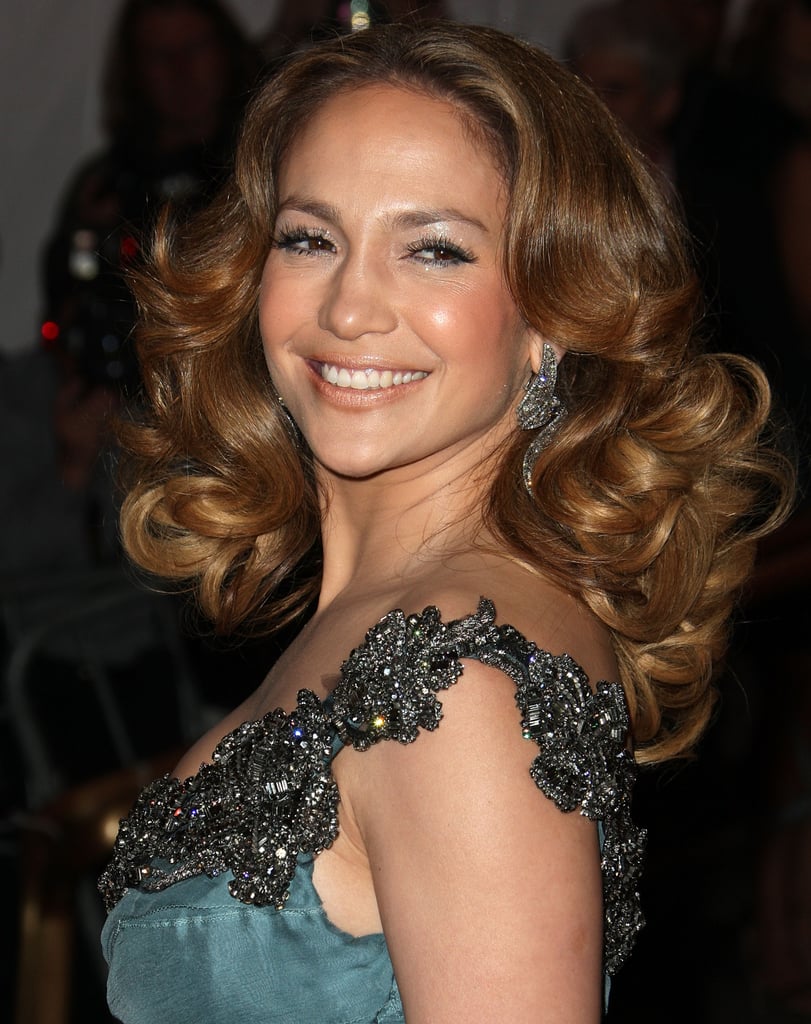 Big, voluminous curls and loads of eyeliner were Jennifer Lopez [11]'s look at the 2008 Met Gala.
Katie Holmes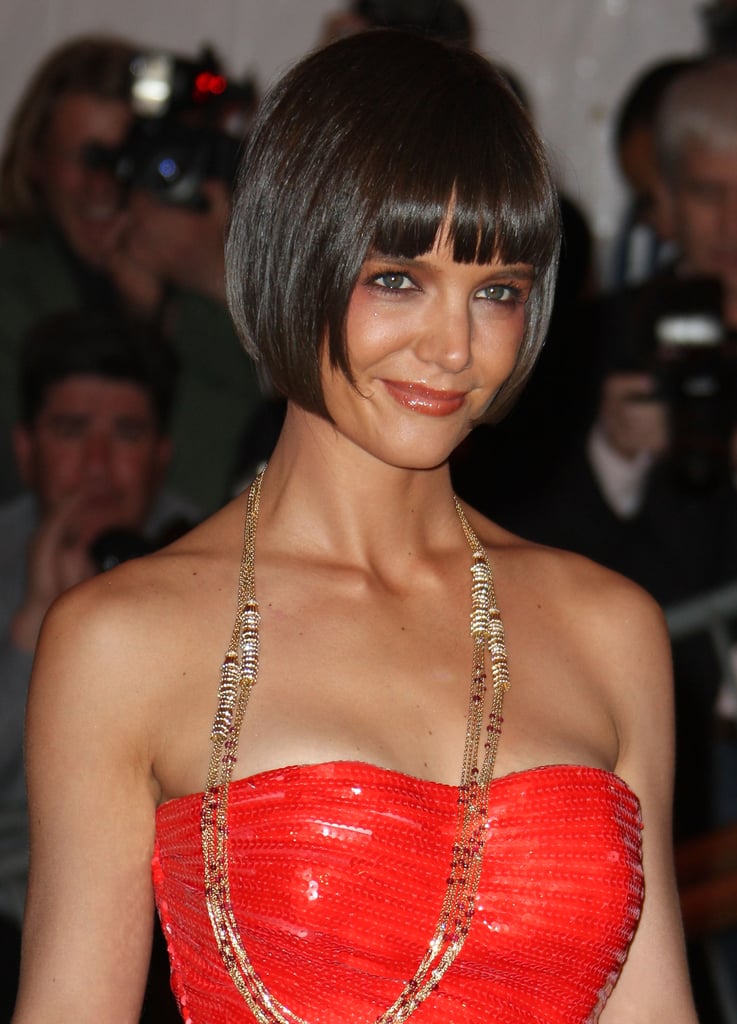 With her flapper bob and bronzed pink eye shadow, Katie Holmes [12] was a perfect mix of modern and vintage at the 2008 Met Gala.
Kate Bosworth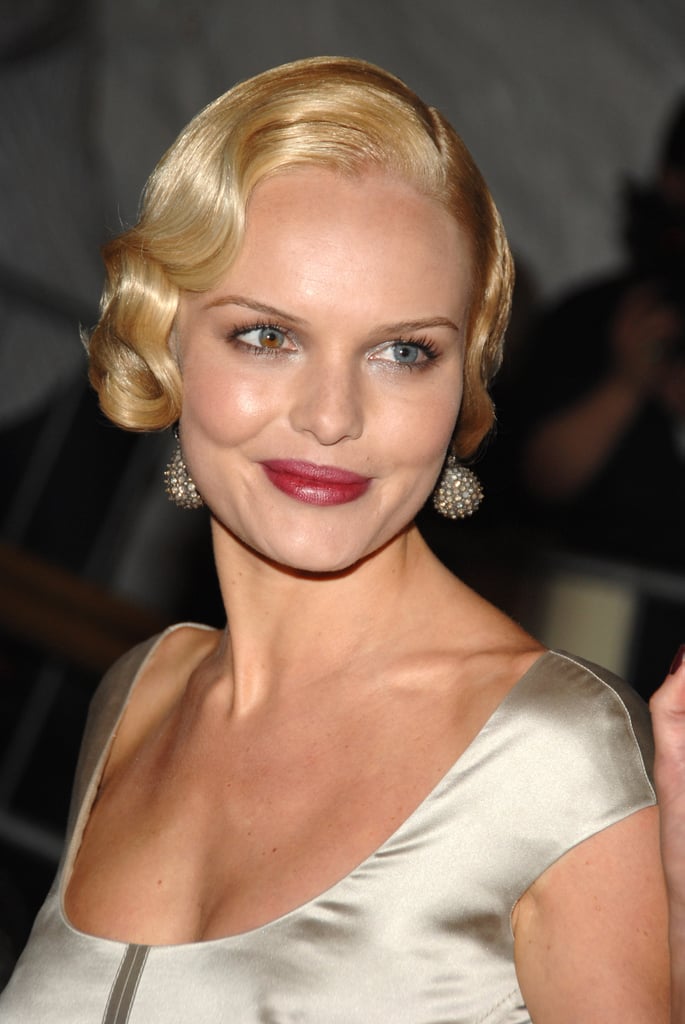 At the 2007 Met Gala, Kate Bosworth [13] channeled Old Hollywood with Veronica Lake waves and a moody makeup palette.