Blac Chyna's "Legal Action" Wigs
Blac Chyna's "Legal Action" Wigs Are the Internet's Favorite Part of Her Drama With Rob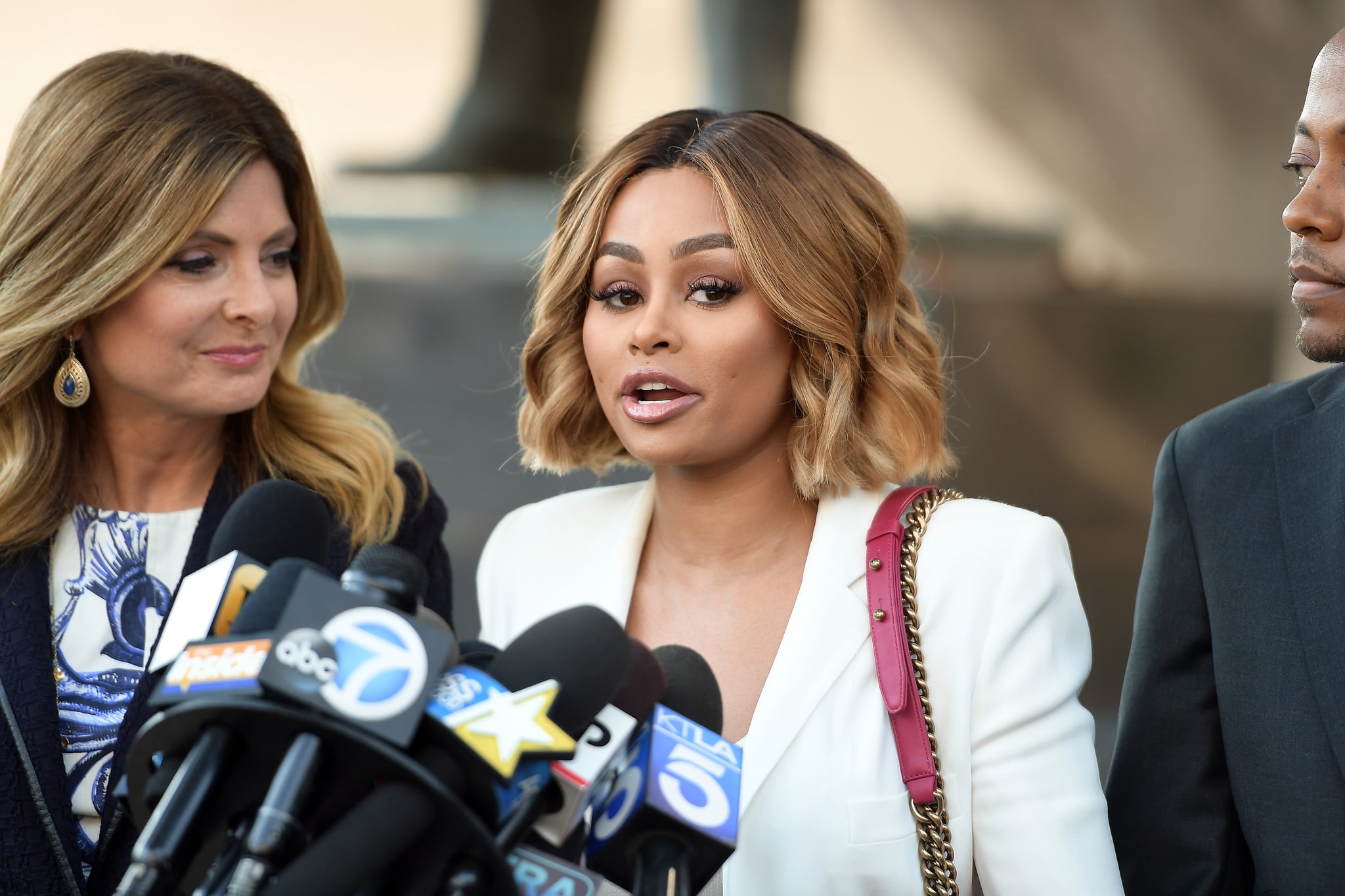 Blac Chyna is no stranger to a good ol' wig, so it comes as no surprise that she's been sporting a variety of them while dealing with the recent sh*tshow of drama with her on-again-off-again boyfriend, Rob Kardashian.
Soon after the Rob shared a series of extremely NSFW images of her on his Instagram (which have now been deleted), Chyna posted a collection of photos in which she looks calm, cool, and collected while sporting bright rainbow-colored locks. But as the Rob-related drama developed and garnered more media attention, she traded in the unicorn 'do for some more serious hairstyles — her "legal action wigs," as the internet has officially dubbed them — to show that she's not messing around.
For a Good Morning America interview that aired July 10, the reality star opted for a blond wig with long, loose waves as she discussed her devastation at Rob's actions. Later on, she was seen at a courthouse in California after being granted a temporary restraining order against Rob. For the court meeting, she was rocking a short bob wig with honey highlights, another dramatic switchup.
Both wigs were sending off the same message: Chyna means business, and it seems like she won't stop until justice is served. The internet naturally took note of the makeup mogul's ever-changing hair, and couldn't help but offer up their two cents on her various "legal actions wigs."
Can't wait for Blac Chyna's seeking legal action wig line to hit the market. pic.twitter.com/gcmZmt5H1T

— Sylvia (@SylviaObell) July 10, 2017
Blac Chyna's "May I please speak to the manager" wig is giving me LIFE right now.

Draw strength from it this morning. And enjoy your day. pic.twitter.com/eHknVTQrjF

— Princess 👸🏽 (@Sisi_Sasha) July 11, 2017
Blac Chyna put on some neutral make up, a black suit and her best wig getting ready to sue the shit out of Rob 😂😂

— Audrey (@audreythefinest) July 10, 2017
Blac Chyna took off her cotton candy trick wig and put on her 2013 beyoncè / suburban housewife wig. She's going for blood. pic.twitter.com/8ozfQofprv

— Trè Wonderland 🦋✨ (@Trewonderland) July 10, 2017
blac chyna literally put on a "see you in court" ass wig and is really out here about to lock rob's ass up im screaming

— ✿ (@EARTH2TEN) July 10, 2017
Why Blac Chyna put on that Lifetime courtroom drama wig? She means business. Coming for ya Rob! @WendyWilliams pic.twitter.com/zry63jZA4x

— Michael Wright (@MrWrightNow_1) July 11, 2017
Image Source: Getty / Matt Winkelmeyer