Briogeo Scalp Revival Shampoo Review
This Charcoal Shampoo Cured My Itchy, Painful Scalp and Transformed My Curls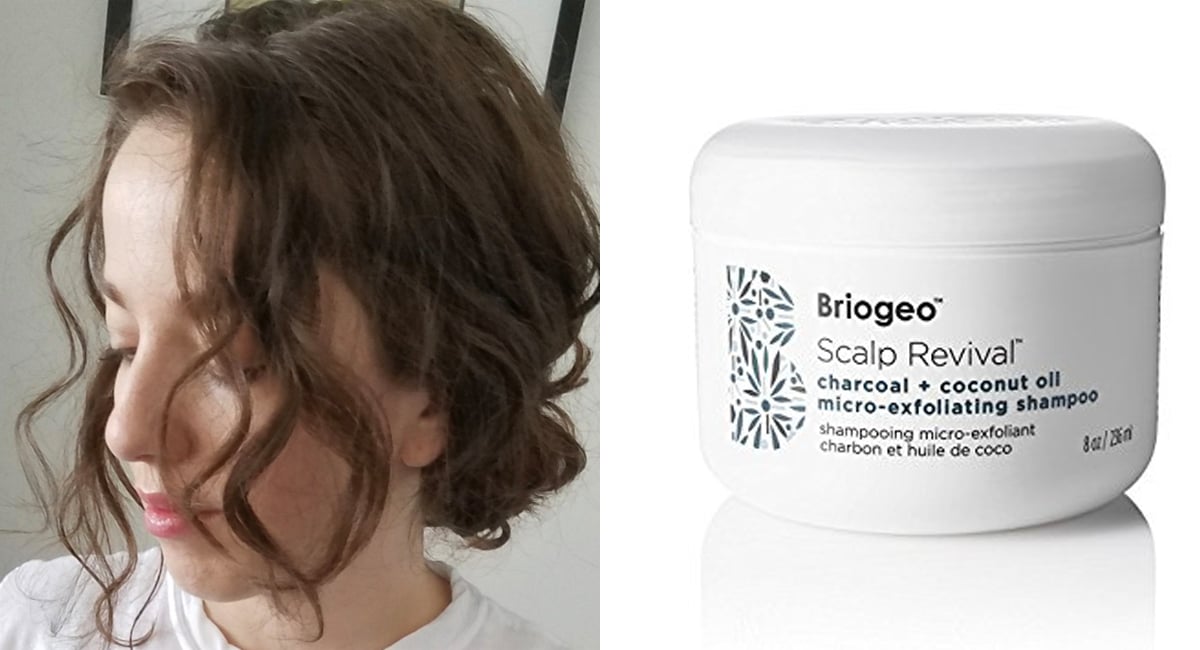 For a long time, I prided myself on being a drugstore shampoo girl. When the opportunity to blow significant amounts of money presented itself, I gravitated toward buying an extremely unnecessary eye shadow palette over an expensive bottle of hair care. Why spend the equivalent of two whole pizzas on my hair when my $7 option did the job just fine?
Well, all of that changed recently when I woke up one day this Winter to find my scalp had pulled a total 180 on me overnight. Suddenly I was experiencing a whole host of fun scalp issues that my beloved drugstore shampoo seemed to only exacerbate, like soreness, stubborn greasiness, and even a weird layer of white gunk that built up on my scalp's surface no matter how many times I washed. Sexy, no?
But just when I was starting to fear that my scalp and I would never be on good terms again, I came across the heavenly scalp saver that is (cue the chorus of angels) Briogeo Scalp Revival Charcoal + Coconut Oil Micro-Exfoliating Shampoo ($42). While forking over $42 for eight ounces of gray sludge in a jar did initially crush a small piece of my soul, I'm ecstatic to report that this product proved it was worth every penny spent. According to the folks at Briogeo, the charcoal in this formula works to lift impurities off of the scalp, while the cooling sensation of peppermint soothes itchiness straight away. Well, whatever ingredients make this formula effective, I'm just here to confirm that this formula totally lives up to the hype. After just one wash, it eliminated all of my scalp woes (which Google tells me may have actually been seborrheic dermatitis . . . ? YUM) and transformed my hair into the healthiest it's ever been.
I credit this formula with defining my curls, smoothing out my frizzy texture (without sacrificing bounce!), and making my hair look shiny as hell. And since all of Briogeo's line is formulated without any sulfates, parabens, silicones, or synthetic colors, I can feel confident that I'm not rubbing questionable chemicals into my scalp with each use. Plus, it also happens to smell exactly like a Peppermint Pattie — not bad!
If you feel like going the extra mile, you can go big like yours truly did and pair up the microexfoliating shampoo with Briogeo's Charcoal + Tea Tree Scalp Treatment ($32). My hunch is that I have this oil to thank for extending the clean, minty feeling of my freshly washed hair for those extra few days. I simply apply it to the most irritated areas of my scalp by dividing hair into three-inch sections right out of the shower and rubbing a few drops directly into my scalp. I've also used it before bedtime and found that it soaks in nicely to a dry scalp.
If you're suffering from the hell that is an irritated scalp with no idea where to turn, I really can't give Briogeo's line of Scalp Revival line a big enough thumbs up. Sometimes a hefty price tag really is worth it, and that's most definitely been my experience with these products. So, what are you waiting for? Give 'em a go and report back with your results!
Image Source: POPSUGAR Photography / Lisa Peterson