DIY Aloe Vera Mist
The Answer to Dry Hair, Parched Skin, and a Painful Sunburn
I'm the queen of SPF; big, floppy hats have become somewhat of an inanimate emotional support animal for me when I know the sun will be out. Therefore, you're probably going to get a major set of side-eye if I see you sporting a red flush to your skin after being in the sun. Sunscreen is a nonnegotiable in my book.
That said, two of my colleagues recently battled it out to see who could get the worse sunburn endured a gnarly sunburn during an outdoor shoot, and that inspired me. When it's hot out, nothing's better than a light mist that helps with dry hair, frizzies, and refreshing your makeup. Why not make one that incorporated sunburn-soothing benefits?
Off to work I went. Clearly this mist is aloe-vera-based, as aloe vera is the healer of all healers. (Praise be.) I also included a few other ingredients to up the hydration factor, like fractionated coconut oil (it doesn't solidify) and cucumber seed oil, which helps chapped skin and dehydrated hair without making it greasy.
Check out how to make your own DIY mist and get ready to soothe bad burns. (If they're from the sun, that is. We can't help you if Amy Schumer is around.)
On Kirbie: Rebecca Taylor dress

DIY Skin & Hair Saving Aloe Vera Mist
Original Recipe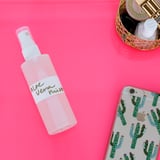 Ingredients
1/2 cup distilled water
1/4 cup steeped green tea
1/4 cup fractionated coconut oil
Few drops of cucumber seed oil
Pulp from a few sprigs of aloe vera plant or 2 droppers of aloe vera oil
Directions
After removing aloe vera plant pulp with a spoon, mix all ingredients together in blender or food processor and funnel into a recycled mist bottle.
Information
Category

Main Dishes

Total Time

4 minutes, 59 seconds
Image Source: POPSUGAR Photography