Elixir Clinic Dubai Vitamin Injection Review
I Finally Tried Vitamin Injections and It Wasn't What I Expected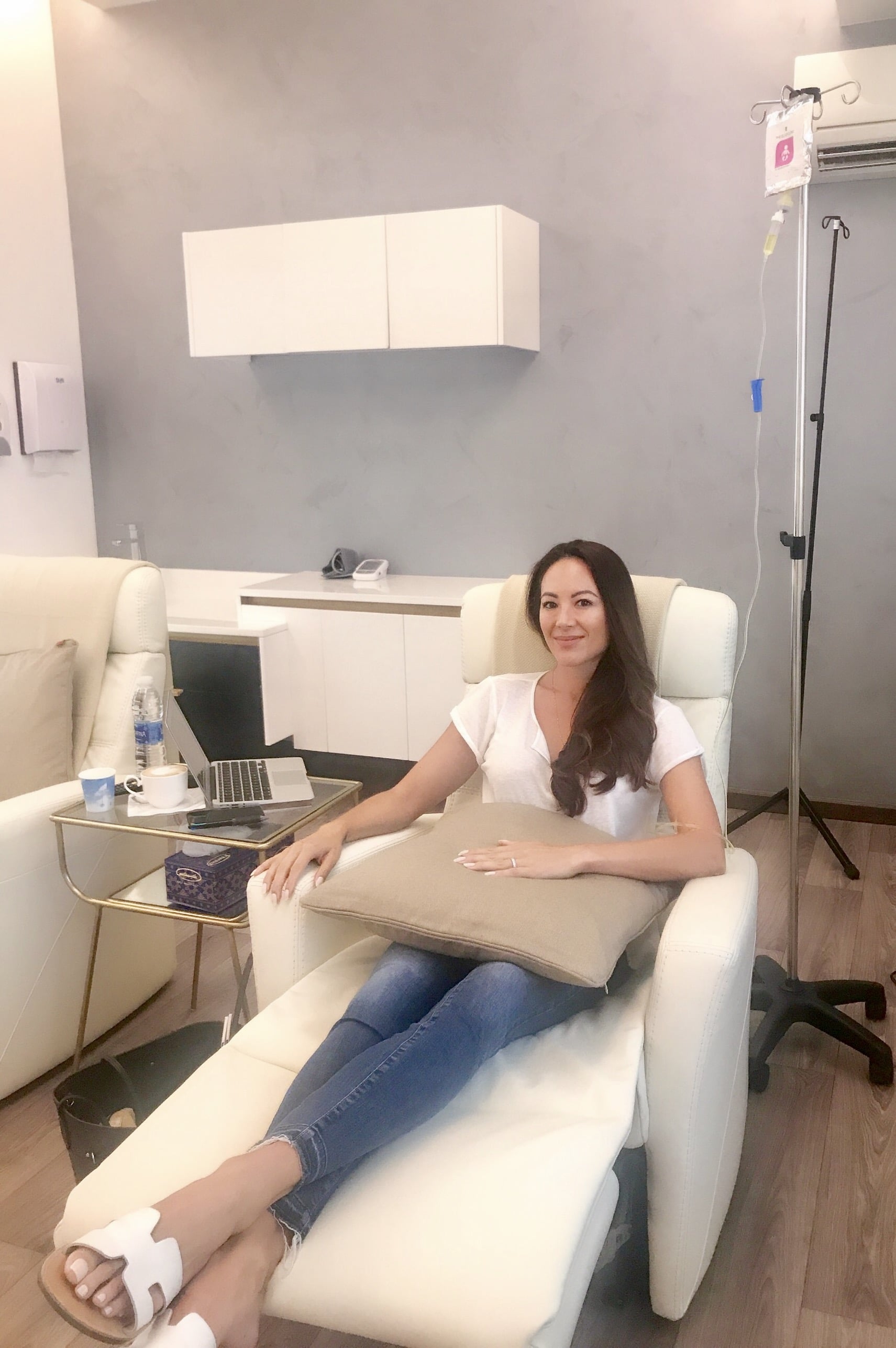 Would you have a high-dose of vitamins administered in your veins for the sake of beauty and wellness? I did, and the experience wasn't at all what I expected.
I visited The Elixir Clinic's newest location – a luxury villa on Jumeirah Beach Road, Dubai (this bespoke medical clinic has locations in Abu Dhabi, Al Ain and London's iconic Harrods). It was the first clinic in Dubai to introduce intravenous vitamin infusions for beauty and wellness known as VitaDrips. I'm a huge fan of taking supplements and vitamins, however I've never had a vitamin infusion intravenously (IV). I expected the experience to be fast, impersonal and clinical.
As a new patient, I had a mandatory consultation with Dr. Cherry Ezzat, The Elixir Clinic's General Practitioner. This is only required once and is supported by the Dubai and Abu Dhabi Health Authority. My blood pressure was checked, and I was asked a series of questions about my health and lifestyle, and any issues and concerns I have.
The clinic also offers blood testing and OligoScan mineral tissue analysis. These tests will provide information on vitamin and mineral levels and most importantly, your deficiencies. I had my OligoScan results with me and from the information I provided, the Dr. prescribed a custom treatment plan consisting of six VitaDrips (three Youthful Beauty and three Detox).
Youthful Beauty is high in Glutathione, a powerful antioxidant that helps fight aging. Vitamin C, Zinc, Selenium, Magnesium, Folic Acid, plus Vitamins B1, B2, B3, B5, B6, B12. Biotin and Dexpanthenol are injected together intramuscularly (into your muscles) as it can't be given through IV. The Detox VitaDrip is designed to help fight oxidation and to protect your bloodstream from free radicals. It contains Vitamin C, Zinc, Selenium, A-Lipoic Acid, Co-enzyme Q10, Glutathione, Copper, Cobalt, Manganese, Magnesium and Potassium.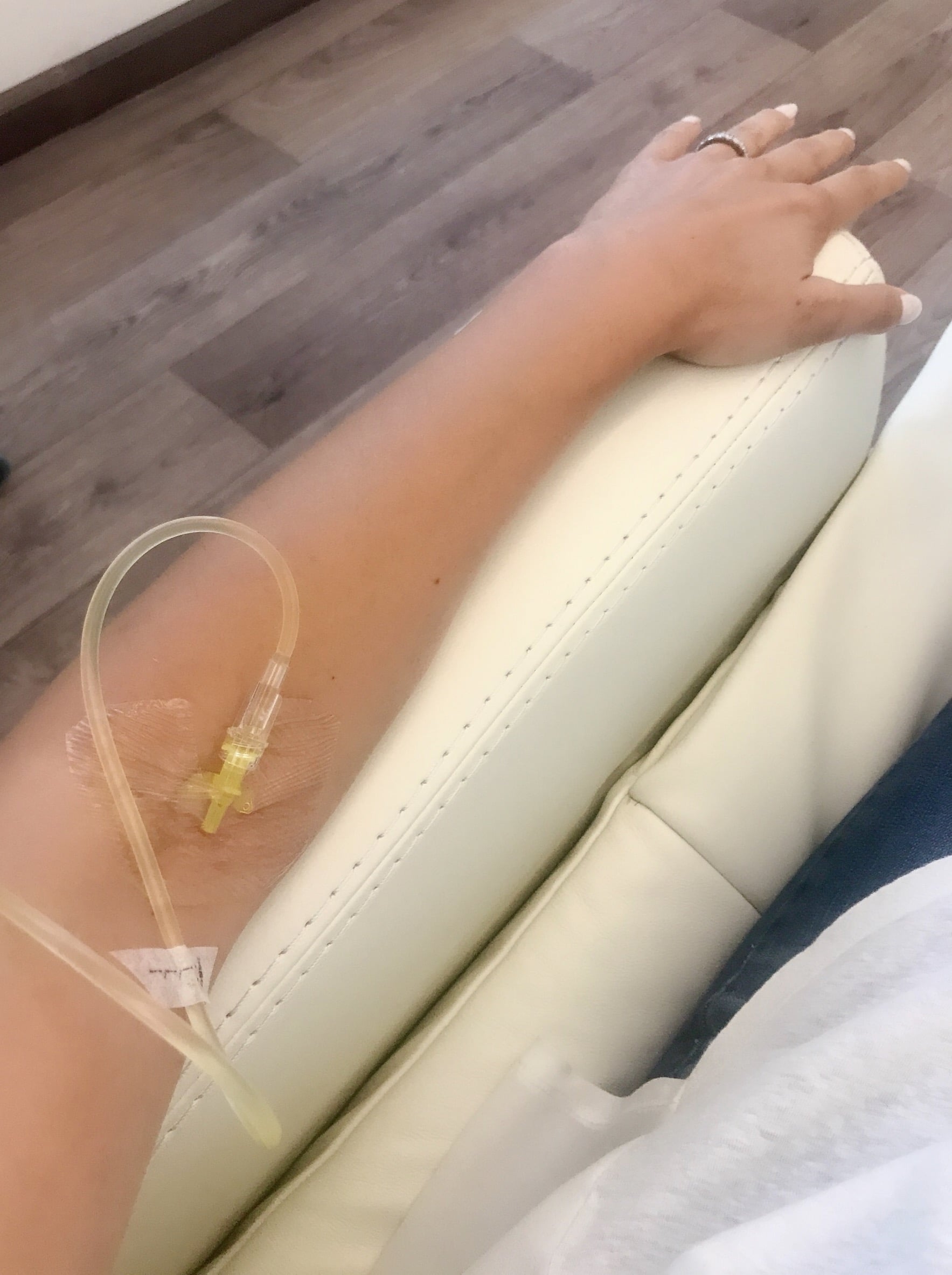 After my consultation, my VitaDrip was administered in a private room complete with recliner chairs and a TV. I relaxed for an hour while the infusion went to work. I was pleasantly surprised at the level of service and the selection of VitaDrips available. They have a solution for almost any ailment. There are 18 formulas available that can be tailored accordingly. Jetlag, dehydration, fatigue, and feeling run-down are the most popular symptoms they treat.
Fast Facts:
The body absorbs less than 15-30 percent of vitamins taken orally.
With IV therapy, absorption is 70-100 percent.
There's very little pain, only when the needle is administered.
I felt a little heaviness in my arm during the treatment.
The total duration at the clinic was 2 hours.
IV infusions take between 30 – 60 mins.
AED350 is the one-time consultation fee.
One infusion costs AED800 – AED2,000 (packages available).
Six infusions are recommended for ultimate results.
Home treatments are available.
It's vegan friendly.
They use all-natural ingredients.
I would absolutely recommend this to anyone suffering from the mentioned symptoms.
It's an effective solution to quickly boost your immune system. If your budget permits, it's also a long-term option to maintain wellness from the inside out.