First Date Makeup Mistakes | Video
First-Date Makeup Mistakes (According to Men)
For Valentine's Day, we surveyed a group of men about first-date makeup "don'ts," then had a few of them discuss those faux pas on camera. The three biggest takeaways:
Avoid bold lipstick. Red, fuchsia, burgundy — all the shades your girlfriends would normally complement you about are a definite "no" to the male crowd. Why? Answers ranged from looking "too done up" to being afraid it would get all over their face at the end of the night. (Naughty.)
Use a light hand with your foundation. The men were very clear in that they want a girl who looks natural and lets her true self show through, which is admirable. Some were concerned about what women were "hiding behind."
Don't go overboard on eye makeup. This was a surprising revelation. Not that the men wanted less makeup — they made that very clear — but usually, when you go for a date-night look, it involves a smoky eye of some sort.
A few notes from a woman who loves makeup and likes to wear it on first dates. Yes, natural lip shades are great, but they're not going to know whether you're wearing a lipstick or a gloss — wear whatever you want. And gentlemen, perhaps if a woman is wearing bright lipstick on a date, that's her way of insinuating that the date won't be sealed with a kiss?
A general rule of thumb for foundation application: try the five-dot trick. It saves product, gives you the coverage you actually need, and blends seamlessly.
Now for the eye makeup: if you love wearing faux lashes or three coats of mascara, go for the gold, people. I can guarantee you that your date isn't going to know the difference between your real or fake lashes. (Unless you've applied a pair that touch your eyebrows or include rhinestones.)
Now for the experiment: below are two photos of my date-night looks. The photo on the left is the "don't." Bold lips and lots of eye makeup, with faux lashes to boot. It's something you would generally see a YouTube tutorial on, inspired by a magazine spread or a celebrity look. The one on the right? A natural look that focuses on dewy skin, a subdued lip shade, and accentuating the eyes with liner and natural eye shadows.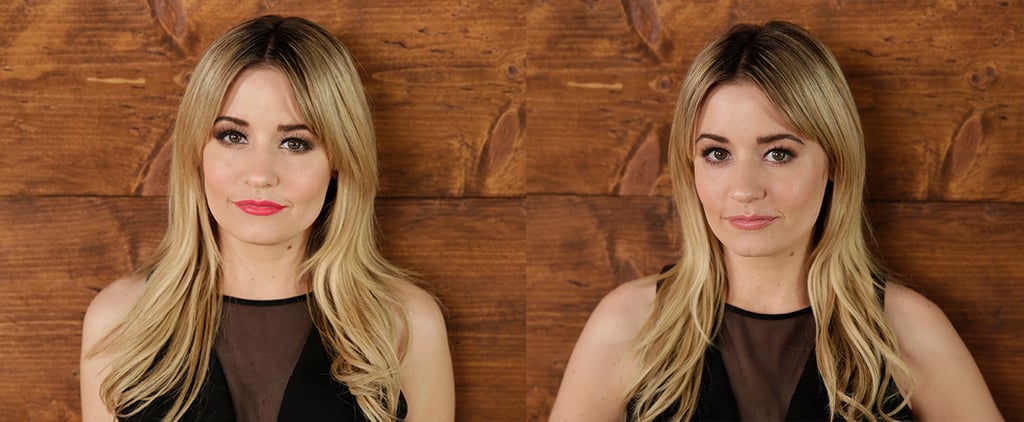 The photo on the left elicited over 100 "likes" (from both men and women) on my Facebook page and several comments, one being "you made a don't a do." However, in the video, I look like a clown in this look! The point I'm trying to make: a look that might work for photographs is probably not the ideal look you should strive for in real life. Most makeup artists will tell you they add a bit more powder, blush, lip, etc. for photos because the bright lights can wash out their clients. But when you see them in real life, it does look like a ton of makeup!
We spend so much time looking at celebrities and trying to emulate their looks, from intense contouring to overdrawing our lips. It's lovely to admire other women and try new things with our hair and makeup looks, but don't take their aesthetic to heart.
Image Source: POPSUGAR Studios