How to Apply Eye Cream the Right Way
Beauty Refresher: How to Apply Eye Cream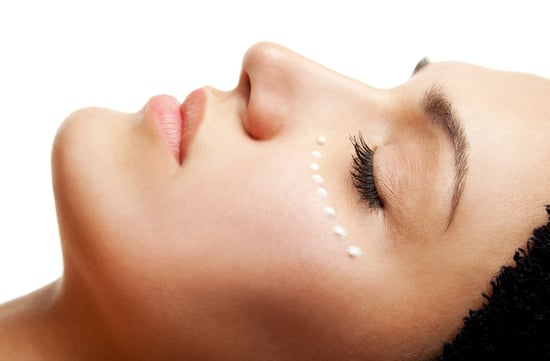 Chances are you haven't been getting the full benefits of your eye cream. Even though it's touted for its effectiveness at eliminating under-eye circles and puffy eyes, there are other woes that can be cured with a swipe of eye cream. Find out how to maximize your application method (and find the right formula for you) after the jump.
Preparation: Picking Your Perfect Product
First, determine your primary concern: dark circles, crow's feet, or puffiness. For wrinkle prevention, reach for a night cream with retinol or antioxidants. We like Ole Henrikson Truth Is in the Eyes ($42). If tired, swollen eyes are your issue, then seek out a gel with a cooling roller ball and tightening ingredients like caffeine; StriVectin Tightening Eye Serum ($69) does the job nicely. Looking to divert attention from fine lines? Try an eye cream with illuminating particles and vitamin K. Try Skyn Iceland Eye Relief Pen ($20).
Pull Off the Application
You only need a pea-sized dollop for both eyes. Apply every morning and night after your moisturizer.
Be gentle! The skin around the eye is very sensitive. Use your ring finger to dab the cream along the orbital bone (also known as the eye contour). That means under the eye to the cheekbone, at the outer corners, and underneath the brows. Move in a circular fashion, and don't press too hard.
If crow's feet are a concern, then make sure to get into the crevices at the corners.
Don't forget the eyelids, either. This will create a smooth foundation for your eye makeup and stave off droopy lids.