How Important Is Topcoat?
The 1 Thing You Should Always Bring to the Nail Salon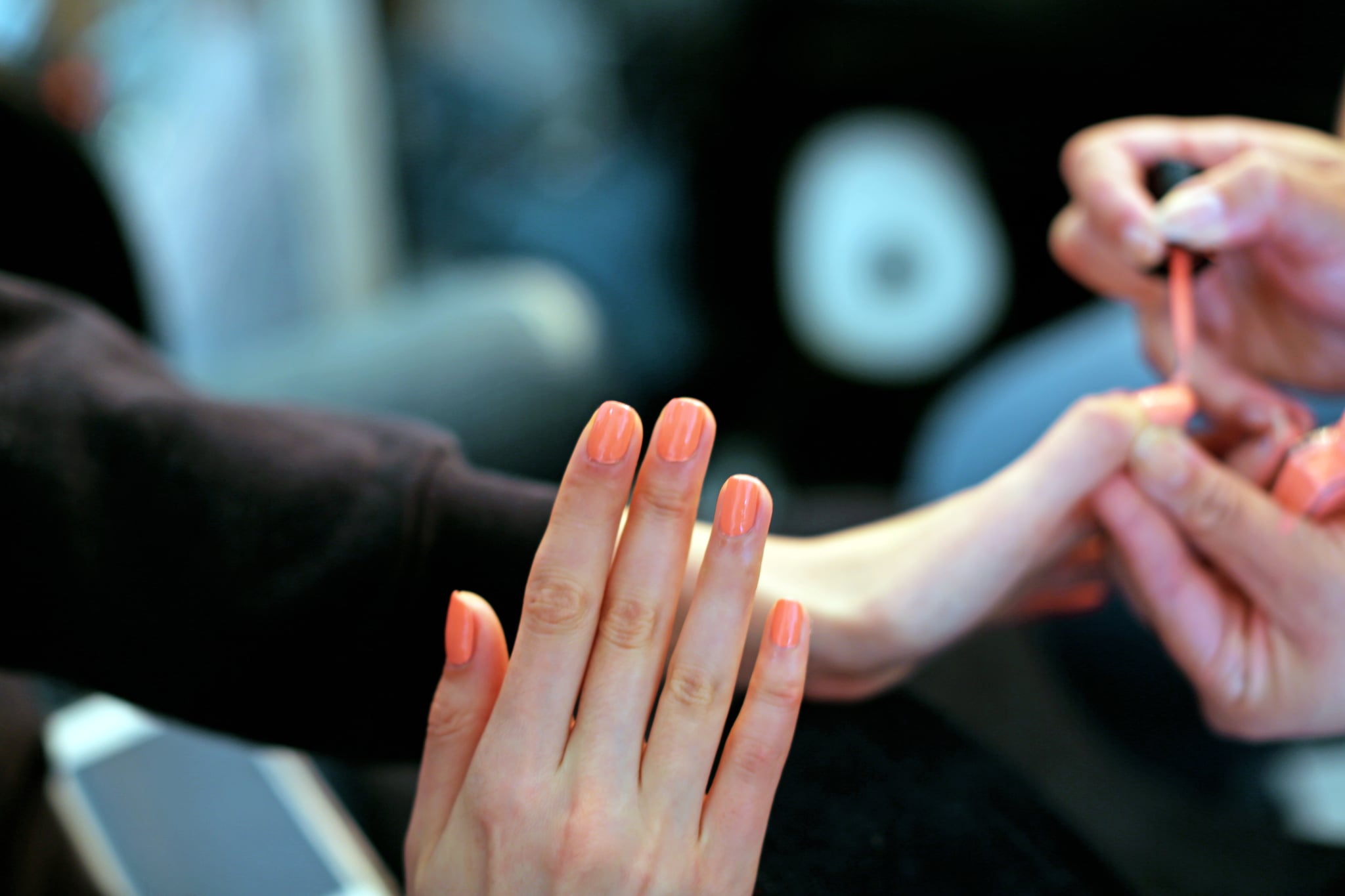 It's amazing what a great manicure can do for your mood — and what a not-so-great one can do. As someone who's been routinely visiting the nail salon for the better half of my life, there are a few tips and tricks that I've come up with. The best advice I can give anyone (and that I do tell people all the time) is: bring your own topcoat, and make it a good one.
Nail salons don't typically invest in great topcoats. They have so many clients that the business generally can't afford to buy top-notch top layers, given that it's one of the most frequently used products in the place. So even if you've brought in your special-edition Butter London polish, it's not going to last with a dull coat of sub-par top layer slapped on.
As for what to look for when selecting a topcoat, NYC-based nail artist Miss Pop Nails says that it's really a matter of preference. "As a nail artist, I prefer a topcoat that's thick or 'gel'-like because then it is easier to float, which means keeping the brush hairs away from directly stroking and potentially dragging any wet polish," she told us. "But some topcoats, no matter how much you try to float them or let your polish dry, will still cause streaking because of the solvents. It can be such a bummer to paint detailed line work only to have your topcoat muddy the design."
However, there are cases in which solvents (aka acetone or a similar ingredient that aids in dissolving polish) are beneficial. "If you're using an unforgivingly thick old bottle of color, matte polish, or you just plain aren't Picasso when it comes to painting your nails, then solvents can help you smooth your stroke and make your mani look like it was applied by a pro," Miss Pop shared.
Not only is the quality important, you have to make sure it's spread over your entire nail, especially the sides (seriously, be sure the sides are covered) and the tips, to avoid chipping — and yes, according to Miss Pop, quick-dry formulas DO chip faster.
For years, I depended on Sally Hansen's Mega Shine Extended Wear Top Coat ($7). You can pick it up at any drugstore, and it'll give your nails a gel-like finish without the price tag. It really does deliver on the "extended wear" promise, too.
Recently though, our beauty editor suggested I try a cult favorite, Seche Vite Dry Fast Top Coat ($10). This stuff is heavy duty! I've been doing more at-home manicures lately — I've been in a "I can do my own nails better than anyone else" phase — and by the time I started painting my nails on my right hand, my left hand was almost dry. It's thick and you have to make sure not to put too much on (otherwise it will pool and dry much more slowly), but it's fabulous.
Investing in an outstanding topcoat is a small price to pay for having a manicure that looks shinier and lasts days longer. If you're looking to step up your manicure further, however, Miss Pop recommends starting from the bottom. "I'd argue that base coat is the coat that is really makes your mani last a couple of days longer," she revealed. "You need a strong foundation to build a house, you need a solid base coat layer to start your mani."
Image Source: POPSUGAR Photography / Emily Faulstitch