How Often Do I need to Wash My Hair?
Put That Can of Dry Shampoo Down! Why You Should Be Regularly Washing Your Hair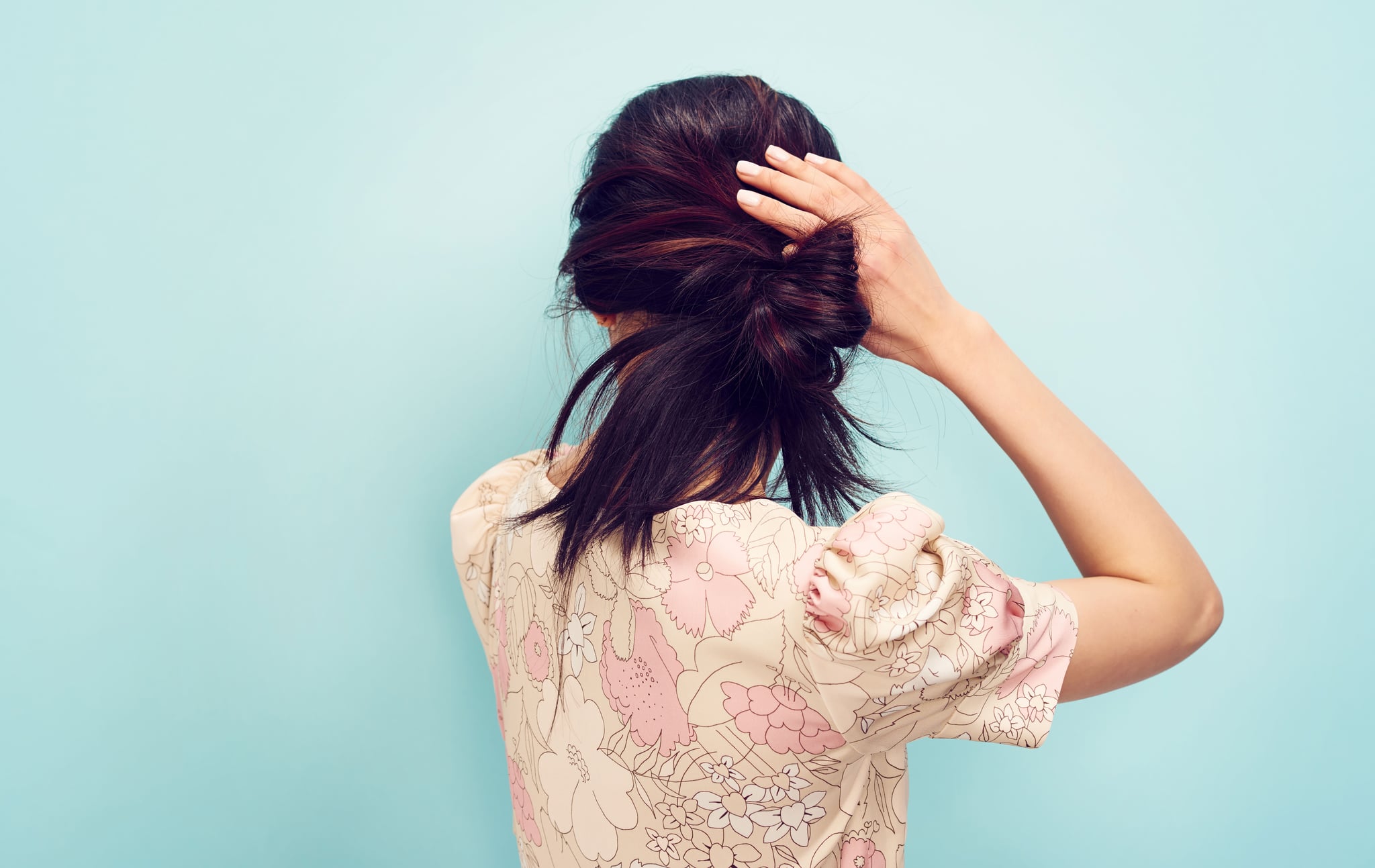 At some point throughout the past few years, using dry shampoo became less of a way to stretch out a style and more of a contest. Everyone knows (at minimum!) one or two women who brag about how long it's been since they washed their hair. Recently, The New York Times published an article stating that most people cleanse too frequently, with many of the experts quoted as saying washing once or twice a week is more than enough.
After reading this, we were instantly moved to research the effects of low cleansing on scalp's health. And quite frankly, we weren't surprised by what we learned — but we were a bit horrified.
"A healthy scalp is a clean scalp," Elizabeth Cunnane Phillips, trichologist at the Philip Kingsley Clinic in New York City, told POPSUGAR via email. "The scalp is the bedrock to the follicles and sits a millimeter and a quarter underneath the skin. It deserves the same consideration we pay to our face." She believes that while there is no hard and fast rule, women with fine hair should shampoo daily, while others can skip a day or so between shampoos.
Celebrity colorist and owner of Rita Hazan Salon in New York City, Rita Hazan, agreed. "I am anti-infrequent washing because I'm a big believer in a clean and healthy scalp. I think not washing your hair is equivalent to not washing your face," she explained via email. "It leads to clogged pores and eventual hair loss."
There are factors that affect how often you should shampoo, including your lifestyle and hair type. For example, if you hit the gym religiously and are prone to intense sweating, you should be washing at least once a day. Should you have dry or damaged hair, you shouldn't shampoo quite as frequently. Your strands need the excess hydration provided by your scalp's oils, so you can wash (at minimum) once a week.
Many cite curly haired women as having the ability to really stretch out washes. This is because your hair's natural texture often makes it prone to dryness. Sebum can travel right down the shaft of straight or mildly wavy strands. However, it takes more time for oil to make its way down ringlets, corkscrews, and kinks, making hair appear cleaner for longer. But don't put off shampooing for too long.
"Hair needs natural oils for shine and hydration, so cleansing once to three times a week is an option," DevaCurl Curl Master and Educator Cal Ellis said via email. However, many people with curly and coily hair use products that aren't ideal for their hair, which can actually affect oil production.
"Going for lengthy periods without cleansing is a recipe for a hair crisis."
Sulfates (a detergent/lathering agent), which can strip moisture from hair, and silicones (which repel moisture) are commonly found in shampoo. Using formulas with these ingredients can give curls a "double dose of dehydration," according to Ellis. "If you've spent a lifetime drying your hair out with sulfates and silicones, it may take time for the oil glands to readjust to a normal level of distribution."
However, too much oil can absolutely be a bad thing. It may be hydrating for your hair (especially dry or curly strands), but it's not healthy for your scalp. This is why just soaking it up with dry shampoo shouldn't be your go-to method of cleansing.
"Going for lengthy periods without cleansing is a recipe for a hair crisis," said Cunnane Phillips. "Research has shown a direct correlation between scalp problems and an increase in hair loss."
Hazan believes that dry shampoo can play a part in that loss, too. "Dry shampoo is made of starch. Starch clogs pores and leads to thin hair and hair fallout," she warned. "It also makes the hair dull, which is never a good thing." Women with fine hair should also note that while using adding this product can make your hair look fuller at first, excess buildup can weigh down your strands and make them look flat.
If you've ever felt that shampooing makes your hair look dirtier, it could be that you're just doing it wrong. How you cleanse will also make a big difference in your scalp's health.
"It's water and friction that really helps to clean the scalp," said Ellis, who said vigorous massage while washing and rinsing is key. "If you are merely applying product and moving it around without massaging it on well, it won't be effective." Hazan added that picking the correct shampoo is also essential. "I would suggest doing a trial of various shampoos to see how the good ones differentiate from the bad ones," she said. "A good shampoo should make it easy to style your hair afterwards."
Now that you know you should be washing more often, you may be a little surprised, but also feel somewhat reassured. You're not alone. "Many people express relief when advised and encouraged to wash with more frequency," Cunnane Phillips explained. "They always share that they had been advised that shampooing frequently was a negative." So there you have it: don't believe the hype! Skipping shampoo might be trendy right now, but it's not worth the harm it could be doing to your hair and scalp.