How to Wear Beanies With Beach Waves
Beanies and Beach Waves Is the Winning Winter Combo You Need to Try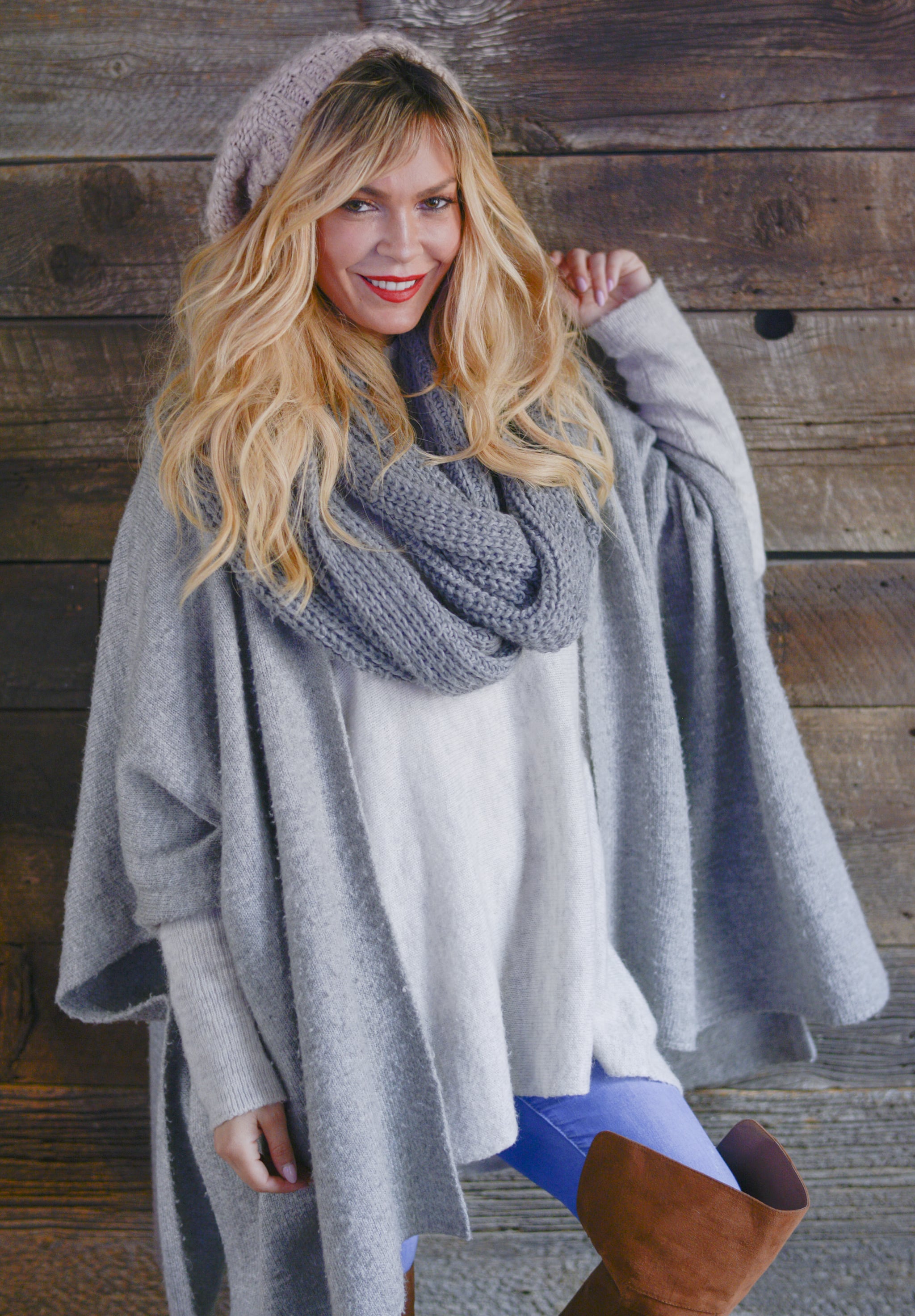 Whether you're headed to a chic ski destination like Jackson Hole or Aspen or cozying up with your friends in the Poconos or Vermont, there's one hairstyle even the laziest girls can pull off: beanies and beach waves. We love this style at POPSUGAR, and you can often see us wearing it to office with the addition of a hot pink or bold purple lip (because that's even more fun!).
"Beach waves are one of the perfect hairstyles to wear with beanies because of the ultimate lived-in hair trend that is happening in hairstyles right now," said celebrity stylist Gregory Patterson. "Beach waves have the ability to look better and better as each day passes. And what better style to throw a hat on, than one that looks better as it evolves."
To make sure you're rocking the look correctly, you need to get the beach waves tousled just right, place the hat in the correct spot, and deal with static. Patterson has hacks to solve all of these problems, so keep reading!
Hair Prep:
"Use dry shampoo at your roots to absorb any oil or residue," he said. "This also helps to maintain volume as best as possible when removing your beanie indoors." Try a formula that is available in different shades to match your hair color, such as BTZ Rock On Dry Shampoo or Klorane Dry Shampoo With Oat Milk.
"Salt Sprays and Texture sprays are another key product to maintain your texture and keep those waves as locked in and lived in as possible," Patterson added. Great ones to try include BTZ Beach Head Surf Shake Sea Salt Texturizing Spray, Ion Curl Texturizing Spray, or DryBar Mai Tai Spritzer Sea Salt Spray.
Dealing With Flyaways:
"One of the things you may be fighting will be static electricity," he noted. "I have found two little tricks that work well."
First, he recommends keeping hair moisturized — a step that begins when conditioning strands in the shower. "Look for hydrating conditioners, leave-ins, oils, and serums," Patterson advised. "This really helps minimize static electricity."
Basically, the healthier your hair is, the smoother the cuticles are and the less likely it will break and look frizzy.
Next, pay attention to the hot tools you use to create the beach waves. "When using dryers, curling irons, or flat irons to create your waves, make sure you're using hot tools that have ceramic, magnesium, or ionic technology to heat the hair," he explained. "[This does it] in a much gentler way and pushes the moisture into the hair rather than boiling it off."
But if you still need some help, try putting static guard or dryer sheets the inside of your beanie. "I find that this really helps to minimize static especially when using blended or mixed-material beanies that may have polyester or acrylic fibers in them," he said. "I've discovered the more 'natural the fiber; — i.e. merino, cashmere, cotton — the less the static."
Choosing a Beanie:
This leads us to the next point: the actual beanie matters! "When shopping for a great beanie, look for 100 percent natural fibers," Patterson suggested. "Again, cotton, merino, and cashmere are all great choices. There are some synthetic blends that may have some silk fibers in them, and those are also great choices. Think: the silkier and smoother, the better." (Editor's note: kind of like your hair!)
But there is one hat that's a beach waves and beanie faux pas. "I would avoid any beanie that has fleece or microfiber layered inside," he advised. "This is a guaranteed static maker. I find it to be the worst choice when it comes to fibers, especially when wearing along a hairline that may be compromised or prone to breakage."
Patterson also has a great trick for making your beanie even better for your hair. "I would recommend investing in a yard of silk and taking it to your local laundry cleaner or tailor," he said. "Ask them to cut a two-inch band, and stitch it into your beanie where you will be wearing your it along your hairline. This will be the best thing you can do to minimize any breakage along your hairline and really helps to avoid static."
Beanie Placement:
Where the beanie goes on your head is also important for the final look. In general, you can either place the beanie close to your hairline or back on your crown, depending on your comfort and face shape.
"I'd also make sure that the fiber of your hair is always taken into consideration so that the integrity and all of your hair growth is protected," he explained. "As with anything that may rub against your hairlines and cause breakage, make sure to use silk scarves underneath if you don't stitch in your own when prone to breakage."
Finally, Patterson warns to make sure that your beanie isn't too fitted. "You want a snug fit but one that isn't too tight compressing the volume out and rubbing too much," he said.
Try this look for your next ski trip or on a day when you "can't even."