Huda Kattan Desert Dusk Palette
You'll Die Over the Colors in Huda Kattan's New Desert Dusk Palette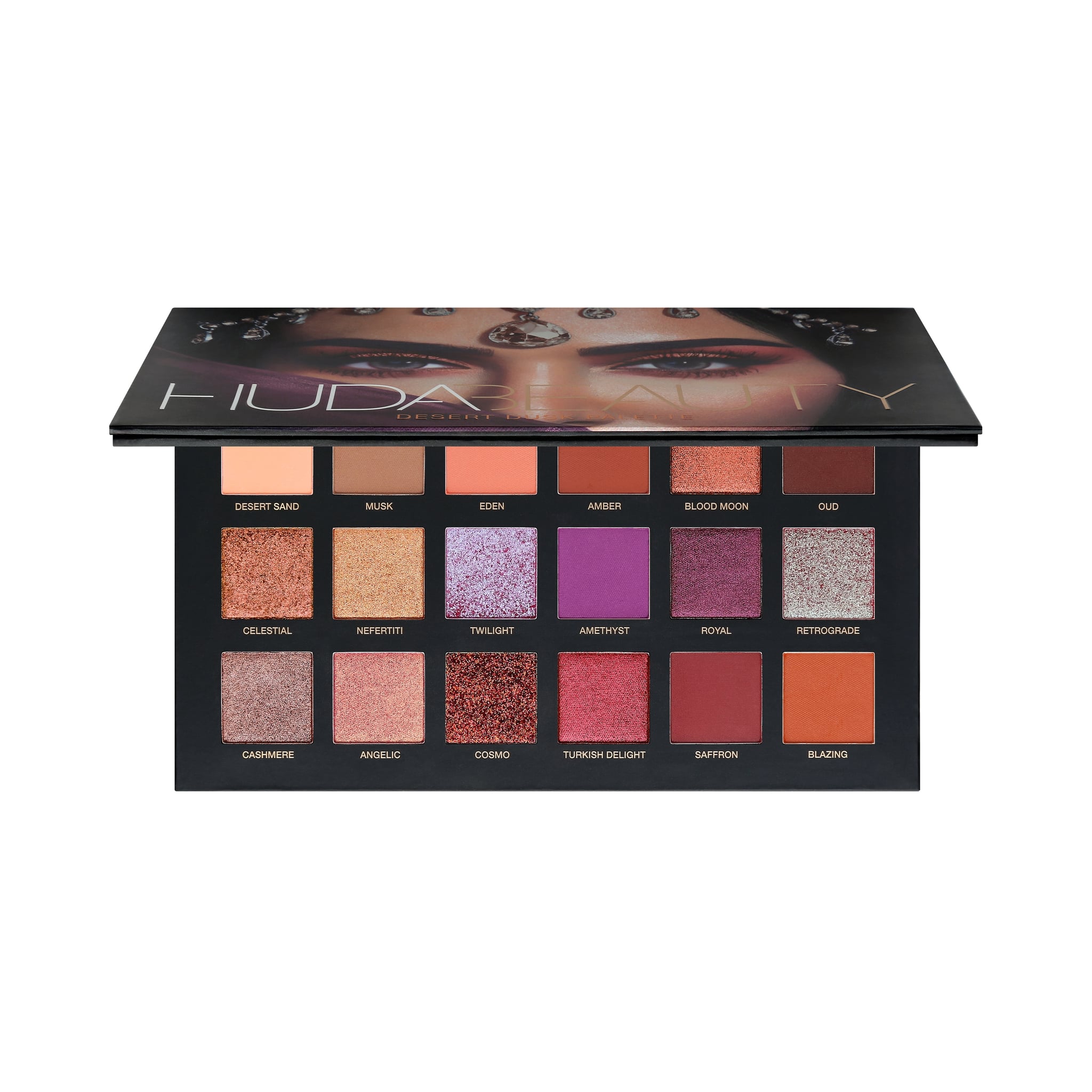 Update #2 The wait is (close to being) over. While the Huda Beauty Desert Dusk Eyeshadow Palette won't hit stores until September 18, we finally have a peek inside of the 18 breathtaking pans. These colors were all reportedly inspired by the desert landscape of the Middle East, but Huda has given the dusty hues a glam, iridescent makeover. These rich, opulent shades are worth setting an iCalendar reminder over a month in advance — remember, this will all be available to purchase for $65 at ShopHudayBeauty.com
Update #1 After endless teasers, Huda Kattan finally gave us a look at what the colors in her new eye shadow palette, Desert Dusk, will actually look like. As we predicted, there are sunset-inspired shades: Huda showed them off in two dreamy campaign images featuring a purple smoky eye and glowy orange look. "I saw a lot of people guessing warm brown, this is more than that!," Huda wrote on Instagram. "I really wanted to give you guys something that felt rich and mysterious."
She took things a step further when she debuted some swatches. While we only got to see five colors, Huda revealed there are four different textures to look forward to: creamy matte, metallic foil, iredescent pearl shades meant to layer on top of other shadows, and pure glitter.
September 18 can't come soon enough!
Original Post Huda Kattan sure knows how to keep us on our toes. We were just recovering from her Faux Filter Foundation reveal when she announced she was not only launching a new mystery product, but hosting a contest to let three people who guessed what it was try it first. Now, the beauty mogul has confirmed that the new Huda Beauty addition is a palette and debuted its name, Desert Dusk. We just got a sneak peek at the holographic pink packaging.
You might recall she actually shared a photo of the box design as well in the contest photo (it's right under the eyelashes and foundation):
Based on a couple of teaser photos she shared, the eye shadows will likely include sunset-like colors. In this video, we can spot a mauve-looking shade:
We'll just have to wait and see what Huda has up her sleeve! The Desert Dusk palette launches Sept. 18.