KFC Flavored Nail Polish Line
KFC Expands Its "Finger-Lickin' Good" Empire to Flavored Nail Polish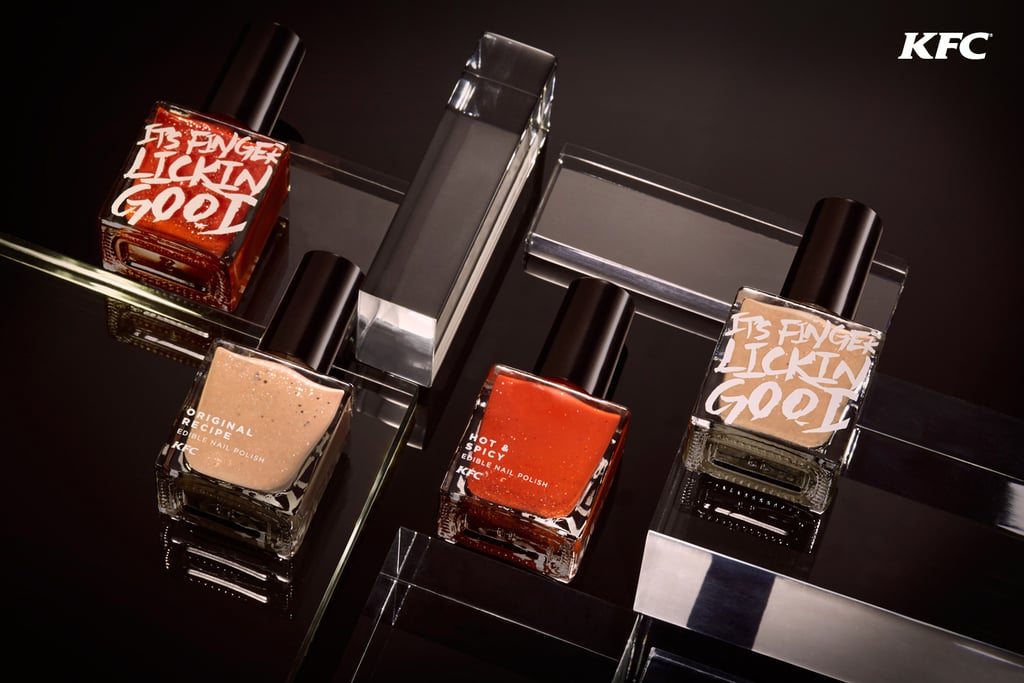 The nail polish industry keeps testing the boundaries of innovation. We giggled over peel-off paints in middle school, freaked out over the graffiti-like spray polish, and most recently, have been mesmerized by color-changing lacquers. But now, fried chicken purveyor KFC is about to make beauty history with the launch of its two flavored nail polishes.
Yes, you read that right. According to Racked, the Hong Kong branch of the poultry-peddling company will be selling two limited-edition lacquers inspired by the famous "finger-lickin' good" slogan.
"KFC's signature flavors — Original Recipe and Hot & Spicy — have been carefully formulated from natural ingredients into edible nail polish and packaged in a stylish glass bottle and minimal box with over gloss details to appeal to young consumers' love of food and fashion," announced the official press release. The directions are simple. Just paint on your choice of Original Recipe beige or Hot & Spicy red (both are sparkly!), let it dry, and then suck on your talons to your heart's content.
Considering that Adweek reports spice company McCormick worked on this project, the probability is high that the lacquer will actually taste yummy. After all, McCormick provides KFC with its top-secret blend of 11 herbs and spices.
Lifelong nail biters may want to avoid this tempting treat, as will germophobes and anyone remotely concerned about the potential harm of ingesting nail polish chemicals. However, the rest of us weirdos can book a flight to Hong Kong (or start scouring eBay) to get our fingers on this palatable beauty product.
Image Source: Courtesy of KFC