Kim Kardashian Hair Makeup at the Met Gala 2017
Kim Kardashian Looked Classic Vogue-Chic at the 2017 Met Gala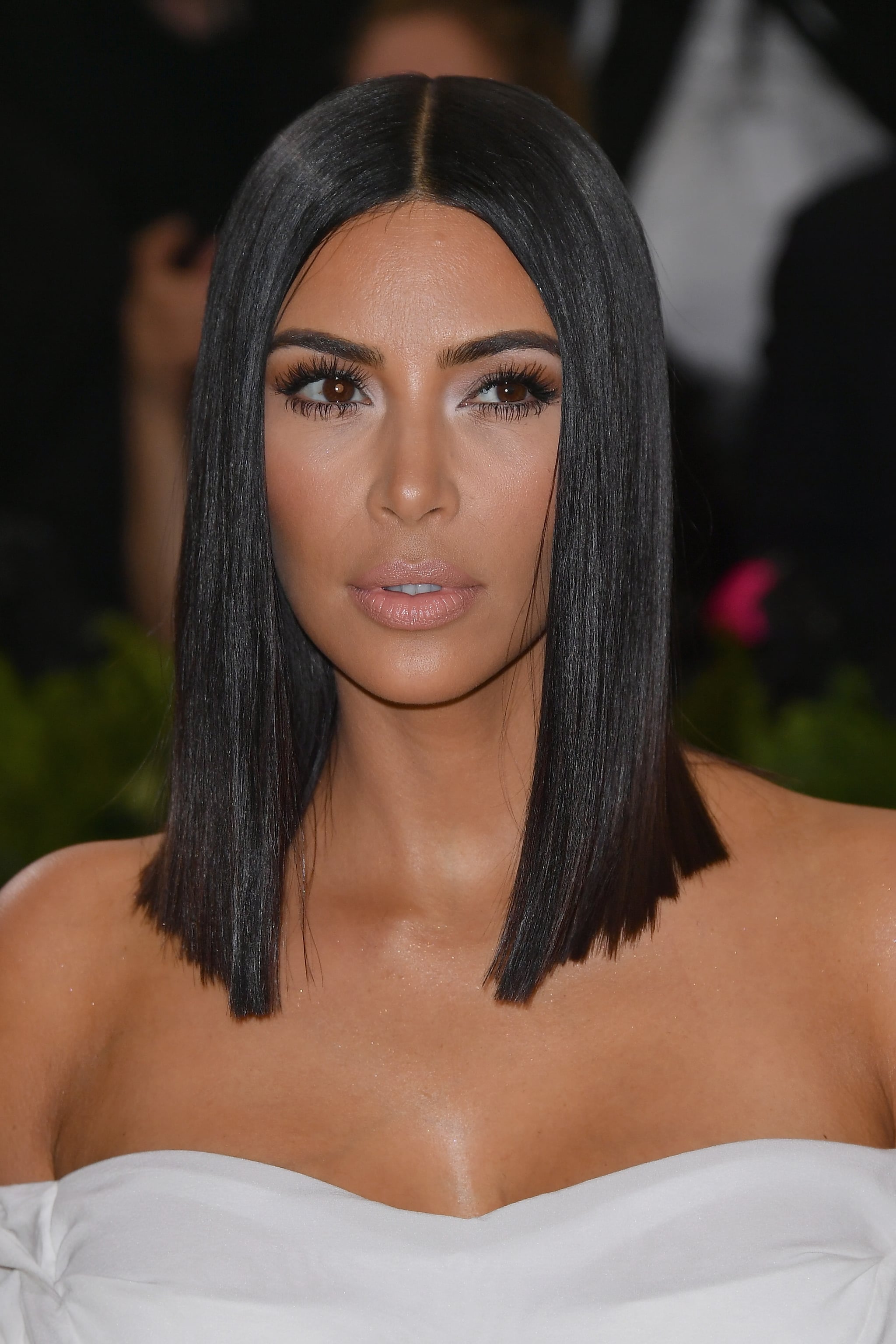 One way to make a statement in a sea of avant garde fashion and beauty looks: go with what you know. And for Kim Kardashian, that's classic sexy — sleek hair, center part, smoky eye, contoured cheek, and nude lip. You can likely picture it in your sleep.
For the 2017 Met Gala, Kim brought her best beauty self to the red carpet.
Her hairstylist Michael Silva for T3 confirmed our observation. "Kim's look was inspired by both her classic Kim K look and a combination of Rei Kawakubo and the Commes des Garcons aesthetic," he told POPSUGAR via email. "Rei was very well know for her hard and soft approach to design. With Kim's dress being so feminine and ethereal we decided to keep the hair strong and graphic. We liked that juxtaposition."
To DIY Kim's sleek strands, Silva advises to apply a tiny dab of leave in conditioner to wet hair. Use a flat brush and blow-dry hair downward, staying close to the scalp. Go over it with a flat iron in sections, and mist each part lightly with hairspray.
And what's it like to get ready with a beauty girl like Kim? "It is always so much fun," he enthused. "I've been fortunate enough to have worked with her for a long time. It's like being with a friend getting ready for a night out — only it's the Met Gala, the biggest night out!"
Her longtime makeup artist (of nine years!) Mario Dedivanovic confirmed she really is that fun to get glam with. "She's a dream to work with! Aside from being drop dead gorgeous she is incredibly sweet," he told POPSUGAR via email.
Dedivanovic described her makeup as: polished, clean and matte. "Kim has a very relaxed and clean vibe right now and that's exactly what we were feeling for tonight's Met Gala," he added. "Her gown was clean and all white so we wanted a look to compliment that.
That said, they did add in a nuanced nod to the Comme des Garcons theme. "Classic Kim is a bit more dewy with bronzed/shimmer eyes," he explained. "This look was matte and using white matte shadow on the eyes. Something she doesn't do very often."
The exact shade was Chanel Ombre Première Longwear Powder Eyeshadow in Sable, which Dedivanovic applied "not too close to the inner corner. Adding, "I kept it more on the outside, with very little on the lower lashline."
His key for copying the style as home is to look "very lashy," he confirmed. He used Chanel Le Volume Mascara on the top and bottom lashes.
Also, copy her signature nude lip by prepping your pout with what Kim used: Kiehl's Butterstick Lip Treatment SPF 25 in Untinted topped with Rouge Allure Velvet Luminous Matte Lip Colour in Libre.