Madonna MDNA Reinvention Cream
Madonna Is Just as Skin-Care Obsessed as You Are — and She's Got a Brand New Moisturizer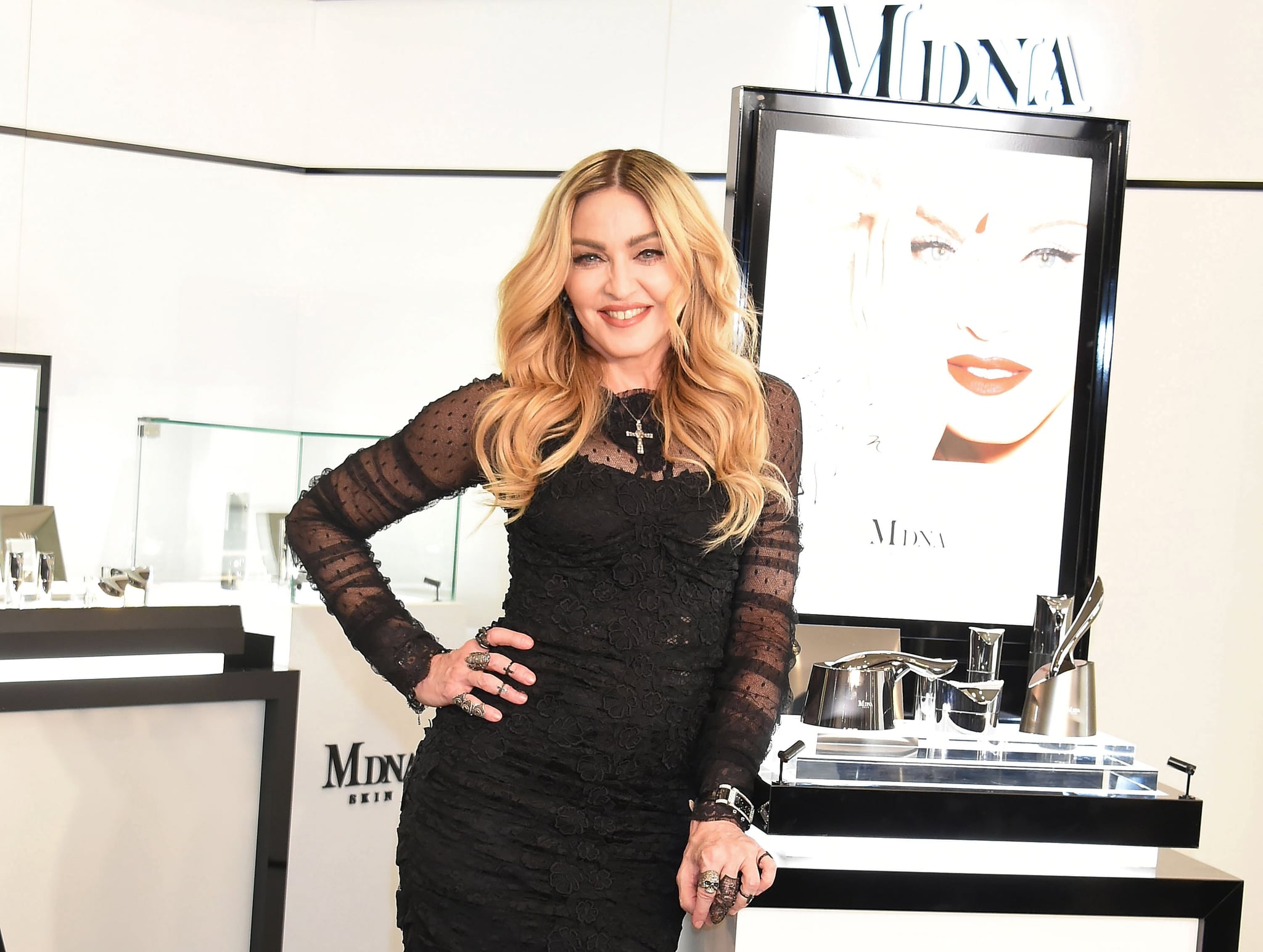 When f*cking Madonna talks to you about reinvention, you sit and listen. The queen of pop just dropped her latest skincare product, The Reinvention Cream ($75), and sat down with POPSGUAR discuss the special addition to her MDNA line. The new moisturizer is very close to the star's heart. As she said, "I'm known as the queen of reinvention. Resilience is part of my life and the reason I keep going — it's a cream that represents me and who I am."
The new cream, as well as the rest of the MDNA line, was created by the songstress with the help of Japanese tech-skincare brand MTG, and cosmetic dermatologist Dr. Paul Jarrod Frank. The line was originally launched in Asia in 2014, and brought stateside in 2017 to share Madonna's complexion secrets with an American market.
Just like Madonna, many of us are short on time and want a multi-purpose product that works. Enter the Reinvention Cream. Depending on how much you use it, the formula can replace your daytime moisturizer, nighttime cream, serum, and hydrating mask. When I tested the product myself, I was blown away. The moisturizer has my ideal consistency. It's so lightweight that I never feel greasy, and I can pile it on before bed. In the morning, it absorbs fast enough to put it on before makeup.
"I'm known as the queen of reinvention. Resilience is part of my life and the reason I keep going"
As for benefits, the Reinvention Cream will make you feel like a skincare virgin. Just like the rest of the MDNA line, it's packed with Montecatini Thermal Waters, which are rich in minerals. What's unique about this cream, however, is the inclusion of stem cells from resurrection plants, a desert plant with the ability to survive in extremely dry climates. Madonna explained that, "When [resurrection plants] are in its hibernation state, they're not very pretty to look at. All you have to do is add a drop of moisture to it and it opens up and reinvents itself and a flower appears from the inside."
Another reason the plant is so special? Most are found in Africa, a place near to Madonna's heart. "I have a very close relationship with Africa. I spend a lot of my time there, especially in Malawi," she said. The singer's four adopted children hail from the southeastern African country. A portion of the sales from the Reinvention Cream will go towards Madonna's philanthropy, Raising Malawi, which provides a year of education for young Malawians.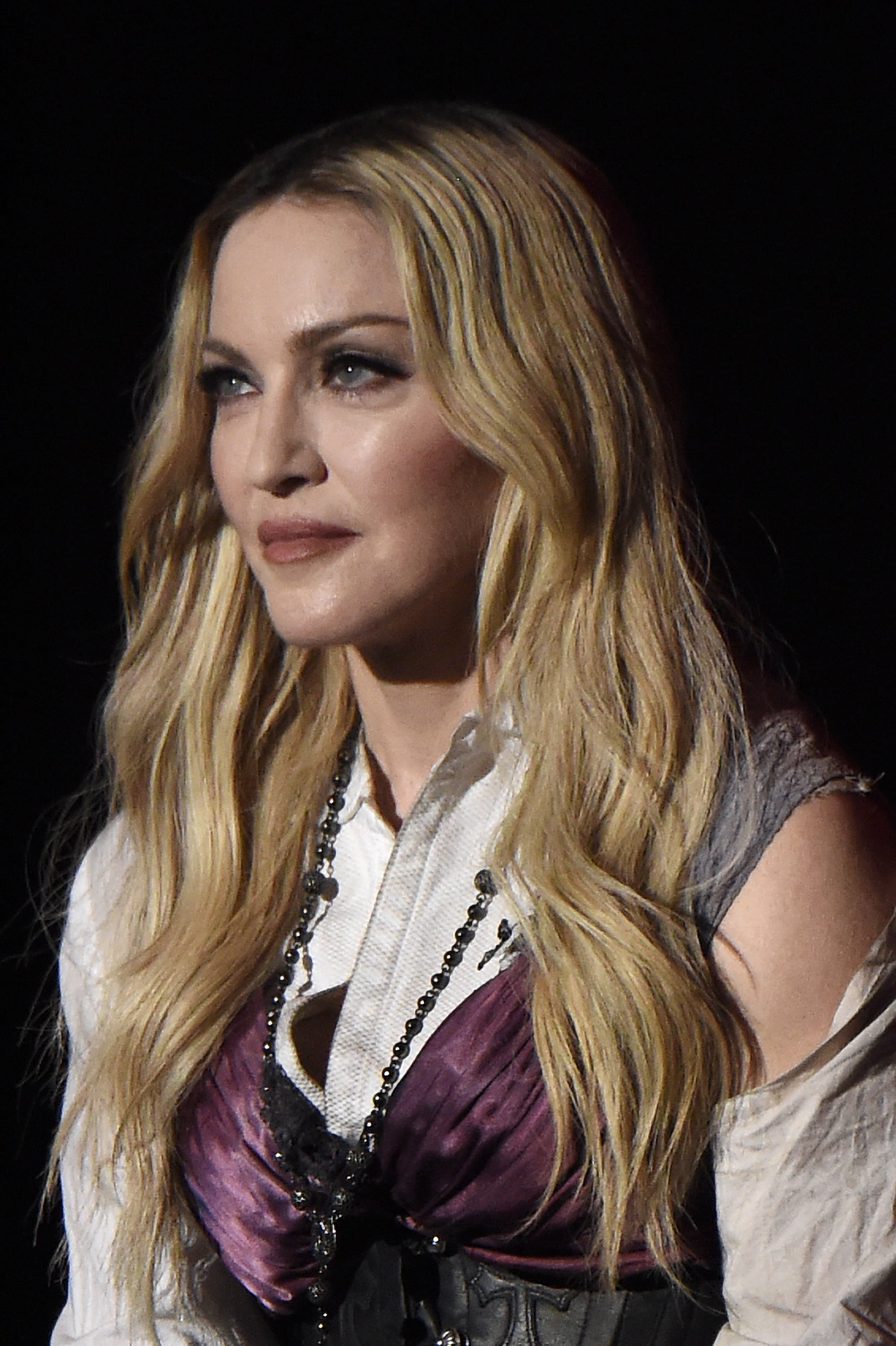 Getty / Kevin Mazur
Madonna's theatrical music videos often include her in glamorous hair and makeup. You might think that she's a big fan of getting dolled up, but in reality, she's much more into skincare than makeup or hair. "If I don't do an event or go to a photo shoot, I don't really wear makeup," Madonna explained. "[However,] my mother had beautiful skin, my grandmother had beautiful skin, and I've always taken good care of my skin, and have received compliments on my skin. Skincare has been a big part of my life."
Even her favorite music video beauty looks are all about the skin, "In my video for 'Ray of Light,' I have a fake tan. Of course, it's always nice to have bronzer from head to toe and you're glowing. I would never actually get that tan, but I look good in it with glowy kind of dewy skin." Her other favorite look? "In 'Nothing Really Matters,' I like how fair my skin looked, and how dark my hair is."
Madonna's love of skin isn't limited to cosmetics though. The iconic woman has also been known for showing a lot of it — and has been frequently criticized for it, dating back to her "Like a Virgin" days. "I got a lot of [criticism] from the beginning of my career for expressing myself sexually and for using my sexuality for a part of my work from the beginning with 'Like a Virgin,' to my Sex book." Since Madonna describes herself as a trailblazer for female sexuality, I asked the singer what she thought about the current state of women-driven pop. "When I look at what's going on now in pop culture and the way a lot of other women are using their sexuality their bodies, their skin, nudity, the female form, it's hilarious to me now that what I did ever offended anyone," she said.
"I never think that a woman exposing her body, or her skin, or celebrating her sexuality should be frowned upon or looked down upon"
It's unsurprising that Madonna is fully supportive of women showing off what they've got. As she put it, "I never think that a woman exposing her body or her skin or celebrating her sexuality should be frowned upon or looked down upon." According to Madge, it's all about the intent behind the sexuality. "I was sick of watching women portrayed sexually from the male point of view. I wanted to see female sexuality from a female point of view. Instead of letting men objectify me, I took the opportunity to objectify myself [in the Sex book]. I feel like if women today are embracing that and approaching their own sexuality with that mindset, then we are all forging ahead and making advancements," she said.
To be as confident in your skin as Madonna, the songstress suggests taking care of yourself. "I think the three easiest things are no smoking, stay out of the sun, and hydrate yourself with water." As for pop-icon status confidence? Don't compare yourself to others. "If you see someone else's beauty, someone else's success, it doesn't mean that there isn't room for your own beauty and your own success and your own uniqueness."