Makeup Tips For Engagement Pictures
5 Tips For Looking Flawless in Your Engagement Pictures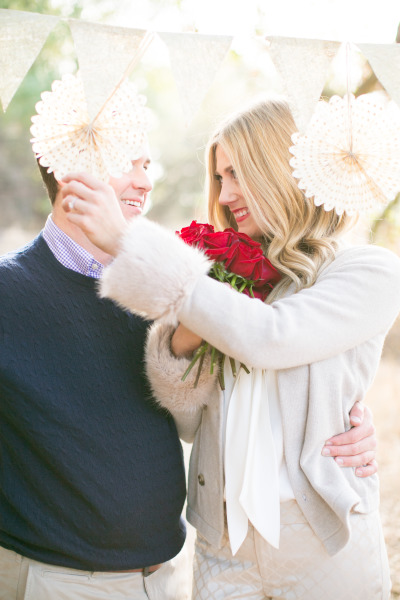 Being engaged comes with plenty of excitement, and one aspect plenty of brides-to-be look forward to is their engagement shoot. And while you may have budgeted professional makeup for the day of your wedding (lucky you!), chances are you're going rogue for your engagement photos. And that's totally fine. These photos look best when they look like you. But in case you're still a little unsure of things, here are five tips to keep in mind when it's picture time:
Pick a primer. Not only will a primer completely even out your skin tone and work as a base for the rest of your makeup, but it will also keep your product from slipping down your face midshoot. Smashbox Photo Finish Primer ($36) is a classic. Smooth it on before you apply your makeup.
Go for full coverage. Your engagement photos are not the place to bust out your favorite tinted moisturizer. A foundation with full coverage, like Make Up For Ever HD Invisible Cover Foundation ($42), will cover just about everything. And if you're worried about cake face, never fear. Heavy foundations like this were made with cameras in mind, and your photographer's lens won't be able to detect it.
Make sure you match. The worst thing you could do is not have a concealer that matches your skin tone. Go to the makeup counter and get matched so that your concealer will blend and not steal the spotlight away from you.
Be blushed and bronzed. These two products work together to make you look gorgeous, so leaving one out can make you look flat. Pick up a duo like Lorac Blush/Bronzer Duo ($30), and start by sweeping the blush onto the apples of your cheeks. Then contour below the blush with the bronzer.
Don't forget to whiten. Teeth whitening can be your best friend when it comes to these photos, especially if they're in color. An at-home treatment, like Go Smile's Smile Whitening System ($89) may seem pricey, but the result will pay off. You'll have a set of gorgeous engagement photos . . . and a lovely smile to go along with it.