Metallic Manicure Dubai
Nail Trend Alert: Dubai's Best Mirror Mani
There's a new nail trend going on in Dubai, and it can't be missed.
Chrome gel nails are the latest craze to hit salons around the UAE, and the super-cool look is perfect for the holiday season.
These nails are the coolest nails you will ever see! They have recently been introduced to the UAE and we got a chance to try them with one of the first salons in Dubai to have them.
These reflecting metallic nails come in many different colors, including rose gold, gold, silver, blue, pink, purple. A high pigmented metallic glitter powder is rubbed over your nail, then a top coat is applied. The top coat is then set with the gel machine where it seals the perfect manicure that lasts up to 4 weeks!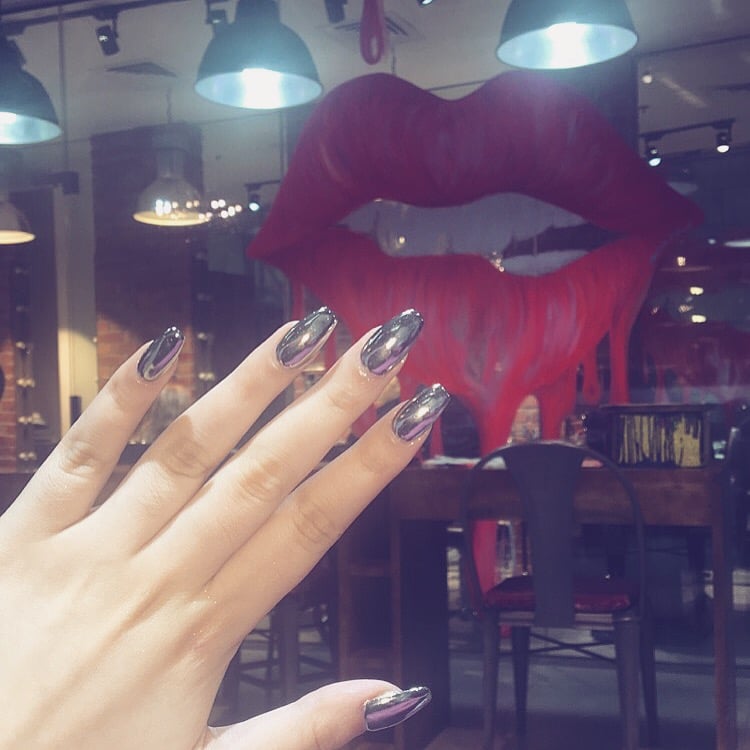 The process is fun, and getting a matching mani pedi is highly recommended. These eye catching nails got so much attention and are perfect for events. We Nails Dubai located in Dubai Marina is a trendy salon with a street vibe, similar to a New York City loft.
Like in a typical manicure, nails are cleaned and filed, but the additional steps for this crome-gel look can take about 30 minutes. After each coat of polish (including top coat) is applied, your hands are placed in a gel machine. At the very end, a pigment coat is applied, which gives the nails their chrome effect: for example, if you choose a pink base, the pigment will make the nails appear rose gold.
These fun, trendy nails are definitely worth the splurge for your next mani!