Natural Hair Inspiration | Tutorial
7 DIY Looks For Natural Hair
When planning this natural hairstyle tutorial, we knew we had to recruit the hair mavens at Mane Addicts to help us find the master in natural styling. And they delivered! Celebrity hairstylist Cesar Ramirez glams up performers like Ciara, Jennifer Hudson, and Kelly Rowland, and when we tasked him with creating seven easy to DIY natural hair looks — one for every day of the week — he nailed it.
Many times, you see an expert tutorial where the looks are great, but they're impossible to do alone at home. To drive home the point that these are truly a solo activity, we recruited blogger Grasie Mercedes, whom Cesar taught each look before she demonstrated alone on camera. You'd have no idea she was the student, because girlfriend impressed all of us on set.
Cesar was inspired by the fact that he wanted to create fresh looks that weren't already plastered all over the Internet. "It gets redundant with natural hairstyles, because everyone goes to the same (styles)," said Cesar. "I wanted to be inspired by those and put my twist on them. I don't like to copy anything. It was incorporating the styles I normally do for upstyling into these natural styles," said Cesar.
The collective favorite was Friday's look, which incorporated a piece of flair into an updo. (PS: it was a necklace!) "You can really tailor it to your style. If you're bohemian, go with a boho piece. If you're a little bit more tough, you can add spikes. You can tailor it to your personality. And it can go from supercasual, or you can glam it up and make it into a red carpet look, a wedding look," says Cesar.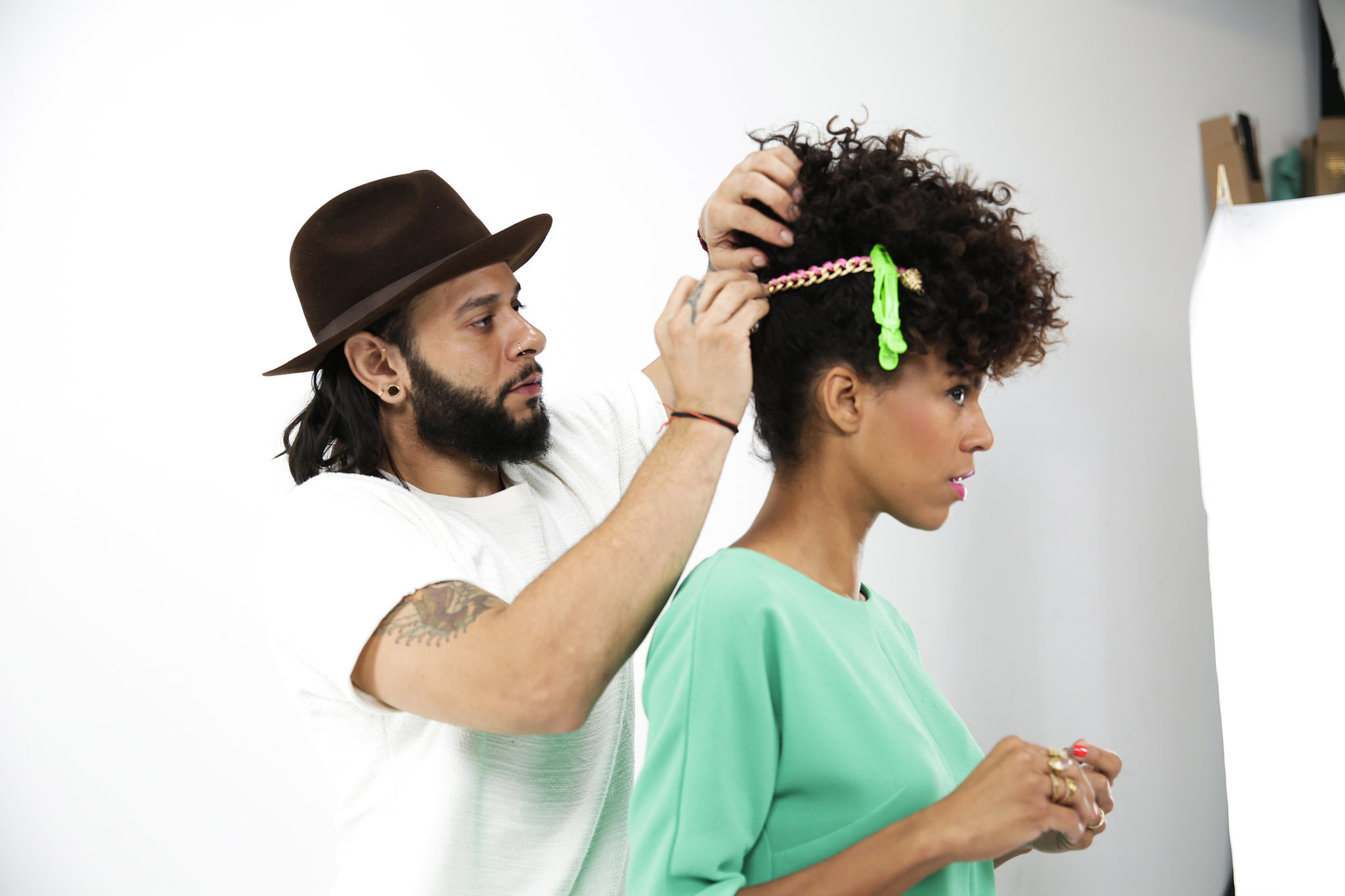 These looks can be tailored to any natural hair length — it's not about how big or how long the hair is. It's all about showing off the texture of your hair. "It's not about it being too superpolished or too sleek or overly product," says Cesar. "You can do it in 10-15 minutes on dry hair, on the second or third day, and you don't want to wash your hair because you are going out or have somewhere to go. It's more about texture than length or trying too much," says Cesar.
To prep Grasie's hair, and to moisturize and keep the curl pattern in place, Cesar started by applying Mizani Curl Set Moisturizing High-Hold Jelly to the hair, which is silicone, wax, mineral oil, and petroleum free. He then wrapped the hair around sponge rollers, alternating between figure eights and spiral twists to give the hair natural texture. After the hair set, he loosened the curl with his fingers.
For each look, Cesar used Mizani Supreme Oil ($26) to add shine and moisture and to give a good slip to the hair. "It's superlight, and because it is a 99 percent naturally derived oil, I was able to use it throughout the entire shoot — the hair never felt too heavy."
Check out how Grasie masters each of Cesar's looks for yourself! And if you DIY any at home, don't forget to tag us on Instagram.
Image Source: POPSUGAR Photography