Rihanna InStyle Interview 2017
Of Her Fenty Beauty Family, This 1 Product Is Rihanna's Favorite Child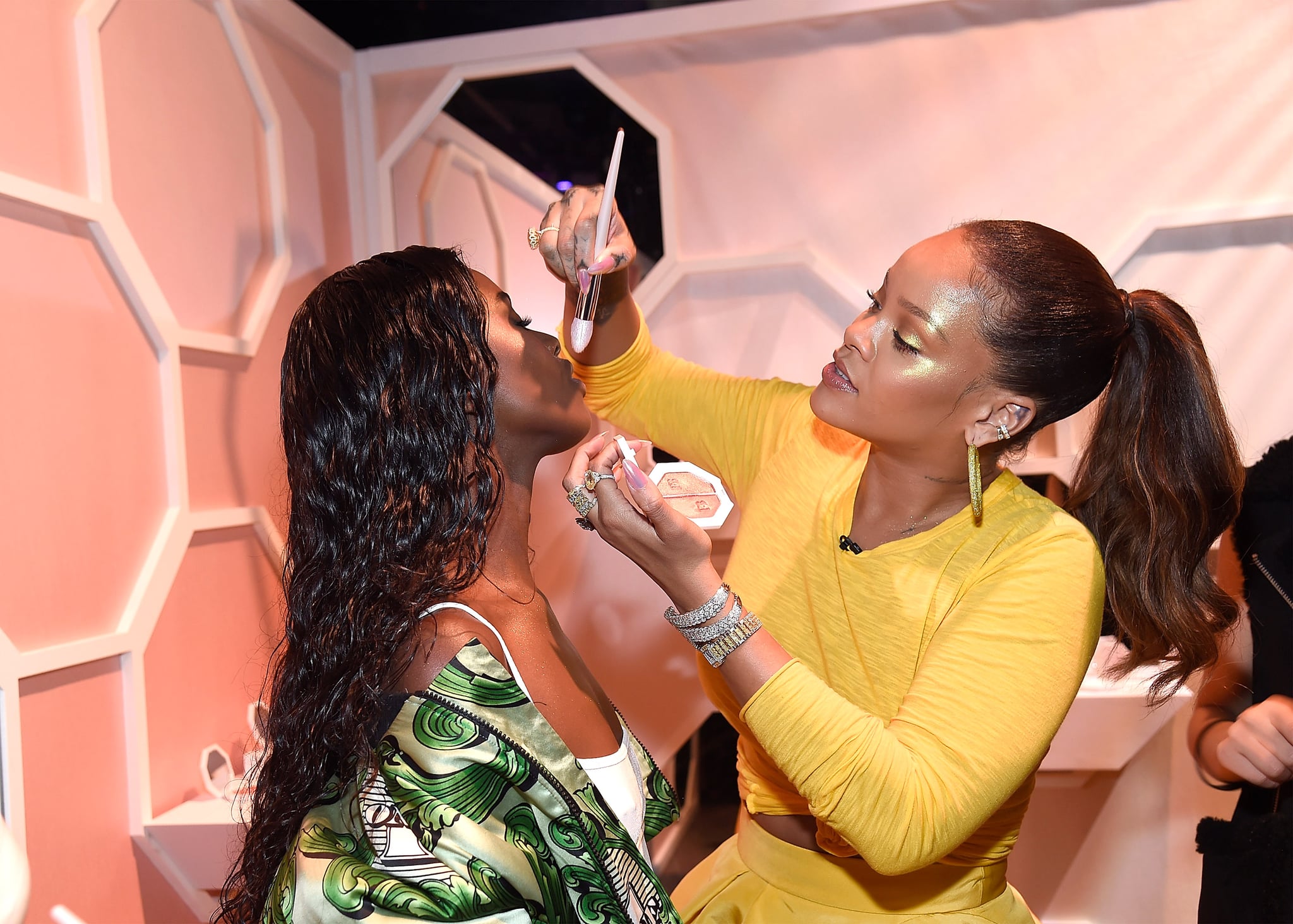 Every time we think we couldn't love Rihanna more, the OG bad gal gives us more reason to be effing obsessed. The Fenty Beauty founder sat down with InStyle for an exclusive interview and kept it RiRi-real about her beauty struggles growing up, of course, Fenty.
In the interview, Rihanna reveals that despite not being allowed to wear makeup in her Bajan household, she still grew up with a burning love for cosmetics. She also shared her favorite Fenty product and revealed why creating a diverse range of products was super important to her. Rihanna also reminisced on her strangest high school hairstyles, which will definitely make you LOL. Ahead, find the most fascinating things we've learned about Fenty and Rihanna from the interview.
On not being able to wear makeup as a child: "Lipstick in Barbados? Not unless I was a bridesmaid in a friend's wedding. My mom wasn't flexible. I wore no makeup."
On wanting to create a makeup line: "You have all these ideas of things you want for yourself, and for me, beauty was a natural fit because makeup is such a huge part of my career and image. I wanted to do a line for years, but it needed to be credible, something that industry pros and girls around the world would respect."
On creating an inclusive line: "I wanted everyone to feel included. We actually started with foundation because it's the very first makeup product I fell in love with."
On her favorite Fenty Beauty product: "I love the Killawatt highlighter because you can use it in so many ways. I put it on my eyes, cheeks, and body. It goes on smooth, and the texture is superfine, almost like liquid — plus it's extremely high-shine. There's a ton of different colors."
On her first experience with foundation: "When I was a teen back in Barbados, I was in a pageant, and my mom did my makeup for it. I will never forget the feeling I had after seeing how even my skin looked when she put foundation on my face. And I remember my brother being so upset. He was like, 'You're gonna put that on every day?' I loved it. It's like Photoshop. I like my makeup to look like skin — really good skin."
On her go-to high school hairstyle: "I wore cornrows until I got a perm. Then once I got a perm, I rotated between ponytails and wearing my hair pressed straight. But when I would go to the hairdresser and my hair was freshly done, I wouldn't put it in a ponytail until it got a little greasy. I had some really strange hairstyles, though. I would do stuff like pull one random piece out of the ponytail or have two cornrows braided down the middle of my head that connected into the ponytail. What was that?"
On how makeup motivates her: "I start by looking for my outfit, and even that can be like, 'Ugh, I gotta figure something out.' If I'm still not feeling it, I go to the mirror and get my beat together. Makeup is therapeutic for me. Once I start my glam — the makeup, the hair — I'm good. I'll play music, find the good light in the bathroom, and just have a great time. That's what gets me motivated."
On her favorite beauty moment so far: "Definitely when I wore a Jean Paul Gaultier couture gown and a doobie wrap with bobby pins to the American Music Awards [in 2013]. It was just so wrong. I couldn't believe what I was doing, but I ended up loving it so much that I kept wearing my hair like that for the next two weeks. I pinned it every day and everything."