Ruby Rose Responds to Acne Anorexia Scrutiny
Ruby Rose Shared a Photo of Her Acne For an Infuriating Reason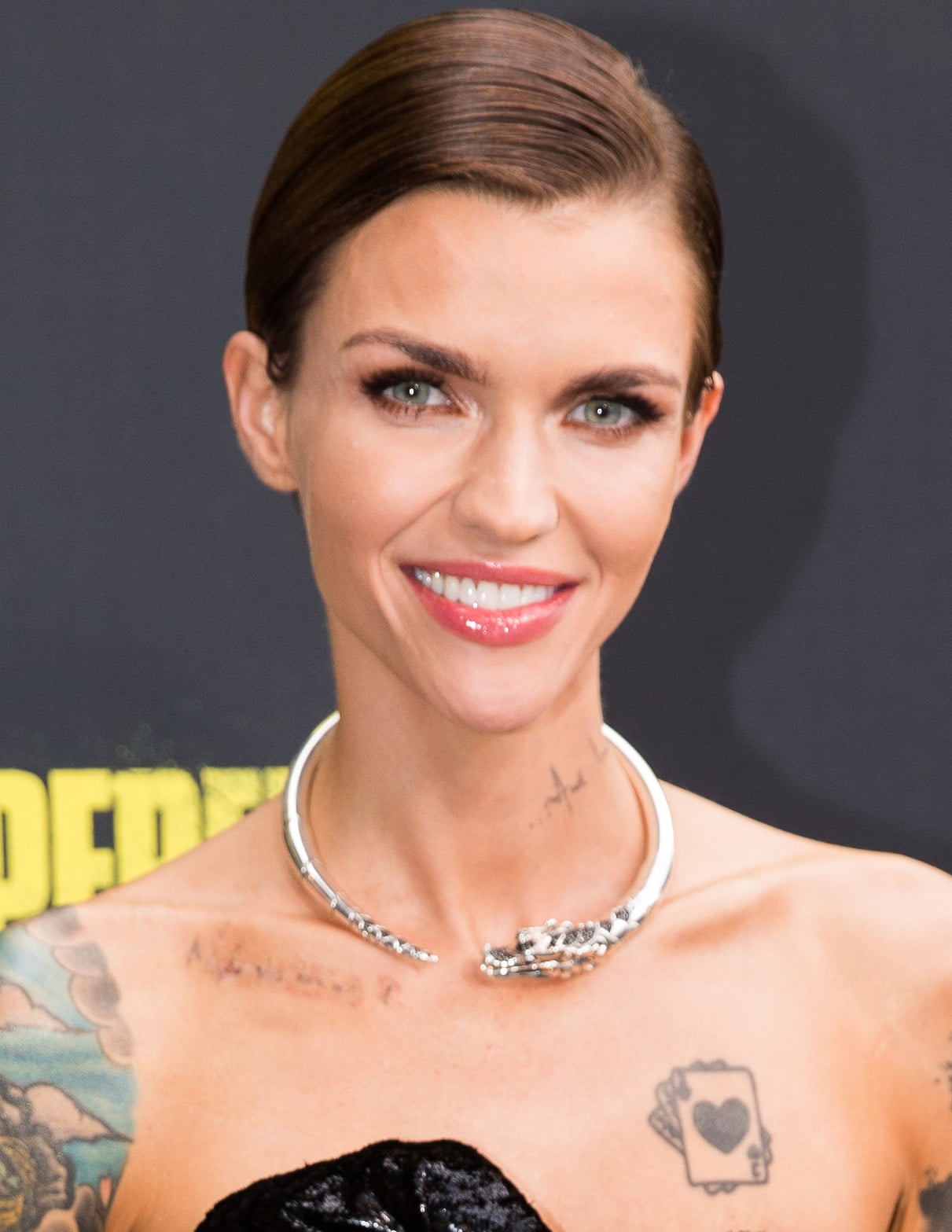 When we always see actresses like Ruby Rose in glossy campaigns or with a full face of makeup on the red carpet, it's so easy to look at her and think, "she's so perfect." She lifted a veil on that perfection to take a stand against media scrutiny of both her face and body.
On her Instagram stories, she took a photo of her bare face breaking out. "This acne belongs to me, not them, and you are welcome to it. I never thought I'd see the day I'd leave my beautiful country balling [sic] my eyes out...when I was so excited to come home," she said. Ruby was in her native Australia for the premiere of her movie Pitch Perfect 3.
With a close-up selfie, she continued, "Yeah it sucks...for me, I don't see how it's bothering so many others? But I'm a human. It happens..one side of my face is clear and the other is a mess." Over on Twitter she elaborated, "I posted my skin because it's mine to post and not theirs to sell. I took my power back."
She attributed her breakouts to bacteria from phones when she did interviews, hotel pillow cases, and spikes in cortisol from stress. It's infuriating that she feels the need to explain her skin at all, but what followed was especially maddening.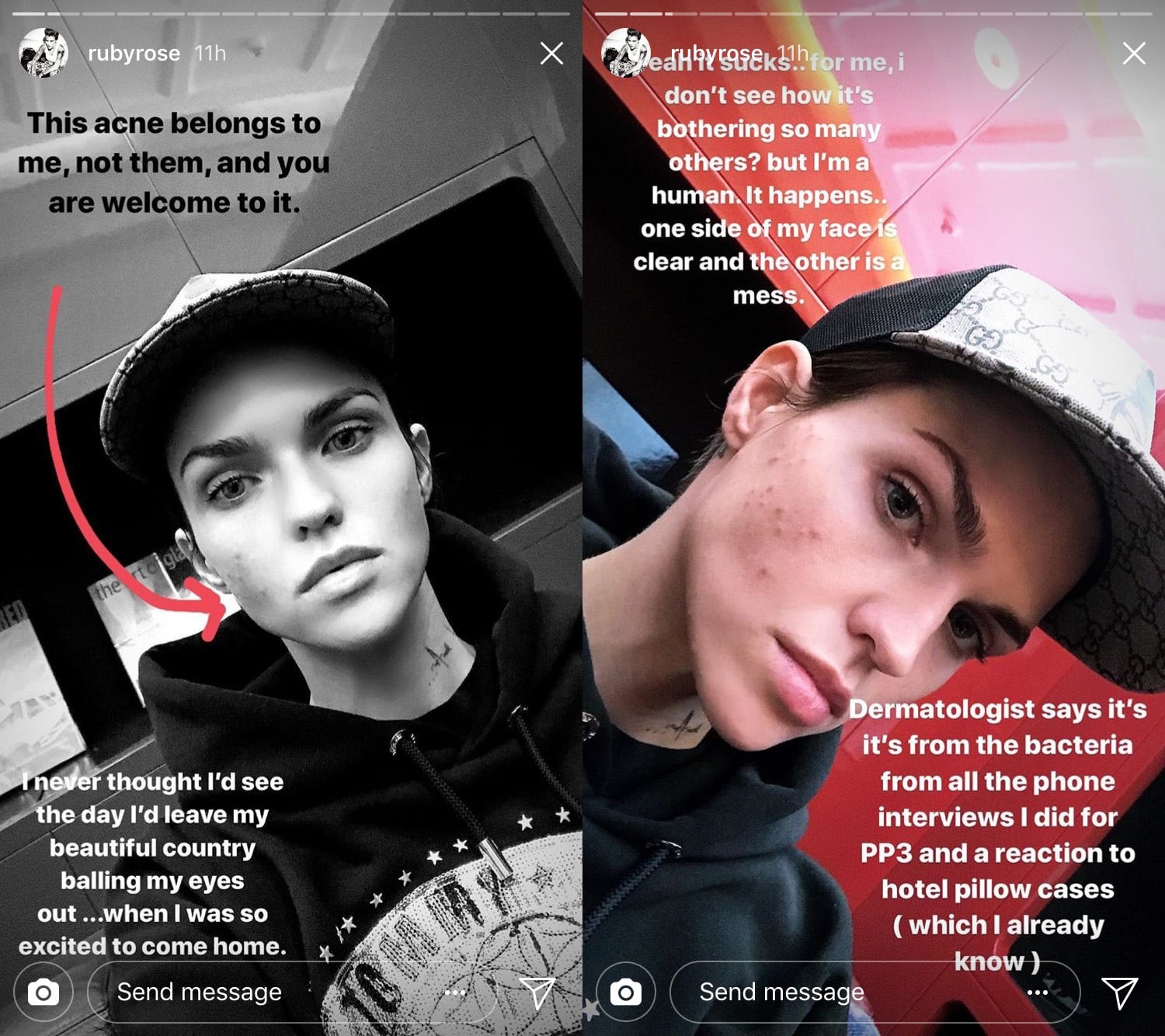 Image Source: Instagram user rubyrose
In a series of images from the movie premiere, Ruby questions media outlets' agendas. "They run only one photo to fit their narrative," she wrote. "Why circulate this...when you can UP the contrast and definition of a rare photo where I was probably taking it in...and change the narrative to sell papers." The photo in question shows Ruby looking downward, with her skin texture more prominent.
Ruby then tackled another issue at hand: accusations that she is anorexic. With photos that showed her spine, she explained "This is always my back. I have a titled posterior...and spinal curvature from a bad car accident." She then published some thoughts to elaborate on her disappointment with what she called "The Daily Fail" (aka The Daily Mail), which apparently "ruined a beautiful experience" for her with eight negative stories on her image.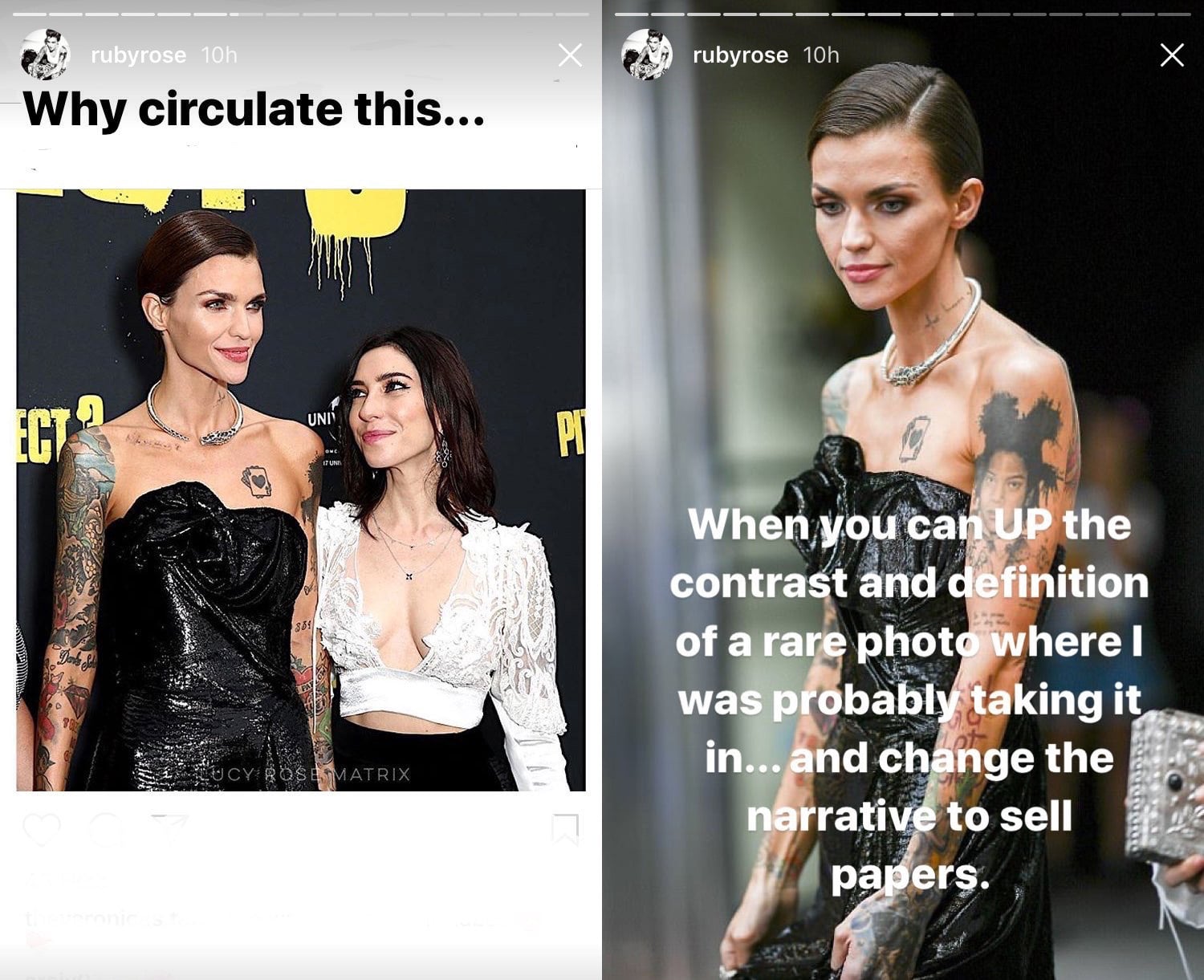 "They don't care that they are using a term like anorexia as if it ISN'T A SERIOUS AND DEADLY ILLNESS," she wrote, calling out the publication for not being more responsible with their coverage. "The damage isn't done to me . . . There is no blood on my hands here but I'd have felt responsible if I'd left it, as you know I'm outspoken about health, mental, and physical. So, from the bottom of my heart I am sorry if those stories triggered anything and anyone." In the wake of all this criticism, Ruby shut off her Instagram comments.
I disabled my comments because when a publication will make endless stories about what the public thinks about my appearance then it's gone too far. Also I don't like when I see my fans attacked or stressed either. You will have to work harder for your stories Australia.

— Ruby Rose (@RubyRose) December 4, 2017
It's not easy to put your vulnerabilities on display, especially when you're held to Hollywood standards of beauty. We applaud Ruby for taking this unfortunate experience and turning it into an opportunity to make people more accountable for the way they consume celebrity images.
See her full Instagram story, ahead.
This was my insta story after having paps follow me into the airports to the gates telling me if I "ate something" maybe they wouldn't have to do that and to "remember where I came from" I posted my skin because it's mine to post and not theirs to sell. I took my power back. pic.twitter.com/L3kTT31uxf

— Ruby Rose (@RubyRose) December 4, 2017