Should I Hire An On-Demand Beauty Wedding Service
I Hired an On-Demand Wedding Beauty Service — and the Unthinkable Happened
"Keep it simple. Keep it simple." That was the mantra, my then-fiance and I kept repeating while planning our Brooklyn wedding last May. Since we are in our 30s, most of our friends already were married, and we had heard tons of stories of the stress and complications that come with producing a one-day affair that is supposed to be, according to nearly everyone, "the most important day of your life."
I bet you can tell where this is going. It wasn't simple. Or stress-free. But we really did try to make it manageable: we kept the guest list down to just 50 people, and stuck to our budget by renting a city garden for the ceremony and booking a local restaurant for the reception. We did a lot of things ourselves, including making teacup candle favors.
A couple months before the big day, a friend asked me who was doing my hair and makeup. Right. Hair and makeup. I hadn't thought of that. I'm someone whose makeup routine consists of wearing eyeliner and mascara about twice a week, and maybe a little blush if I really want to dress up. "Doing my hair" means remembering to brush it in the morning. So while booking hair and makeup is often at the forefront of most bride's wedding lists, it had somehow slipped my mind.
I realized I needed help. "Fear not," my sweet friend said. "I'll just book you an appointment with a great online service I've used before. Hair and makeup stylists come to your apartment and take care of it." My friend took care of the bill, which was around $125, as a gift. (I have great friends, I really do).
And just like that, I crossed hair and makeup off of my to-do list.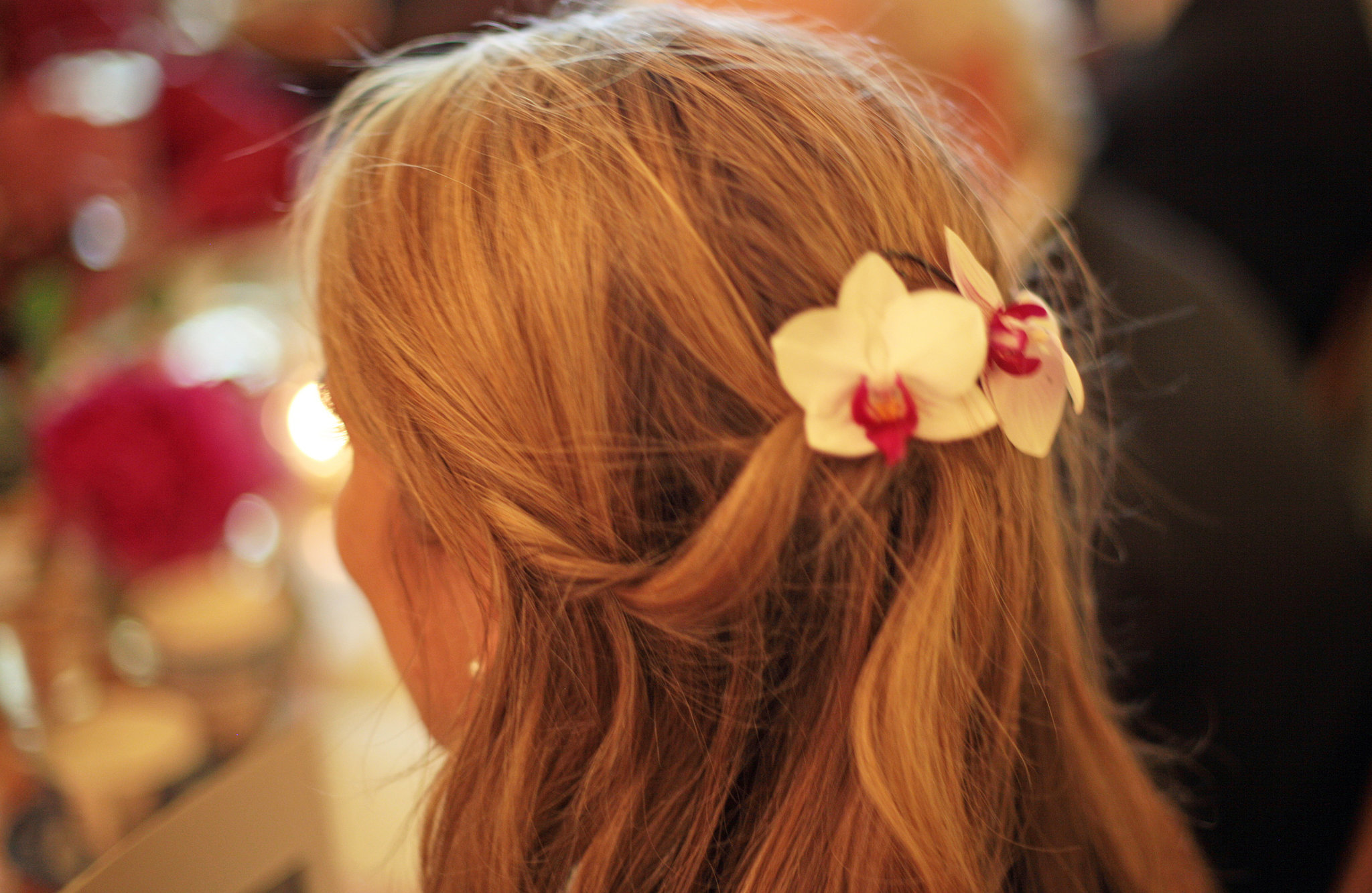 Source: Karim Hajj
Let's fast forward through the drama of cutting notable family members from the guest list, discovering our preferred reception restaurant was already booked, and waiting until the last minute to find a wedding dress. Every wedding has its share of planning stress.
The night before, I double checked everything: taxi reservations, safe rings' storage, and the photographer and beauty stylists' arrival times. The latter was particularly important, as I'd planned a morning wedding that would start promptly at 9 a.m.
I had given myself a 6:30 a.m. wakeup call so I'd be ready on time. Not that I slept. I was up all night with a racing heart — jitters is putting it mildly. At some point around 3 a.m. I even Googled "tricks for falling asleep fast," and they didn't work.
So I stumbled dazed and confused out of my bedroom and announced to my best girlfriends that I was a little frazzled, and that I just wanted the morning to be peaceful.
I put on my undergarments and tried to eat a bagel, waiting for the hairstylist and makeup artist to show up at their 7 a.m. call time. But the hour rolled around and they were nowhere in sight. "No biggie," I thought. "Anyone living in NYC knows that the trains are unpredictable."
But by 7:15 a.m., I started to freak out a little bit. I went back to my email to make sure the reservation was correct, and that's when I saw what had happened. My sweet friend had made a little mistake with my street address! Instead of writing "Southwest" for my street, she had written "West." That's it. The stylists were somewhere looking for an address that didn't even exist. And I was in full-on panic mode.
I immediately started scanning my confirmation email for the stylists' phone numbers or emails, so I could call and tell them the right address. There was nothing to be found. Nothing, that is, except for a hotline for the company. Frantically I dialed it, only to get their voicemail: "We're sorry, but our offices are closed until Monday..."
All I had was the stylists' first names, so on a whim, I Googled one of them. Amazingly, I found her Facebook page, which led me to her website, where I found her email address. It was a Hotmail address. I didn't have much faith it would actually work, but I shot off a quick S.O.S. email as the minutes ticked by.
I was in tears at that point, standing there in my Spanx and wet hair, when my friend offered to do my hair and makeup herself. "OK," I said. I looked at the clock, it was 7:35 a.m. I was supposed to be out the door in an hour. "We don't have much time."
I sat down, and my friend began applying foundation to my tear-stricken face.
"You already look great," she assured me. "I'm just going to make you look a little better."
Source: Karim Hajj
A few minutes later, the doorbell rang. It was the stylists.
They rushed up the stairs, lugging their suitcases full of hair dryers, curlers, eyeliners and powders. They looked as harried as I did.
"I never check my Hotmail account," the hairstylist said, "but something told me to check it this morning. I got your email and we raced over here."
At 7:45 a.m., I sat down again and the ladies went to work. I don't think they'd ever worked that fast before. Luckily for them, I wanted something uncomplicated, so squeezing a one-hour session into 15 minutes wasn't impossible.
The hairstylist began to give me a blowout while the other got to work on my face. The service has a dozen or so "looks" to choose from, and I chose a classic but simple one with some soft curls, pinned up so I could stick a few flowers in the back. For my makeup, I wanted a natural look, but a kind of "natural" that would disguise the fact that I hadn't slept a wink the night before.
The two women were amazing and really made me feel like it was all going to be OK. At a little past 8 a.m., they were done. With a slight change to my makeup (I had her tone down the initial job a little bit around the eyes), my "look" was complete. It was elegant, classic, and natural.
I quickly put on my dress and shoes and walked out the door, into my future as a married woman.
The wedding, by the way, was unforgettable.
If I were to do it all again, I would pay more attention to my wedding hair and makeup appointments. I notified the company about the whole ordeal. They said the reason there was no contact information exchanged was to protect the privacy of both stylist and client. They did, though, say that they'd try to come up with a system so that a similar situation would never happen again. In the end, they felt so bad about the near-wedding disaster that they gave both my friend and I gift certificates to use in the future — which we used, and had great experiences.
So, it all worked out. And I got to get married to my best friend, which was pretty great too.