Tips for Highlighting
How to Achieve a Glowing Look That Won't Melt in The Sun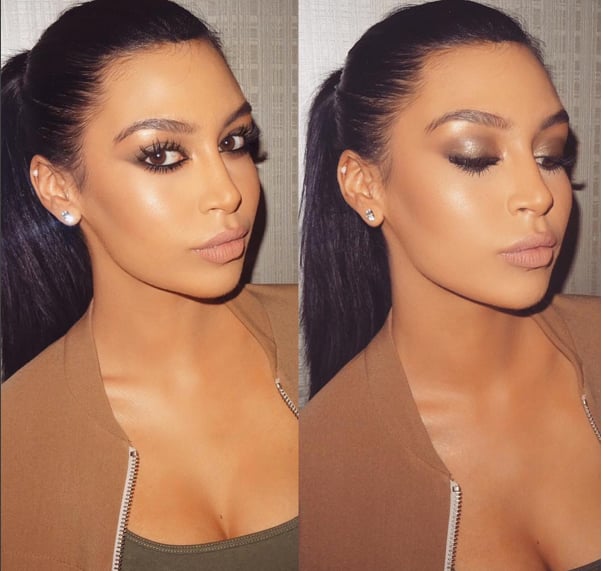 Notice how so many women want stay away from the glowy look in the Middle East, mainly because they think you can't use powder to set your makeup in order to keep the glow look? In reality, it's the complete opposite, and we're here to show you how to keep your glowy complexion in extreme weather conditions. These makeup tips are bullet proof-- you can keep your makeup on for 16 hours and still have the Victoria's Secret glow.
Dry skin
Use primer of your choice: once your primer has settled you can pick your favorite liquid highlighter. Some good choices for dry skin are Benefit Sun Beam; MAC Lustre drops; NARS Illuminator; and NYX Born to Glow Liquid Highlight.
Apply the liquid highlighter on points where skin should have the "strobing" effect which would be cheekbones, above brows, bridge of nose, cupids bow, brow bone and chin.
Next apply your foundation over this. It's best to use a beauty sponge for this as it will keep the glow. Lightly set foundation with a pressed powder.
Oily skin/ Combination skin
Before you begin, you want to have your base prepared already, meaning that your primer and foundation and concealer should be on and already set with powder. The strobing will be added with additional powder.
For oily skin it's best to only add the highlighter on the cheekbones, brow bone, above brow bone and cupids bow. Since the T-zone gets oily itself it's best to avoid adding any shine here.
Some of the best powder highlighters on the market are Laura Mercier Candle Light; MAC Mineralize Skin Finish in soft and gentle; The Balm Cosmetics Mary Lou-manizer; and Hourglass Ambient Highlight powder. If you want to intensify your highlight, wet your brush before applying the highlighter.
Try these tips to achieve a flawless glow that will stay in place-- no matter how high the temperatures soar!
Image Source: SoniaxFyza