Work Makeup Mistakes
10 Makeup Mistakes You Need to Stop Making at the Office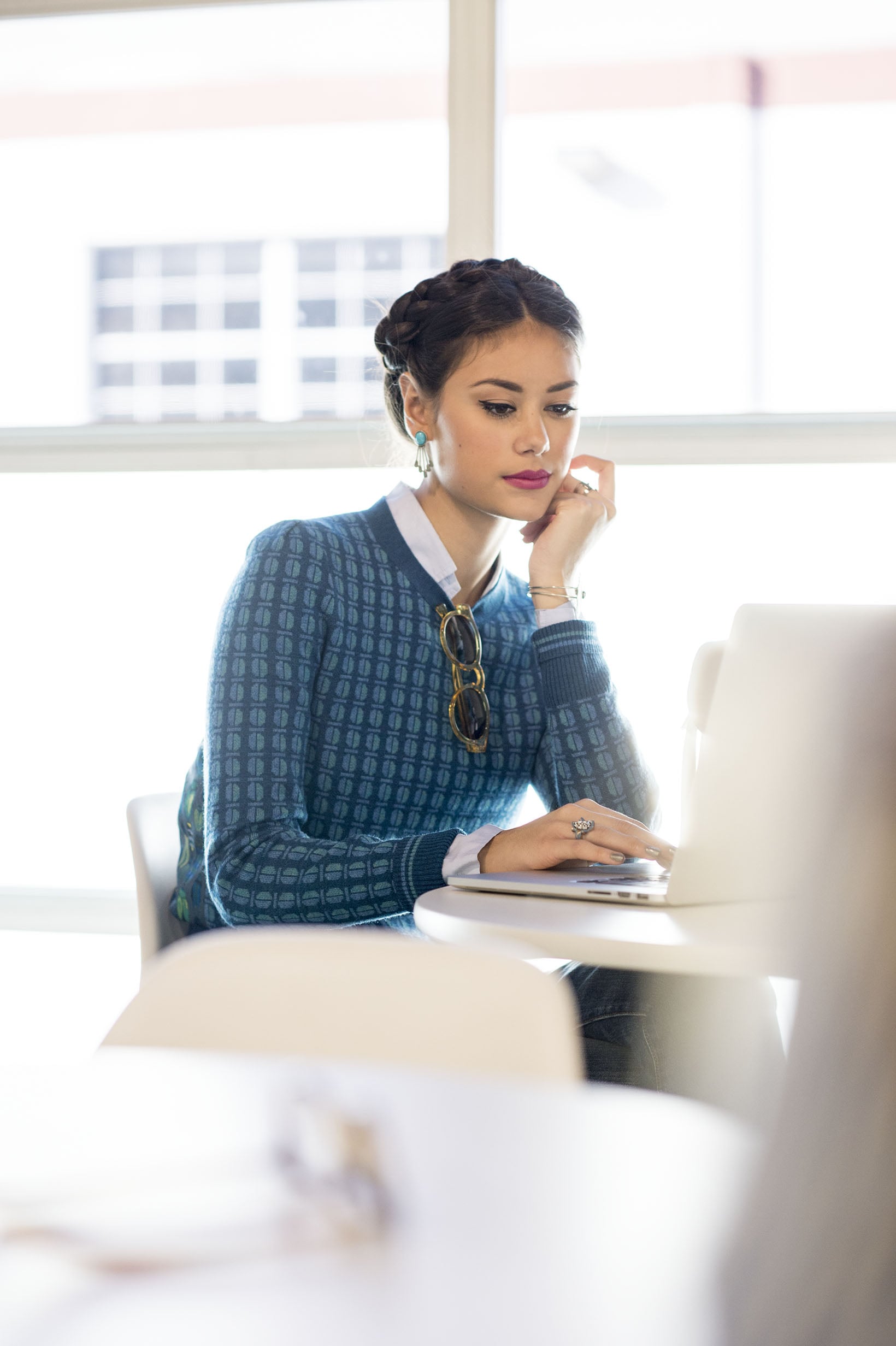 At the workplace, beauty gals face a tough challenge: expressing their individuality (and love of makeup!) while looking professional and sophisticated. Just like the outfit you wear to the office, the choices you make with your beauty routine can dramatically affect your colleagues' perspective of you.
In fact, it's the sad truth that your appearance could make you appear less competent. It was recently confirmed in a study that women who don't wear makeup make less money than those who do, and we predict that shoddy cosmetic application can also result in the same wage gap. So rather than let a fun hobby affect our salary, we consulted a pro for advice. Jerry Johnson, Global Makeup Artist for Laura Mercier, schooled us on the biggest office beauty mistakes to ensure our makeup always looks polished and professional in the workplace.
Not seeking out the best lighting in the office. If you put makeup on at work, this tip is essential. There's a good chance that you have fluorescent lightbulbs throughout your office. If that's the case, you already know that they're not particularly flattering, and can make you look sickly.

"Fluorescent lighting can be terrible for makeup application," confirmed Johnson, who advised you head to the ladies' room for touchups instead of sticking at your desk. "Many office bathrooms have windows with natural light, or even just better lighting than the office." This will prevent you from overapplying foundation, blush, or bronzer to counteract the washed-out effects of the fluorescent bulbs.

If your bathroom's lighting is just as bleak, just seek out a window away from nosy or judgmental colleagues. Sun on a cloudy day is still an improvement over office lighting!

Using too much metallic formulas in your routine. "Just say no to shimmer!" declared Johnson. "When you wear shimmer and sparkle makeup, it reads like you're going out for the evening." If you opt to add a bit of luminosity to your appearance, focus on a bit of glimmer in your blush or strobing with a very light hand to give your complexion a healthy glow. Double-check your face in the office lighting to make sure you don't look too Vegas-ready overt — above all, you want to look like a professional at work, not a party girl.
Not rocking a power lip for presentations. Even if a bold pout isn't usually in your beauty wheelhouse, consider it if you'll have a starring role at your next meeting. "When speaking in front of a crowd, you want people to pay attention to you and what you're saying," Johnson pointed out. "A bright shade draws attention and your colleagues will be more apt to listen to you." Try a confident, tomato-red shade like Laura Mercier Velour Lovers Lip Colour in Foreplay ($28).
Wearing too much foundation. "Stick to a natural, reasonable amount of coverage," Johnson suggested. Excess cream foundation and setting powder can look especially heavy and chalky under fluorescent lights. Instead, try just covering dark circles, blemishes, and other imperfections with concealer, then evening out your skin tone with a sheer foundation or tinted moisturizer.
Checking yourself out too frequently. Unless you're a fellow beauty editor, your boss probably won't appreciate if you test out your most recent lipstick purchases or dust on bronzer on company time — especially at your desk. Restrict your touchups to the ladies' room and save them for moments that matter, like before a meeting or happy hour.

Forgetting to fill in your brows. By simply defining your arches, you'll look more groomed, polished, and professional. "I've seen many women put on entire face of makeup and then forget about the eyebrows!" Johnson lamented. "Your eyebrows shape your face."

The finished result of a filled brow is also supersubtle, so those who don't want to wear a full face of makeup or work in environments that frown on cosmetics should definitely try it out. Lightly sketch in the sparse parts of your brows and improve their shape using a pencil like Laura Mercier Eyebrow Pencil ($24). Be wary of making them look too heavy; you don't want your new office nickname to be "Groucho Marx." Learn how to pick the right shade for your arches here, then master how to fill them in.

Slicking on lip gloss. "Leave the shiny glosses for a night on the town," advised Johnson. Lacquered lips can look overly youthful or too casual, so opt for matte-, cream-, or balm-textured formulas instead. Consider stashing one of these innovative pout formulas in your bag.
Aggressively contouring. "We all know that contouring is super popular, but be sure to do a soft contour," Johnson warned. He recommended sculpting with a product that is only one or two shades darker than your natural skin tone. "It doesn't matter if you use a cream or powder," he said, "just as long as it's not harsh looking!" Learn how to properly contour here (and save the aggressive cheekbone-carving for the 'gram).
Skipping blush. "Many women think that if they contour, they won't need blush," shared Johnson. "This is such a huge mistake! Blush brings color into your face." And, a little rouge can quickly counteract a sallow-looking complexion under fluorescent lights. Not sure which shade is best for your skin tone? Once you figure out your undertone (warm, cool, or neutral), you'll be better prepared to shop!
Going through your entire beauty routine at your desk. Let us be clear: intermittent lipstick applications and dabs of powder are fine, but doing your whole 20-step regimen at your computer is not. "There's no need to overdo it! Just bring the necessities — lipstick, pressed powder and mascara," pleaded Johnson. If you'd rather wear more makeup to work, apply it before you get to the office. You may have to set an earlier alarm (and forgo hitting snooze), but that losing that extra 15 minutes is worth gaining a boost in professionalism.
Image Source: POPSUGAR Photography / Matthew Barnes