YSL Color Corrector
The Only Product You Need to Color Correct Like a Boss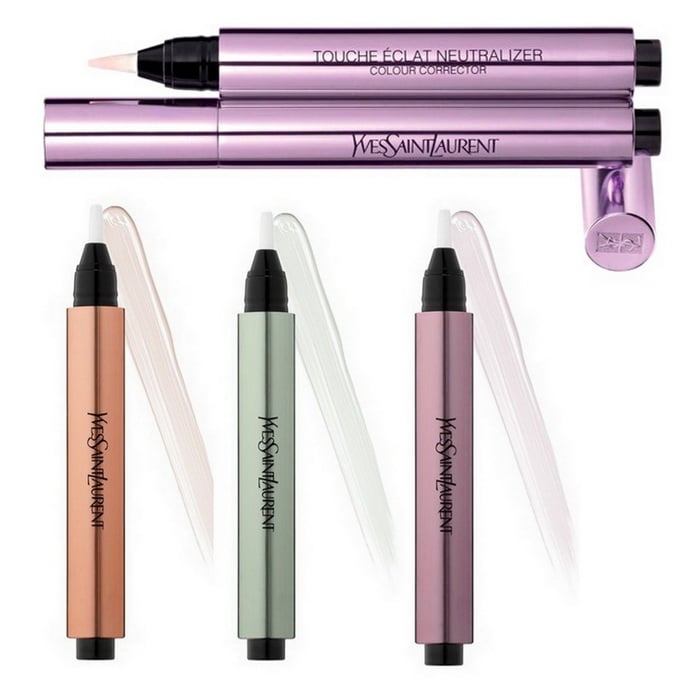 We can't live with out our color correctors!
Yves Saint Laurent Color Correctors/ Touché Eclat Neutralizers are items we have been playing around with for a while, and since falling in love with them we have told all our friends and family. You definitely should keep these two in your makeup bag.
It was the pretty packaging that caught our eyes at first, but after using these bad boys for over a month we just pray they will be a part of the permanent collection. There are 3 shades: violet, apricot and a mint green.
Each color has its own purpose. The ones we are currently into using are the apricot/peach shade for our under eye circles. The applicator is a soft brush, and the product itself is very light weight and is soft enough to apply under the eyes with the applicator. The shade isn't too orange like most correctors and also works great for acne scars. It's best applied before foundation but after primer.
The violet shade is to neutralize any yellow areas that are dull. Giving the face a brighter and even look.
The mint green shade is to cancel out redness such as pimples, blemishes and any red areas around the nose and cheeks.
The best thing about these is that they are an easy product to use, and there is a button to release the product so you have control over how much you use. It's much easier than twisting your concealer! They have colored the packaging to match the color of the product so you won't get confused when picking up your corrector.
Color correctors are getting very popular at the moment, though not everyone knows how to use them. These two items have just made them so much easier to understand and use. They aren't too thick in consistency either, so they go on smoothly and sit on the skin very well. The best news is, they last all day with no sign of the corrector coming through on to the foundation, which a lot of correctors usually do after a few hours.