2018 UAE Most Admired People
The UAE's Most Admired Men Won't Surprise You (but the Women Might)
For the third year in a row, YouGov's 2018 Most Admired Person list is out and the UAE picked some outstanding people.
With more than 37,000 participants in over 35 countries, it's safe to say the survey is pretty legit. It's also highly reasonable and appropriate for the United Arab Emirates to put Dubai Ruler and Vice President of the UAE, Mohammed bin Rashid Al Maktoum, and President of the UAE and Ruler of Abu Dhabi, Mohammed bin Zayed Al Nahyan, in first and second place, respectively.
If you live in the country or follow its news, you'd know just what rock stars these two rulers are. From creating a Happiness Ministry to make sure people are happy (who does that?!), to the hundreds of millions of dirhams they've spent on grants, public education and healthcare, it's a great place to be. This is alongside giving university graduates a leg up in the corporate world, helping young people get married through allocated housing allowances, and working towards raising the retirement and welfare packages for the poor, the list of good things these men have accomplished is seemingly endless.
So, yeah. Sheikh Mohammed Al Maktoum getting 12.4 percent of the vote and Sheikh Mohammed Al Nahyan with 8.9 percent of the vote is perfectly reasonable.
Other heavyweights that made the list include Bill Gates, who came in third with 7.3 percent, and Barack Obama with 6.3 percent, putting him in fourth place. A combo of footballers, actors and businessmen were also on there, such as; Jackie Chan, Telsa's Elon Musk, and Lionel Messi – because it's Messi.
The women's category was more of a global affair, with Hollywood beauty, Angelina Jolie topping the list, scoring 13.3 percent of the votes. Oprah Winfrey was second with 7.3 percent and Queen Elizabeth II came in third with 5.8 percent. No offense, but we are surprised the likes of Queen Rania (who came 5th) and Malala Yousafzai (who came in 7th) weren't higher up. But voters redeemed themselves with Sheikha Fatima Bint Mubarak Al Ketbi, wife of the late Sheikh Zayed bin Sultan Al Nahyan, reaching number 4 on the list. She's a pioneer in women's rights and empowerment in the nation.
Surprisingly, the list had no Arab actresses or musicians, but was heavy on Indian actresses and political activists. Chinese actresses, such as Liu Yifei and Zhao Wei, were on there too.
Seems like locals are more into politics and activists, and prefer international cinema over Arab cinema. We're not sure how accurate that is, as Ramadan can surely attest to the number of UAE residents doing Arabic series marathons during the Holy Month.
Check out Saudi Arabia's most popular people and see results from Morocco and Egypt below.
UAE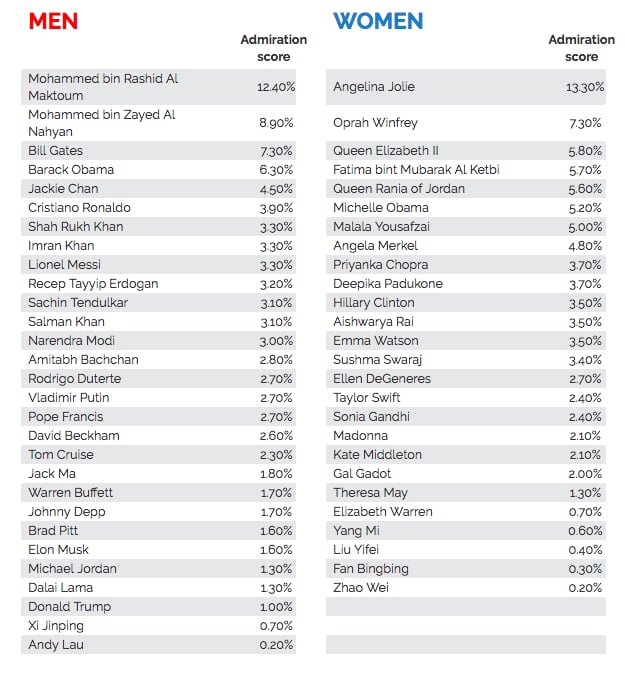 Morocco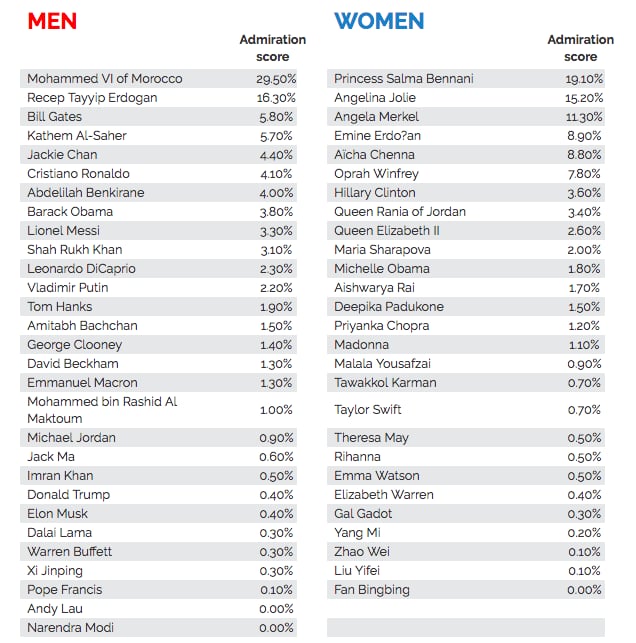 Egypt