Ava DuVernay Quotes on A Wrinkle in Time and Oprah Feb. 2018
Ava DuVernay Says A Wrinkle in Time "Saved Her" in a Moment When She "Just Needed Some Joy"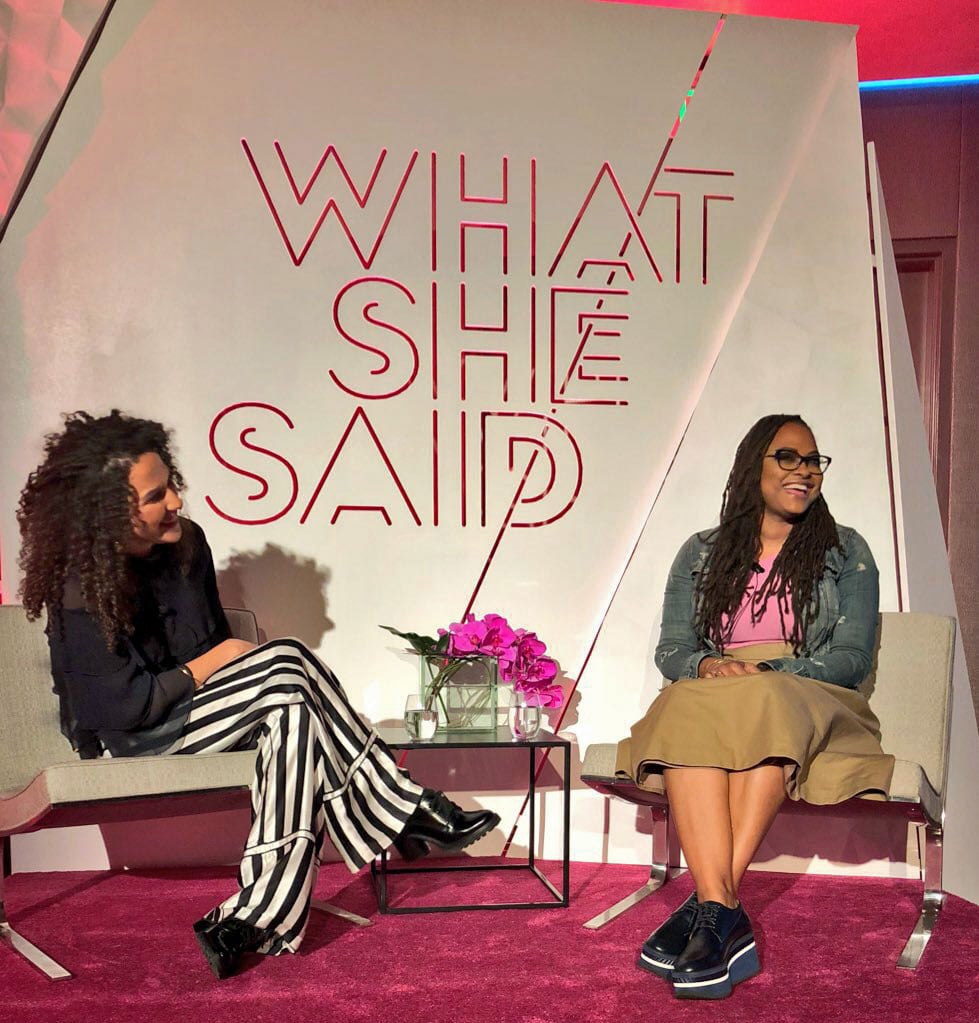 Director Ava DuVernay sat down — which must be a rarity for her these days — last night for an intimate conversation in Hollywood as part of W Hotels's "What She Said" series. After all, less than two hours earlier, Ava was on the other side of town introducing a screening of A Wrinkle in Time on the Disney lot, suggesting she might have learned a thing or two about wrinkling time herself.
Ava's adaption of the beloved children's book hits theaters in less than two weeks, and her enthusiasm about the project is almost tangible. She views Madeleine L'Engle's book as wildly ahead of its time, and sees the writer's own life story — the book was rejected by 29 publishers before it finally made it to print — as a lesson in perseverance. "She was like this, really radical, interesting white woman. She had a girl as a hero in a science-fiction book that was spirituality and social commentary and spectactle all wrapped up," Ava said. "People were reading it like, 'Lady, what the heck? It's 1963!'" That moment was one of many last night that kept her audience of about 60 (mostly) women "yes"ing and snapping with affirmation.
"I Can Imagine There's a Kind of Emotional Trauma That's Happening to Kids"
Ava says A Wrinkle in Time as a movie for kids "at that tender age, when you're trying to figure out who you are, and what you meant to the word, and how you fit in." Ava herself is not a mother. "I don't have children and I will never have children, by my choice," she said, "but my films and the things that I make are my children and what I leave in the world with my name on them, with my blood in them." But she is the aunt to a 12-year-old, she thinks about kids growing up today and their perspective often. "She's been living on this planet for just twelve years...what does she see? How is she processing this stuff? Especially now with so much darkness and division at the forefront. It's not like it hasn't always been here, but it's really on the surface now. In a way, I hope will have a positive effect in the longterm, but in the immediate space we're in, I can imagine there's a kind of emotional trauma that's happening to kids."
After directing 13th and Selma, Ava says the film was both a departure and a blessing. "I just needed some joy and then Disney brought this to me. It saved me in a lot of ways," she said. "I'm the kind that'll stay on Twitter all day stewing and, like, tweeting mean things to the president. And I'd say, 'I'll go design a flower,' and it kept me sane."
Ava, who was raised by a single mom with "a soft heart in a hard world" in Compton, also views the film as a bit of an ode to her. "So much about A Wrinkle in Time was trying to capture or tap into the way I felt as a girl," she said. "I had a really beautiful girlhood because of my mother, even though I was feeling insecure and not confident like so many kids feel — particularly girls — my mother was always my Mrs."
"We're Going to Tell Our Own Stories. We're Going to Do It Ourselves."
The Mrs. in the film are portrayed by Reese Witherspoon, Mindy Kaling, and Oprah Winfrey. "I know I wanted a black woman, a white woman, and someone who was not either," Ava remembered. Inclusion has, of course, been central to Ava's work from the start — and she says she's seen real progress in the influence women and people of color have increasingly made in Hollywood. "There was a time when Hollywood said, 'We will tell your story. Arent we great for telling your story? You know what, we're going to tell your story now.' That time has passed. And that time was important. We went from 'Ya'll don't deserve no stories,' to 'We're going to tell your story' to, 'You know what? We're going to tell our own stories. We're going to do it ourselves."
She singled out Mindy as a prime example. "I don't think people really give Mindy credit. She's a woman of color who had a show with her name on it," she reminded us. "And then Reese is, like, becoming a mini Oprah. She's producing TV and movies and everything. And what's interesting is, she's a blonde, pretty actress — and she could have been just that, because in this town that's enough. But she has a fire in her. . . And what's there to say about the other one?" Ava joked. Of course, there's plenty to say about Oprah. Ava shared a piece of wisdom that Oprah shared with her a couple of years ago that she said "really changed my life."
Ava was telling Oprah about something bad that happened, and Oprah's response was a jolt. "She said, 'This bad thing is not happening to you, it's happening for you. Can't you just take a second to try to figure out why,'" she remembers. "So now, any time — I can be in traffic — and I'll just calm myself because that'll come over me. When you're late 15 minutes for a big meeting and you're supposed to be there: this is not happening to you, it's happening for you. Why? Just take a second. Calm down. And that goes for the big stuff and the small stuff."
Still, Ava marvels at the history-making CEO, actor, and all around powerhouse just like the rest of us. "Sometimes I sit with her and forget she's a billionaire. With a 'b.' Two times over," Ava said. "Sometimes we'll just be sitting eating Pinkberry and I'm talking about The Bachelor or whatever. And we're sitting with Gayle, and Stedman's in the back, and the girls from South Africa — her daughters she's put through school and college, and they're brilliant — we're just hanging out and I won't really even think about it. . . until the butler walks in."
Image Source: POPSUGAR Photography / Lindsay Miller