Blue Ivy Rapping on JAY-Z's 4:44 Album
The Internet Lost Any and All Chill After Hearing Blue Ivy's Rap on JAY-Z's 4:44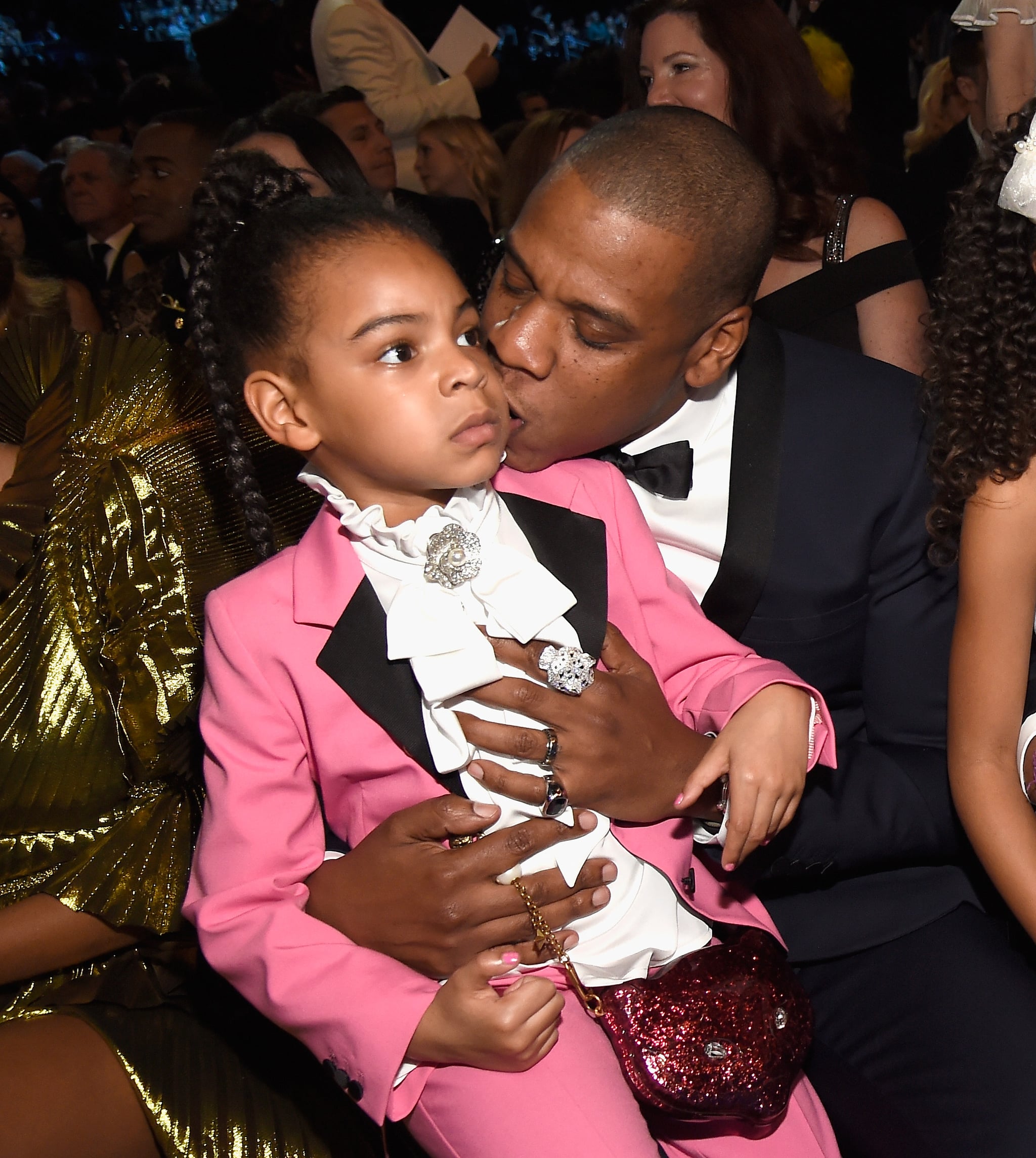 Blue Ivy Carter has accomplished more things in her five years on earth than I will in my entire lifetime, a fact which I, a mere mortal, dutifully accepted the minute she was born. Beyoncé and JAY-Z's oldest has walked red carpets, gone on wildly lavish vacations, clearly inherited her mom's dance moves, and will likely one day, as Parks and Rec once predicted, own an airline called Jet Blue Ivy. On top of all that, Blue is also coming for her father's hip-hop crown, which she proves on one of the three bonus tracks for his latest album, 4:44.
JAY-Z included the bonus tracks in honor of 4:44 being released on iTunes and Apple Music on Thursday night, including "Blue's Freestyle/We Family." While a lot of the lines are gibberish (or possibly just in another language that only people with at least a million dollars in their bank accounts can understand), there's one that comes across crystal clear: "Never seen a ceiling in my whole life." Naturally, the internet lost it.
me @ miss Blue Ivy's freestyle even though I'm not entirely sure what baby girl is saying pic.twitter.com/sf4ok7QMMo

— ♛ (@beytrash) July 7, 2017
Blue ivy: cjxkdnsbfksbdb and tbsksjsbsbfkf sks

Actually me: pic.twitter.com/oasiEfS1RN

— quinta b. (@quintabrunson) July 7, 2017
When Kanye realizes it's time to put North West in the studio after hearing Blue Ivy... pic.twitter.com/18A671geK1

— Percy Mack (@Nicktheegr8) July 7, 2017
Blue Ivy: "Never seen a didnsusnsidjdjdrjdj in my whole life
Me: pic.twitter.com/KTmEKqHBxm

— Moncada/Robert 2020 (@Scott_CEOofSUH) July 7, 2017
Can you imagine a blue ivy track produced by ASAHD? The revolution is starting, folks. Tell your faves goodbye while you have a chance to.

— panny phantom🌻✨ (@xanpireslayer) July 7, 2017
yall talm bout boom shakalaka but we not gonna ignore Blue Ivy sayin "never seen a ceiling in my whole life"

AKA THE SKY IS THE LIMIT pic.twitter.com/qKClCo5pY8

— Prettyboi Barz ;( (@BarzdaLyricist) July 7, 2017
Blue: never seen a ceiling
Me: pic.twitter.com/V3DmbWKe5o

— vern (@DopeChubbyChick) July 7, 2017
Me trying to learn blue ivy rap pic.twitter.com/kIa5thbOP1

— Ashley🍭 (@ashleyyxoxo___) July 7, 2017
Blue Ivy: Everything a singaaa everything a shacka, everything a shacka. boom shaka laka, boom shaka laka. pic.twitter.com/ZakzacXQdf

— Kazeem Famuyide (@RealLifeKaz) July 7, 2017
did Blue say "never seen a ceiling in my whole life"... QUEEN OF LIVING THE LUXURIOUS LIFE

— 🔱 trinity fliehr 🔱 (@ritallah) July 7, 2017
Now we just have to wait until the twins start talking . . .