Dubai's IMG Worlds of Adventure is Largest Indoor Theme Park
This Building Holds the Secret to Having Fun in Dubai This Summer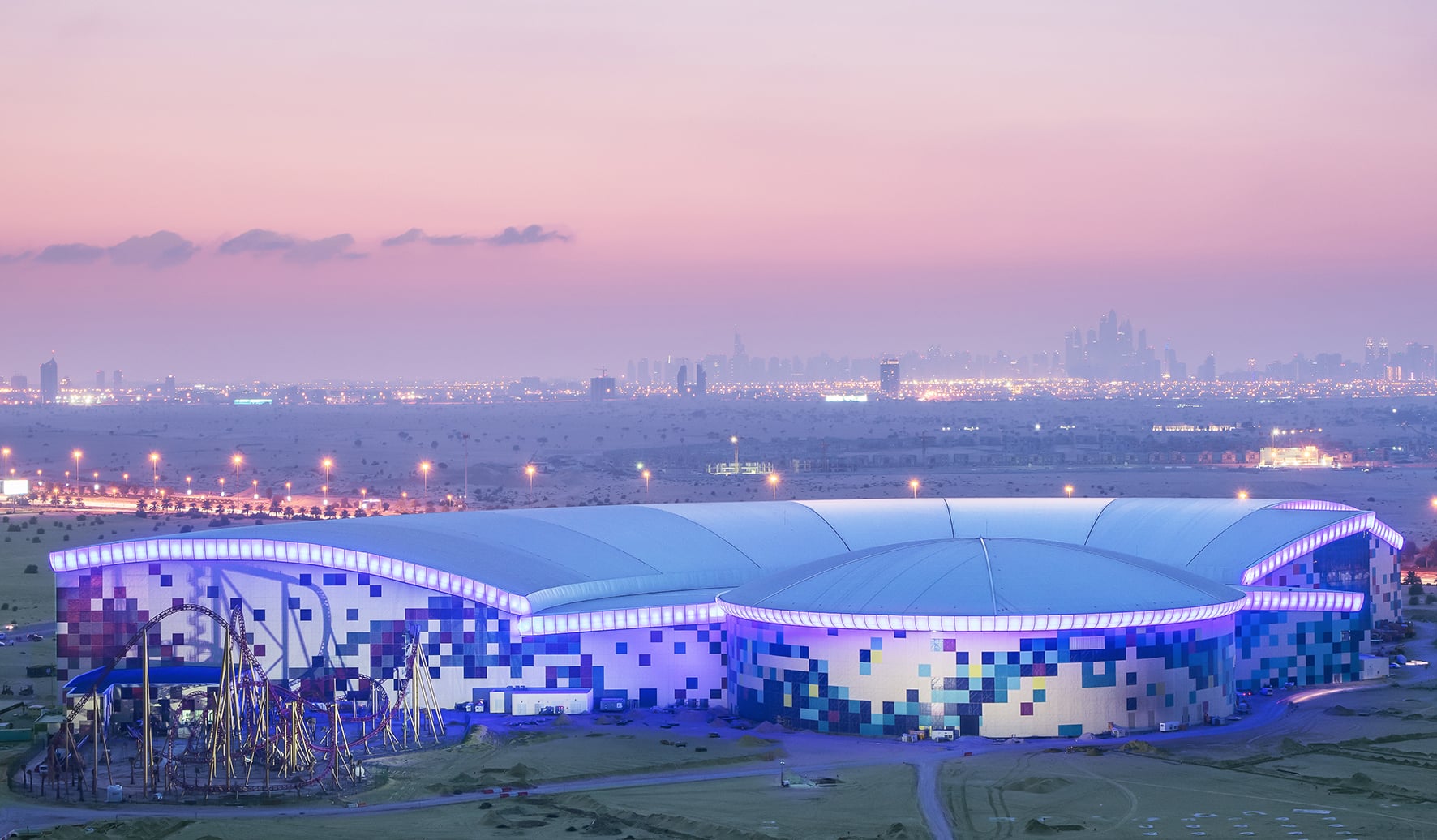 Dubai Parks and Resorts isn't the only theme park destination to look forward to this year.
A long time in the making now, IMG Worlds of Adventure is finally opening its doors to the public in four months with 20 rides and attractions.
August 15 will see the family-friendly leisure area - spanning over 1.5 million square feet - launch as the planet's largest indoor theme park.
It means the sweltering summer heat won't be a deterrent for visiting thanks to its temperature-controlled hub which can cater for up to 30,000 people each day.
There will be 25 retail stores and 28 food and beverage outlets at the $1billion park.
IMG expects 4.5 million people to come through its doors in the first full year of operation (2017), and tickets will cost AED300 for adults and AED250 for kids.
This is what's inside the four zones:
Marvel:
There came a day unlike any other, when earth's mightiest heroes were united against a common threat! #IMGworlds pic.twitter.com/esxNhjPdI5

— IMGworlds (@IMGworlds) February 3, 2016

Avengers Battle of Ultron: Guests can join Marvel's Iron Man, Thor, Black Widow, Hawkeye, Captain America and the Hulk as they take to the skies in the Quinjet to battle the evil villain Ultron. This highly immersive, action-packed ride is the first 'dark' ride for Avengers in the world.
Hulk Epsilon Base 3D: This features Hulk as he battles against his deadliest foe – The Leader. This innovative, 100-seater ride system is the first-of- its-kind in the world and uses a combination of 360-degree projection screens and motion to virtually propel guests through an immersive battle scene experience.
Spider-Man Doc Ock's Revenge: This 400-meter spinning coaster will propel guests through the New York skyline with Spider-Man, while he fights to save the city from the sinister Doctor Octopus.
Thor Thunder Spin: For the most adventurous of guests, this dizzying top-spin experience will pin guests to their seat as Thor, the Mighty Avenger, attempts to rescue them from the clutches of Loki, God of Mischief.
Avengers Flight of the Quinjets: This ride is suitable for all ages and allows guests to take control of their own two-seater pod and join a challenging interactive flight race.
Lost Valley – Dinosaur Adventure:
When you've lost your car at the mall on the weekend. Who's experienced this before?!#IfIWereADino #DubaiProblems pic.twitter.com/pCOjOn1Wmt

— IMGworlds (@IMGworlds) October 21, 2015
The Velociraptor: Guests will blast off on this 1.1 km roller coaster propelling them to speeds of up to 100 km in 2.5 seconds, launching them from the deep dark prehistoric jungles of the Lost Valley out into the Dubai desert and back.
Forbidden Territory: Dinosaur enthusiasts will enjoy this deep jungle safari ride through the Forbidden Territory surrounded by 70 prehistoric, life-sized animatronic dinosaurs.
Predator: For adrenaline junkies who have no fear, this experience is sure to get even their pulse racing. This unique ride offers thrill-seekers the sharpest drop track in the region, with a heart-stopping 'beyond-vertical' plummet to Earth.
Dino Carousel: Take a spin with the friendlier inhabitants of the Lost Valley Dinosaur Adventure in a unique dinosaur themed carousel. This carousel features beautifully hand-carved dinosaurs and will be the first dinosaur-themed carousel in the world.
Adventure Fortress: Guests who prefer more active participation will enjoy this adventure playground, located in the heart of the Lost Valley, offering a fun range of obstacles and physical challenges with ladders, tunnels, slides, bridges, nets and climbing adventures.
Cartoon Network:
Your fave @cartoonnetwork characters will soon call #IMGworlds home. On a scale of 1 to awesome, how cool is that? pic.twitter.com/W9S5BafIMi

— IMGworlds (@IMGworlds) January 19, 2016
The Powerpuff Girls – Mojo Jojo's Robot Rampage! Powerpuff Girls fans can ride with The Powerpuff Girls and help fight Mojo Jojo's evil robot creation that is threatening the city to save the world before bedtime.
Ben 10 5D Hero Time: Audiences will feel that they have been immersed in the midst of a real-life battle scene with Ben and Rook in this epic 5-D multi-sensory theatre that will set pulses racing!
Adventure Time - The Ride of OOO with Finn & Jake: On this overhead scenic ride around the park, guests can soar across the sky with Finn and Jake through retail and immersive themed F&B outlets in the magical land of Ooo.
The Amazing Ride of Gumball: Fans can actually visit the town of Elmore where Gumball and Darwin's school science project has gone out of control. Riders can enjoy this interactive remote game with their friends as they zap the objects that have come to life and are threatening to take over the town.
LazyTown Playground and Live Stage Show: Active explorers can experience a challenging rope and ladder adventure in LazyTown. Or they can drop around the corner and enjoy amazing live-stage performances with Stephanie and entire Dance School while they explore Robbie Rotten's secret lair.
IMG Boulevard:
This is the welcome zone of the park, offering guests and "chill-seekers" a chance to catch their breath with fantastic range of food and beverage offerings, or stroll through a unique collection of bespoke retail shops and emporiums, or simply sit back and enjoy the ambient street entertainers and performers.