Fried Eggplant Glazed in Soy and Honey With Burrata Recipe
Celebrate World Vegetarian Day With This Gorgeously Gooey Spanish Dish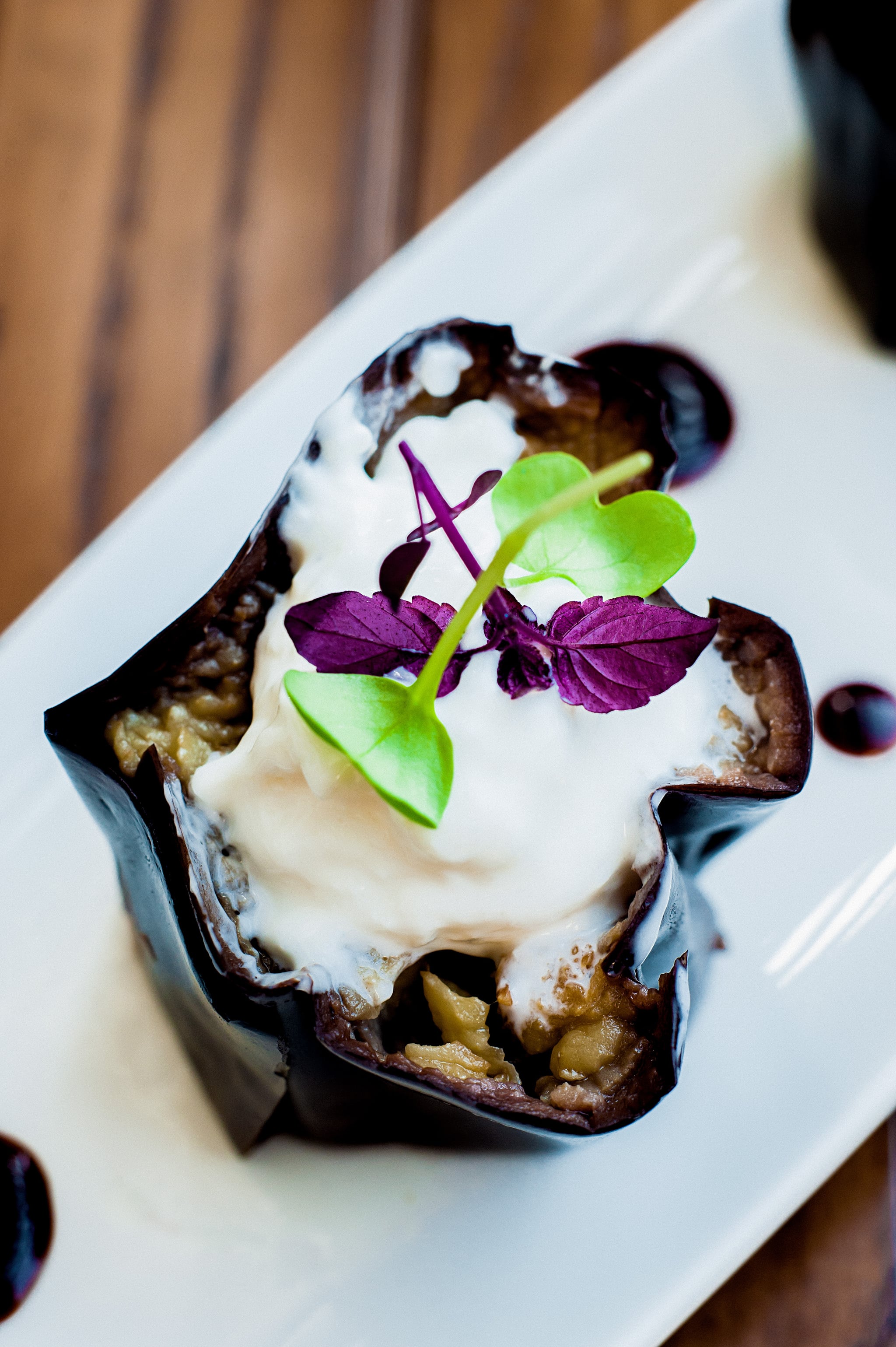 As World Vegetarian Day falls October 1, Head Chef Juan Carlos from Dubai Spanish Restaurant El Sur shares one of the outlet's most loved meat-free recipes, the Fried Eggplant Glazed in Soy and Honey With Burrata.

Fried Eggplant Glazed in Soy and Honey With Burrata
El Sur
Ingredients
For the eggplant:
2 big eggplants
300ml sunflower oil
For the honey sauce:
100g water
100g mirin
100g soy sauce
100g sugar
50g blossom honey
1.3g dashi
Otros
Shiso Cress
Maldon Salt
100 gr Burrata
Directions
For the eggplant:
Wash the eggplant and cut it in a cylinder shape of 5cm high.
Make holes into the flesh by using a thick needle to allow the oil to penetrate and cook the eggplant.
Fry the eggplant at 140-150degrees Celsius until it's evenly cooked and soft. Place it on top of a paper towel to allow to drain the excess of oil.
For the honey sauce:
Mix the ingredients pot, and place on a slow fire.
Reduce half or if you have a kitchen thermometer, until it reaches 112 degrees Celsius. The result must be a fine and shiny sauce.
To finish:
Take the burrata and make an incision to take out the cheese separating it from its skin on top of a small bowl.
Place the cylinders of eggplant on an oven tray and put in an oven on 200 degrees celsius for the space of 8 min.
Take the eggplants out of the oven and top the eggplants with the honey sauce allowing the sauce to penetrate all the way through.
Place the eggplants back in the oven for three minutes more.
Top the plate with a few drops of the honey sauce and place two eggplant cylinders on each.
Place a tablespoon of burrata cheese on each eggplant and finish off with a few Maldon salt crystals and the Shiso cress.
Information
Category

Vegetables, Appetizers

Cuisine

Spanish/Portuguese

Yield

2

Total Time

14 minutes, 59 seconds