Hayek and McConaughey at Dubai's Global Teacher Prize 2016
Salma Hayek and Matthew McConaughey Have Flown to the Middle East and the Reason Will Warm Your Heart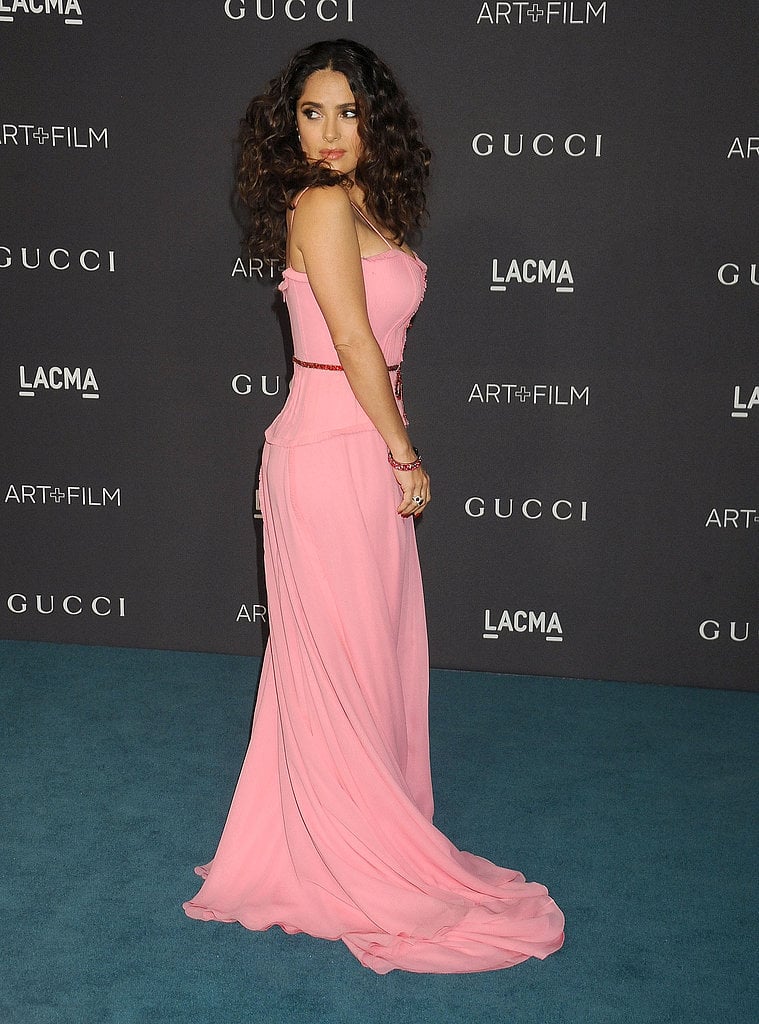 They starred together in 2005's Sahara but this might just be Salma Hayek and Matthew McConaughey's best team effort yet. The movie stars will walk the red carpet in Dubai tonight to recognize the efforts of quite possibly the greatest teacher in the world. The Varkey Foundation's Global Teacher Prize will award one woman or man with $1million in return for them going above and beyond to empower other people with knowledge.
The 10 finalists are from all over the globe including Pakistan, Palestine, India, Australia, Finland, the UK, US, Japan and Kenya. Big names on the 2016 judging panel - the second year it has taken place - include Chelsea Clinton and Kevin Spacey.
The Global Teacher Prize is under the patronage of HH Sheikh Mohammed bin Rashid Al Maktoum, UAE Vice President, Prime Minister, and Emir of Dubai and a private celebration will take place at Atlantis The Palm on March 13.
Find out more about the finalists below:
Hanan Alhroub
Hanan strives to provide peace in the classroom coupled with attention to individual children's needs. Her goal is to lend a helping hand to children who have been exposed to any kind of violence and need special care in their first years at school.
Robin Chaurasiya
Robin co-founded and teaches at Kranti, a nonprofit that empowers marginalised girls from Mumbai's red-light areas to become agents of social change. Her students, girls aged 12-20, include survivors of trafficking and daughters of sex workers.
Maarit Rossi
Maarit believed the problem of children not wanting to do mathematics was entirely due to the way it is commonly taught. So she began to develop a new method that teaches mathematics by asking students to collaborate in groups and solve real-life problems.
Aqeela Asifi
After becoming a refugee in the Kot Chandana camp in Pakistan, Aqeela completely changed the face of education for young girls there. While educating girls was considered wrong and female teachers were unheard of, Aqeela set up a school for girls in a borrowed tent and worked hard to overcome parents' reluctance towards education.
Ayub Mohamud
Ayub Mohamud is a business studies and Islamic Religious Education teacher at Eastleigh High School, Nairobi Kenya. He has a passion for innovation, creativity and social entrepreneurship.
Joe Fatheree
Joe began teaching almost thirty years ago, and quickly found that his 16- to 18-year-old at-risk students did not respond to the methods he had learned in teacher training. Ready to change everything to be able to connect with them, he let his students have a say in how they wanted to be taught.
Michael Soskil
Having looked at neuroscience research, he bases his approach to teaching on the finding that learning is stored in long-term memory when a child emotionally connects with what is being taught.
Rick Johnson
Richard Johnson's principal Tom Campbell was looking for a way of exposing primary school students to more engaging science learning. Richard jumped at the opportunity and became a science specialist teacher. His science lab evolved into an advanced STEM lab for young students.
Colin Hegarty
Colin's mission is to show children that they too can do maths – as well as anything else in life – if they believe in themselves, work hard and have the right support.
Kazuya Takahashi
Inspired by his own teachers, Kazuya decided to give back to the next generation of students and so went to graudate school in the US to study Instructional Design and Learning Science. He encourages his children to be creative and independent.