How Did Kelly Ripa and Mark Consuelos Meet Each Other?
Mark Consuelos's Proposal to Kelly Ripa Involved 2 Precious Things: Pizza and Wine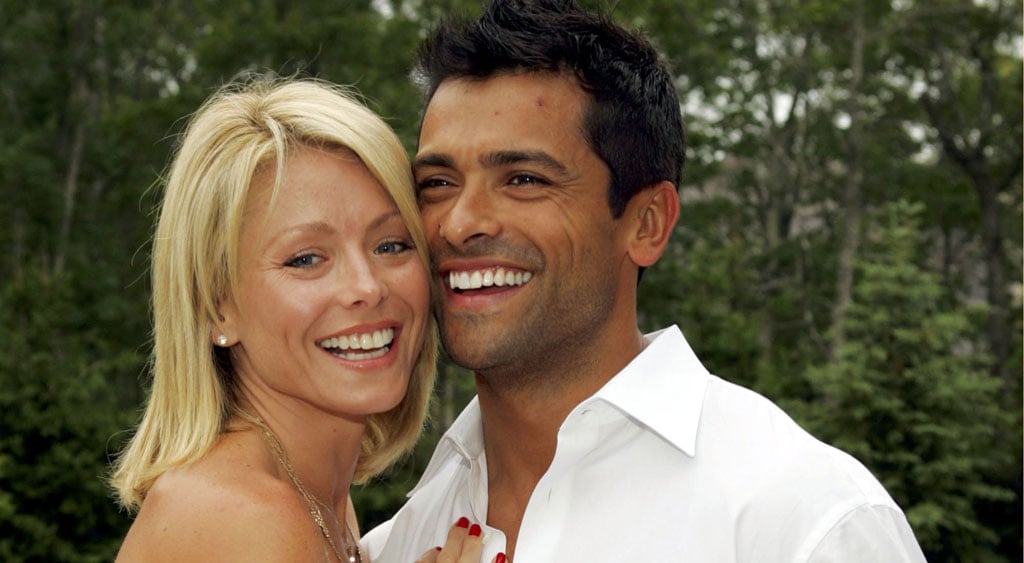 Kelly Ripa and Mark Consuelos may be famous, but they still have that "Ahhh, stop making out, Mom and Dad!" kind of love . . . and we love it. The parents of Michael, Lola, and Joaquin have been married since 1996, but their love story is so much more than the classic tale of boy meets girl. Michael first laid eyes on Kelly in 1995 when he auditioned for a role on All My Children, the soap opera on which Kelly was already a regular. He opened up about his immediate crush on her in 2014, telling HuffPost Live, "I thought she was adorable, hot and sexy and all that stuff, but I was very focused. I didn't really think I had a chance with her, so I wasn't really focused on that." Mark was soon cast on the show as Kelly's on-screen lover, and things escalated from there.
Their courtship didn't last long, as they eloped in Las Vegas in 1996. And Mark's proposal was just as spur of the moment as their wedding. The couple reminisced about the exciting time in their lives on an episode of Live! in 2016 to celebrate their 20th anniversary. "We went for a walk in the park," Mark revealed. "I convinced her to come back to my apartment. We had pizza and wine and I asked her to marry me." Kelly added, "And I said, 'Ask me when you're serious.' And he said, 'I am serious. Let's go to Vegas tomorrow and get married.' . . . I said yes." They made it official on May 1, 1996, with the bride wearing a $199 dress she got on sale at Barney's Warehouse. What a team.