Interview: Royal Bra-Fitter, Rigby & Peller's June Kenton
7 Important Quotes From the Royal Bra Fitter That Will Save Your Boobs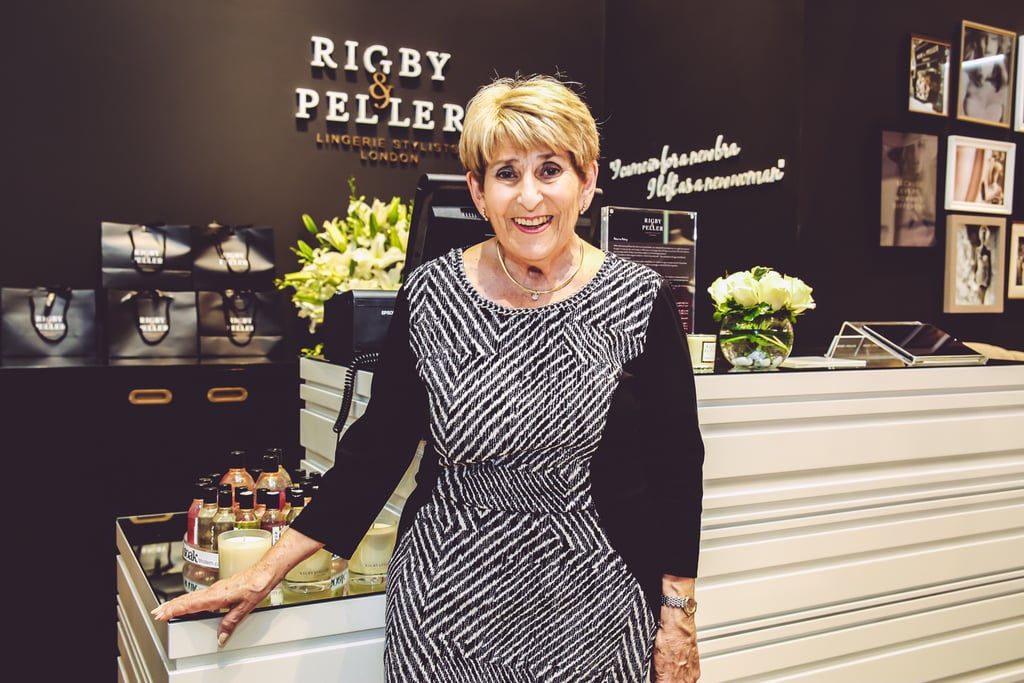 She's fitted the bras of the British Royal Family and celebrities including Lady GaGa and has a presence in the United States of America, Germany, Denmark, Hong Kong and China.
So when we heard that the woman behind Rigby & Peller was bringing the brand to the Middle East for the first time, we couldn't be more excited.
The store at Dubai Festival City Mall uses made-to-measure technology and the Rigby & Peller 3D Mirror which uses a pioneering body-scan technology to ensure an accurate measurement.
Their digital body scanner creates a 3D model of the upper body, recording over 140 measurements in less than a minute to determine a woman's bra size, which could be anywhere in the 90 sizes they stock (A to J cup).
We spoke to 80-year-old Royal Warrant holder, June Kenton, on the most important things about lingerie shopping.
On what makes the brand different:
"In our London stores we don't have a tape measure, eventually here it will be that way. We measure people by putting bras on them. We've got the biggest selection of cut fittings, we go right the way through to J. When I first started, sometime you could get D, now we go up to J. You can get the correct size around the back and now you have the cup fitted.
"People go up sizes. I'm picking on Marks & Spencer's but it could be any big store - who is in the department? One lady who is walking around picking up everything that somebody knocked off, she's says if it's not hanging up we haven't got it. The customer takes 12 bras, goes in the fitting room and the sales assistant says you can only take four. When you put those four on you want to try the other eight. Then you come out and get four more. By the time you've tried on the 12, you've lost the will to live."

On the biggest mistakes to make with your bra:
"Wearing your bra, sometimes you'll find it's bigger in the front. People start on 32 and then switch to 34 because they're falling out the front. Then when still falling out the front, even more they go and buy 36. You've gone up sizes instead of going up cup fittings. You're probably a 32 or 34, but why are you wearing 36?
On how many bras we need:
"You only need three or four good bras. You'll have to replace one every so often. It is more expensive to have a good bra but it will work out, with what you spend in a year on bras that don't fit. When you fancy another bra you can add it on. A bra that fits lasts, the [other brand] bras have so much strain on them."
On converting people in fans:
"I've had people that say, I will never be a D. They're now wearing 36D, every time she lifts her arms she's falling out. She's worried about walking fast or dare I say running for a bus."
On how the lingerie industry has changed:
"It's a miracle. Harold and I started in business in the 1970s and you could get D, from America, not in England. Then eventually we got DD. That had to go on somebody who was 36FF/G so we have to fit the best we could in the front and take the back in. That's how hard it was to find a ready-to-wear bra."
On men bra shopping for women:
"Why not give a gift voucher? They can come, meet a friend for lunch, have a fitting and they haven't had to think about the money. Gift vouchers are brilliant. Birthday's Mother's Day, Christmas, it's a way of encouraging a proper fitting.
"Years ago they used to stand in a line and say "she's like that, she's a bit fatter than you" and they always came back. It's soul destroying because she doesn't like telling you she took them back, or you bought red and she does not wear red bras."

On how to know your bra doesn't fit:
"If you have two here, two more here and two under your arms, something's wrong. We all grew two. We're changing our shape all our lives: You go on a diet - change your bra, put on weight - change your bra, on medication - change your bra. Have HRT? That bra that you bought when you were 18 will not fit you when your 80. If you can't fit into old clothes then your bra won't fit.
"All your clothes will look different in a bra that fits and it will be easier to buy clothes. It's very important to wear the correct underwear because if you don't, it shows. and it shows in your confidence. I think we're the only retailers who change people's lives. if you have the right size you look better."
She added: "Most women find bras uncomfortable, if you do, you're not wearing the right bra. You should put you bra on in the morning and take it off at night without thinking about what you put on this morning. Unless, of course, you're pregnant and feeling very heavy and need the support."
Image Source: Rigby & Peller