Justin Bieber India Tour
Here's What Justin Bieber is Demanding For His India Tour, and It Proves He's a Total Diva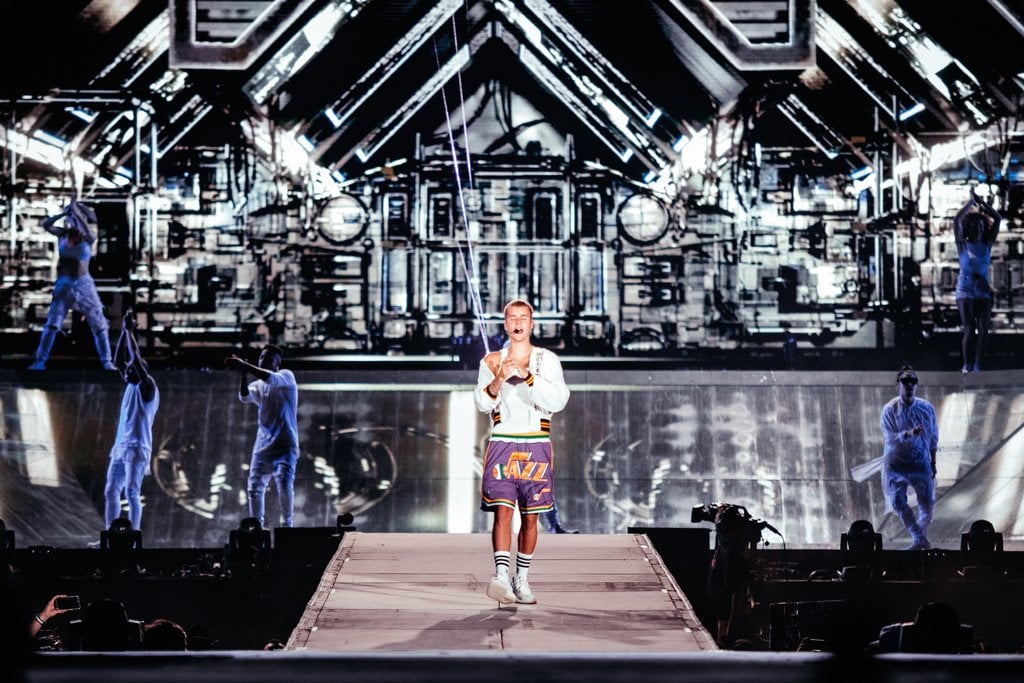 After playing to a sold-out (and very sweaty) crowd in the UAE, Justin Bieber is taking his Purpose World Tour to India.
It's normal for stars to have certain requests when they travel...after all, between jet-lag, a hectic rehearsal schedule, and nightly performances, these entertainers do deserve a few comforts. We've heard of stars requesting certain candy backstage, or certain rooms in hotels they frequent, but Justin Bieber's tour demands for his India-leg were recently leaked, and they're completely absurd.
The Times of India released the extravagant list that Bieber sent ahead of his arrival in India, and it starts at crazy and ends at totally nuts. First of all, upon arrival in Mumbai, Bieber expects ten luxury sedans and two Volvo buses to be waiting for him and his 120 person entourage for the entirety of their five day stay. He's also requested a private plane and helicopter be at his disposal.
Then he wants ten shipping containers flown in from the States. What's in said containers? Well..."a ping-pong table, playstation, IO HAWK (hoverboards), sofa set, washing machine, refrigerator, upholstery, cupboard and a massage table that will be used backstage," the leaked documents reveal.
He's also requested five meals a day to be whipped up by some of the nation's best chefs...and he's made the completely reasonable request that they be named after his chart-topping songs. One dish of "Love Yourself," anyone?
He's asked for a ton of security, but given his celebrity and the crowds in India, it's the most reasonable thing in his rider.
What else does the "Baby" singer want? "Two five-star hotels have been reserved for security reasons. The hotel will re-design his suite and incorporate Mughal paintings, antique furniture and signature Kashmiri linen. His room will be adorned with purple carnations, purple being his favourite colour. The hotel will convert itself into Bieber's private villa, with three floors booked for the artiste and his entourage. Also, one elevator has been blocked for Bieber alone (emphasis added)."
"A special Indian yoga basket containing aromatic essential oils, jasmine, mogra, rose and camphor incense sticks, and books on yoga will be placed in Bieber's suite, given his love for it. An expert masseuse will be specially flown in from Kerala for the star."
Here's a Tweet outlining the entirety of the star's requests...but let's just say India is in for a chaotic few days.
Justin Bieber's India tour rider includes a "Indian Yoga casket", a jacuzzi and a press release that lists all his demands out for you. pic.twitter.com/afwHpMJHJM

— Arjun S Ravi (@arjun_s_ravi) May 3, 2017
Image Source: 117 Live