Kanye West's Song About Tristan and Khloe on Ye Album
Kanye West Seemingly Confirms Khloé and Tristan's Relationship Status in New Song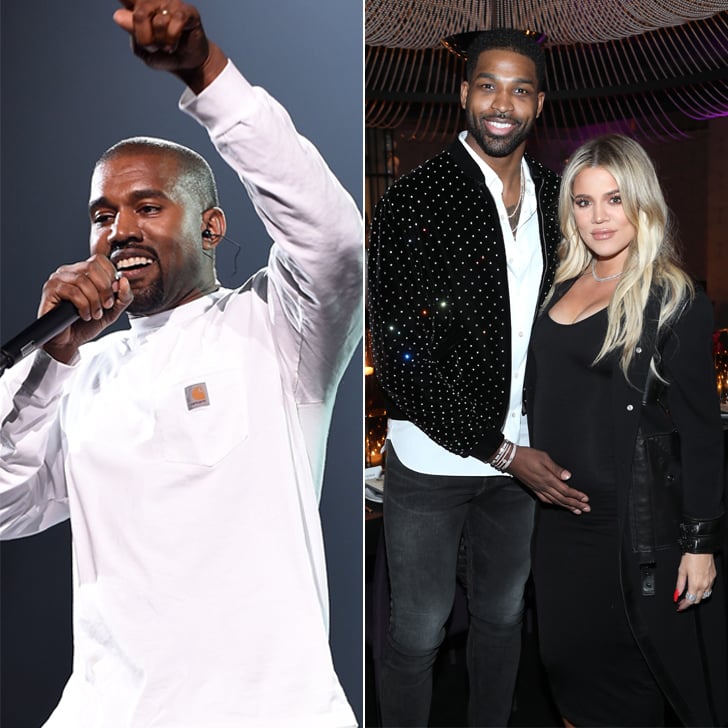 As he often does, Kanye West is getting personal. The 40-year-old rapper released his eighth studio album, Ye, on June 1 following a listening party in Jackson Hole, WY, the previous evening. The vulnerable album touches on topics such as his marriage, mental health, and family. Kanye also dropped an unexpected reference to the cheating allegations against Tristan Thompson and his relationship with Khloé Kardashian since the birth of their daughter, True.
On "All Mine," the third track off the newly released album, West raps, "All these thots on Christian Mingle / Almost what got Tristan single / If you don't ball like him or Kobe / Guarantee that bitch gonna leave you." Here, West is seemingly referring to how Tristan's alleged affairs almost ended his relationship, were it not for his talent or success.
Kardashian and Thompson have yet to comment on the status of their relationship since the scandal, but the 33-year-old reality star was reportedly "devastated" by the news. Her sister, Kim Kardashian, later appeared on The Ellen DeGeneres Show, where she described Thompson's actions as "so f*cked up" and a "sad situation all over." At the time, however, she wasn't able to state whether the couple was still together and instead said her younger sister is just trying to focus on motherhood.
While we should take West's lyrics as an official confirmation of the couple's reconciliation, the implication is that the relationship isn't entirely over. In early May, the couple was spotted out together at a restaurant in Cleveland, and she even attended his basketball game the following day. Her appearances were met with reports that the two are "fully back together," however, there's no way of knowing until they comment on the matter themselves . . . or West beats them to it.