Kendall Jenner Pepsi Commercial 2017
Here's Why Kendall Jenner's New Pepsi Commercial is so Controversial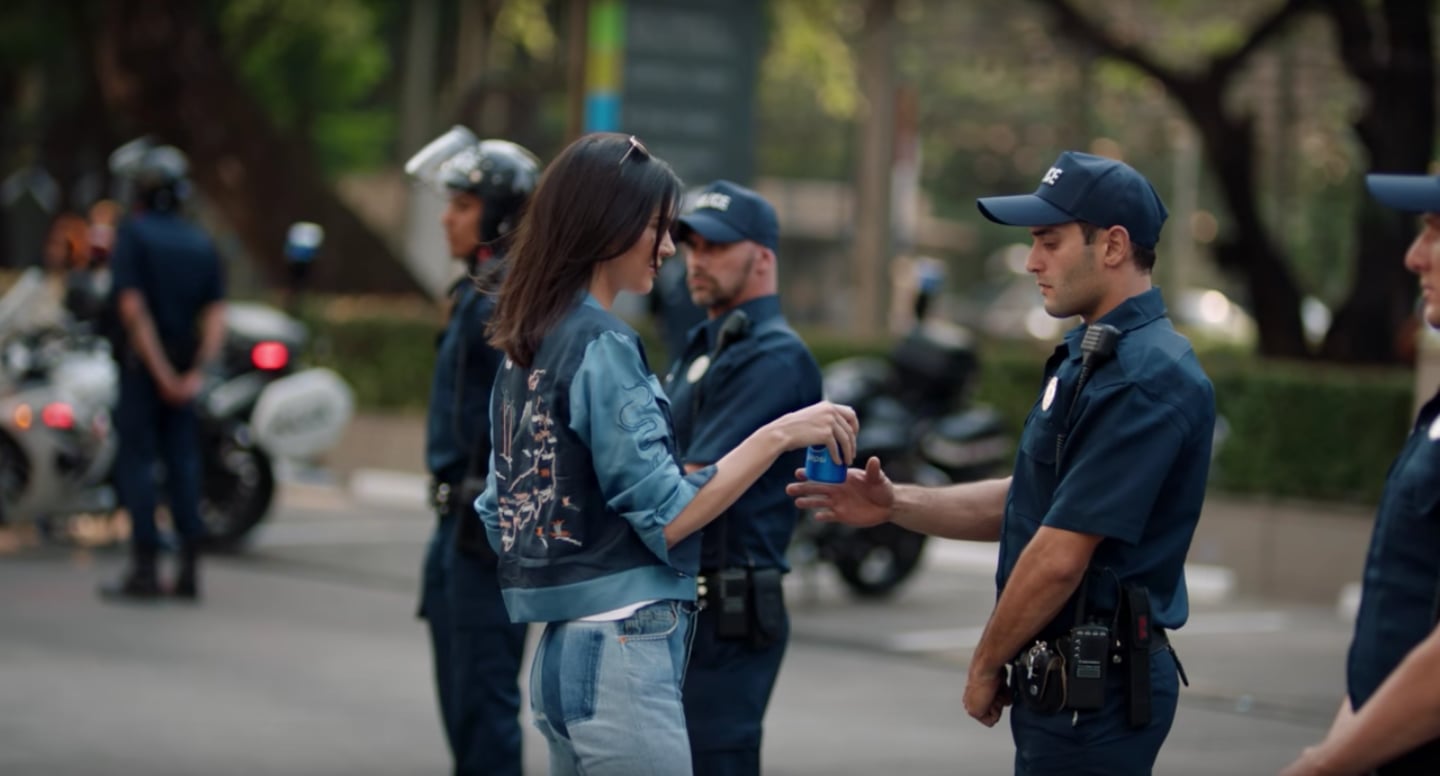 Kendall Jenner teased at being the star for Pepsi's latest ad campaign, but when the supermodel revealed the two-and-a-half minute long video on April 4, she (as well as the soda company) quickly came under fire.
In the commercial, the all-American model is in the middle of a photo shoot as a very anti-Trump-style protest builds on the streets around her. As the crowd increases, Kendall strips her blonde wig, changes into an denim ensemble, and joins the resistance. Because that's totally normal...
The protesters march toward stoic-looking police men, and with one single can of Pepsi, Kendall seems to end the stand-off (as well as the United States' deep-rooted history of racism and police brutality? The implications of the gesture are unclear).
She hands one of the officers a soda, he takes a sip, and cracks a smile.
Titled "Live For Now Moments Anthem," the video's YouTube description reads: "A short film about the moments when we decide to let go, choose to act, follow our passion and nothing holds us back. Capturing the spirit and actions of those people that jump in to every moment and featuring multiple lives, stories and emotional connections that show passion, joy, unbound and uninhibited moments. No matter the occasion, big or small, these are the moments that make us feel alive."
Twitter immediately responded, pointing out the similarities between the shot of Kendall and the cops and one of Ieshia Evans. Evans was detained by cops in Baton Rogue, Louisiana at a protest against police brutality, and her photo quickly went viral.
Kendall Jenner: Can I copy off of you?

Iesha Evans: No.

Kendall:* Looks over shoulder anyway*
Damn that. I'm getting this Pepsi money. pic.twitter.com/NUXwCZnM7p

— RT PINNED-MOM OF 3 FIGHTING CANCER,LUPUS+RT PINNED (@GuruBluXVIII) April 4, 2017
What's problematic isn't the fact that the commercial visually recreated a Black Lives Matter protest--it's that Pepsi cashed in on it.
Kendall Jenner gives a Pepsi to a cop and rids the world of -isms. Y'all can go somewhere with this tone-deaf, shallow and over-produced ad. pic.twitter.com/CEr4cAw3Ld

— Taryn Finley (@_TARYNitUP) April 4, 2017
Some called out the absurdity of the suggestion that Kendall could end America's relation to racism and xenophobia with a simple can of soda.
Lmao Pepsi's new ad Kendall Jenner 'ends racism' by handing police men a Pepsi - way to degrade 50 yrs of black/minority struggle

— Hanorah (@HanorahHardy) April 4, 2017
can you believe kendall jenner solved all the black lives matter issues by giving a pepsi to a cop? inspiring.

— Danii G (@gerbatron) April 4, 2017
Others pointed out how having a white model makes the scene even more of an issue.
Next time @pepsi do one where Kendall Jenner marches to Montgomery but the cops don't bludgeon her bc she's white & has a refreshing @pepsi

— Jia Tolentino (@jiatolentino) April 4, 2017
Some people joked, calling Kendall the "leader of the resistance."
*kendall jenner hands cop a pepsi*

cop: im not racist anymore

— BRANDON WARDELL (@BRANDONWARDELL) April 4, 2017
What was the message of this commercial? That Pepsi brings us all together? That hate and prejudices may be strong but the power of Kendall Jenner with a can of Pepsi is stronger? We're still not sure.
We're waiting for Pepsi's apology, but until then, watch the ad that's causing so much commotion below.