Kesha to Headline Day 2 of RedFest DXB
Kesha Just Announced a Big Gig in the Middle East!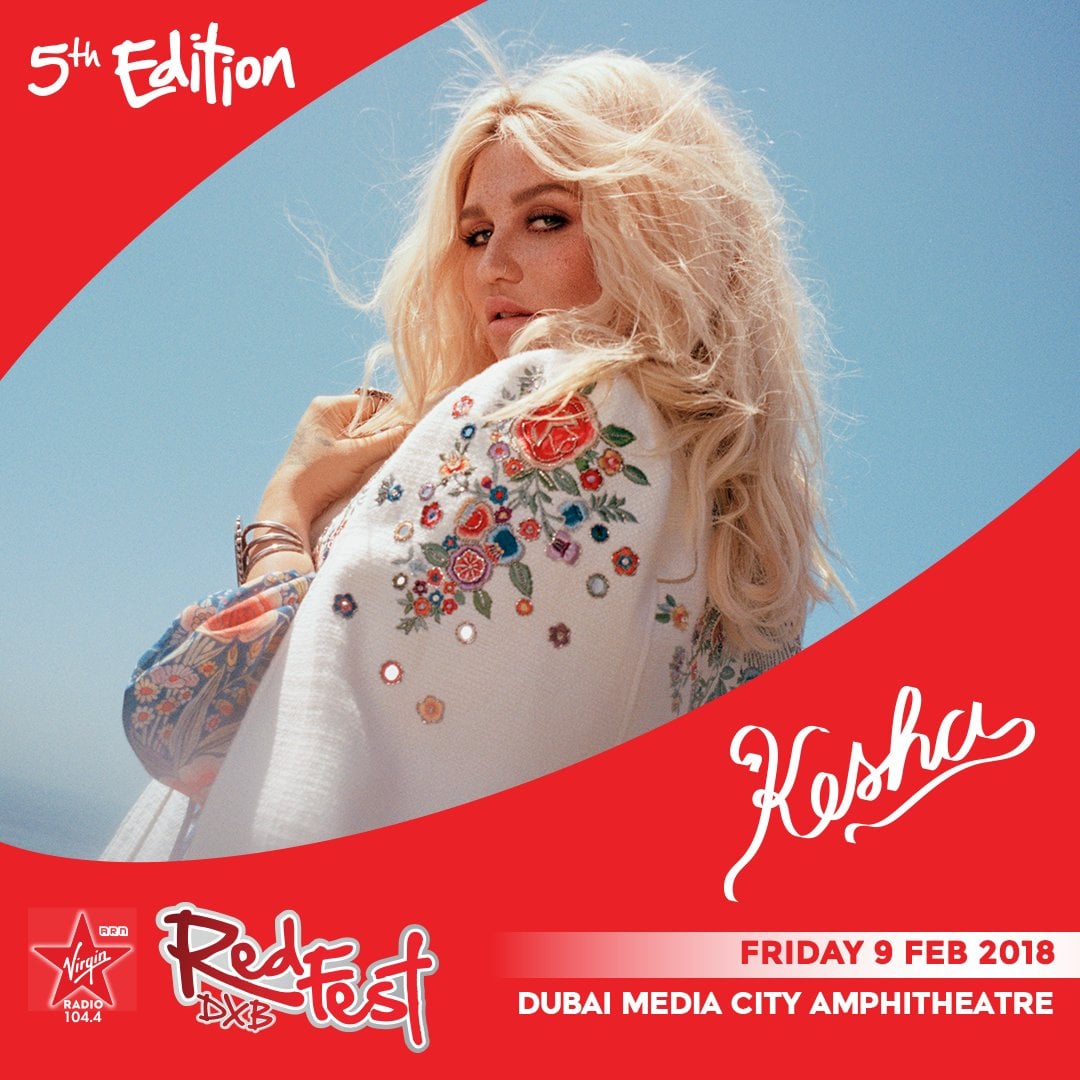 Kesha is headlining the second day of RedFestDXB 2018. The festival returns to Dubai Thursday February 8 and Friday 9 and yesterday it was revealed that The Chainsmokers would take to the stage on the first night. Now "Tik Tok" singer Kesha, has been added to the lineup. It will be her first time in Dubai, she wrote on Twitter: "Animals!! I'm so excited to be performing in Dubai for the first time ever on February 9! Can't wait to see y'all there."
On the Friday night she'll be joined by the likes of Bebe Rexha, the 28-year-old singer who supported Justin Bieber at his Dubai gig earlier this year, plus Craig David and Marshamello will appear at the Media City Ampitheatre.
The event is sponsored by Virgin Radio 104.4 and French Lebanese artist, Anthony Touma as well as DJ Dany Neville will entertain crowds once the big headliners have done their sets.
Tickets for the event's fifth year cost AED395 for a single day and AED695 for weekend access. In the past over 75,000 people have attended the festival.
As well as the Chainsmokers, RedFestDXB will also see rapper Russ and Kelli-Leigh perform.
"The world-class lineup underlines Virgin Radio RedFestDXB as the biggest pop festival in the region," James Craven, Managing Director of Live Nation Middle East said.
We couldn't agree more!
Animals!! I'm so excited to be performing in Dubai for the first time ever on February 9! Can't wait to see y'all there 💖✨💖 pic.twitter.com/8PGxxj0fCe

— kesha (@KeshaRose) December 5, 2017
Will we ever find out who he is? 🤔 Unlikely, but we'll have a fun time trying to figure it out when @marshmellomusic performs at RedFestDXB! ✖️‿✖️#redfestdxb #redfestdxb2018 #virginradiodxb #virginradiodubai #marshmello #marshmellomusic pic.twitter.com/f5QvPBEexP

— RedFestDXB (@RedFestDXB) December 6, 2017
This is 🎵Meant To Be🎵 and we can't wait to see her perform live. @BebeRexha confirmed as part of the Day 2 RedFestDXB lineup and we couldn't be more excited! #redfestdxb #redfestdxb2018 #virginradiodxb #virginradiodubai #beberexha pic.twitter.com/su7OueYEpG

— RedFestDXB (@RedFestDXB) December 6, 2017
#TheTimeIsNOW! And there's no better time to announce @CraigDavid as our final Day 2 #RedFestDXB artist!#redfestdxb #redfestdxb2018 #virginradiodxb #virginradiodubai #craigdavid pic.twitter.com/P1ybebC5RT

— RedFestDXB (@RedFestDXB) December 6, 2017
Our very own @danyneville closes out both nights at #RedFestDXB. Catch him on Thursday 8th and Friday 9th February! #redfestdxb #redfestdxb2018 #virginradiodxb #virginradiodubai #danyneville pic.twitter.com/aw9tXrmiDk

— RedFestDXB (@RedFestDXB) December 6, 2017
We see you #AnthonyTouma 👀 And we'll be seeing you at #RedFestDXB in 2018! 🖤 @ToumaMusic #redfestdxb #redfestdxb2018 #virginradiodxb #virginradiodubai pic.twitter.com/3FAYNiCEZe

— RedFestDXB (@RedFestDXB) December 5, 2017
🙌 Hands up for our third #RedFestDXB artist - British songstress @kellileighuk! Sing it girl 🎶#redfestdxb #redfestdxb2018 #virginradiodxb #virginradiodubai #kellileigh pic.twitter.com/gkhOSCEXi4

— RedFestDXB (@RedFestDXB) December 5, 2017
Say hello to @russdiemon – our next confirmed #RedFestDXB artist for 2018! 🎤#redfestdxb #redfestdxb2018 #virginradiodxb #virginradiodubai #russ pic.twitter.com/FTTb6IwKUz

— RedFestDXB (@RedFestDXB) December 5, 2017
We'd like to get 'Closer' to this duo, so we're bringing them to Dubai! ❤️ Your Day 1 #RedFestDXB headliner for 2018 has been announced ❤️ Welcome to the stage @TheChainsmokers ❤️ #redfestdxb #redfestdxb2018 #virginradiodxb #virginradiodubai #thechainsmokers pic.twitter.com/xuf6zgqnCp

— RedFestDXB (@RedFestDXB) December 5, 2017
Image Source: Twitter user redfestdxb