Kim Kardashian Reveals New Dubai Makeup Masterclass Date
Kim Kardashian Reveals When She'll Return to the Middle East After Being Robbed in Paris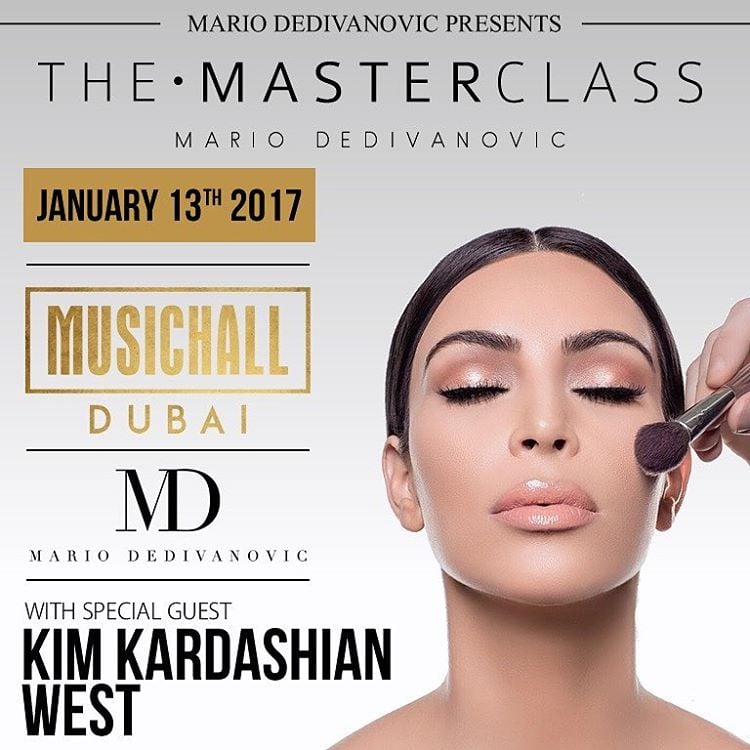 Kim Kardashian has rescheduled her makeup masterclass after canceling her Dubai appearance following being robbed at gunpoint. The reality star's friend Mario Dedivanovic shared a poster showing the date of when she'll be returning to the Middle East in 2017, in a post on Instagram. The class will take place at The Music Hall, Zabeel Saray on Palm Jumeirah and the gift bags have already gone up $200 in value since she canceled the appearance.
He captioned the shot, "January 13th can't come fast enough! I'm so excited.#TheMasterClass. My Gift bags are currently at over $2K worth of amazing products 🙆🏼🙆🏼 im sharing all my tricks and knowledge from the past 15 years of being a working celeb makeup artist, Kim will share all her insight and knowledge too and meet and greet and photos with us can't wait! #Dubai #kimkardashian#MakeupByMario 🙏🏻💘🙏🏻💘 link in bio... If you are serious about makeup or a career on makeup this is for you."
Kim hasn't posted on social media for the last few after she is said to be taking time out of the spotlight and planning on leading a much more low-key lifestyle from now on.
Get more information about the event and book your tickets before it's too late!