Lindsay Lohan Defends Harvey Weinstein in Dubai
Lindsay Lohan Defends Harvey Weinstein in a Controversial Video Filmed in Dubai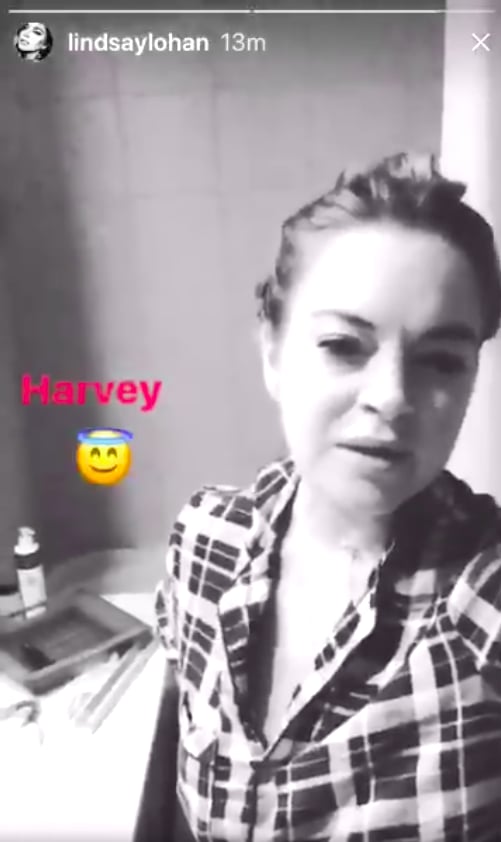 The likes of Rose McGowan, Jennifer Lawrence and Meryl Streep have spoken out about how appalled they are to hear sexual assault allegations about film producer Harvey Weinstein. However, Mean Girls star Lindsay Lohan has taken a different stance and it's not going down well. The actress – who is now based in the Middle East – filmed a video from Dubai in which she says she feels bad for Harvey; a man who was recently terminated from his Weinstein company as a result.
In the clip posted on social media, 31-year-old Lindsay says that she thinks Harvey's should defend her man more aggressively.
"Hi this is Lindsay Lohan, hi I'm in Dubai, I'm home. I feel very bad for Harvey Weinstein right now, I don't think it's right what's going on. I think Georgina needs to take a stand and be there for her husband," she says in the video, which features an angel emoji next to Weinstein's name.
Many people on Twitter were annoyed that the star defended him simply because she hadn't been a victim.
"He's never harmed me or done anything to me and we've done several movies together and so I think everyone needs to stop. I think it's wrong, so stand up," she adds at the end of the clip.
While others took a more tongue-in-cheek jab at Lindsay for other unrelated reasons. Watch the video and see the reactions below:
I didn't know they had Motel 6 in Dubai. 🤔

Lindsay Lohan SPEAKS. pic.twitter.com/bxS4dPB9NZ

— Jonathan Kieran (@JonathanKieran) October 11, 2017
Lindsay Lohan thinks it's wrong that women have come forward about Harvey Weinstein's sexual abuse because he's never done anything to her and he should be left alone... wow.

— Jett Rink (@jessiekaiser) October 11, 2017
Lindsay Lohan is now a 50-year-old Russian lady who films herself defending sexual assaulters in bathrooms in Dubai... HER GREATEST ROLE YET

— Molly (@isteintraum) October 11, 2017
Did Dubai sand get in @lindsaylohan 's brain defending Harvey W? That's like saying, it's wrong to arrest Ted Bundy. He never strangled me.

— Dr. Anita M. Cal (@AnitaMCal) October 11, 2017
When Lindsay Lohan starts defending Harvey Weinstein. pic.twitter.com/mPBmXey3J8

— Sam Kalidi (@samkalidi) October 11, 2017
Lindsay Lohan is aging like a Trader Joe's banana. She should just focus on that.

— Monique Judge (@thejournalista) October 11, 2017
lindsay lohan (and her whack accent) is defending Harvey Weinstein on her insta rn. GOODBYE TO YOU FOREVER. pic.twitter.com/aMzvAOXPYp

— lauren yap (@itslaurenyap) October 11, 2017
Lindsay Lohan still thinks Harvey can give her an Oscar. pic.twitter.com/th0rn6cpG3

— Trinity🇺🇸🎃 (@Gparis58) October 11, 2017
PSA: Lindsay Lohan is using her weird accent on Instagram to defend Harvey Weinstein right now and there's not enough wine in the world.

— Justin Kirkland (@justinkirkland4) October 11, 2017
And here's Lindsay Lohan DEFENDING Harvey Pervstein...and with her fake accent, no lesspic.twitter.com/MjpoTIqJEs

— Chet Cannon (@Chet_Cannon) October 11, 2017
Question: does anyone honestly get any pleasure out of piling on Lindsay Lohan at this point? She clearly needs help. Has for a long time.

— Charles Clymer🏳️‍🌈 (@cmclymer) October 11, 2017
Nobody can ruin her career faster than Donna Karan

Lindsay Lohan: Hold my beer. pic.twitter.com/sBplj9HNhm

— Theo Burk (@BigPunnysher) October 11, 2017
Lindsay Lohan is higher than rent in San Fransisco, homegirl needs help 😂

— Keirstin Brent (@misskeirstin) October 11, 2017
RIP Lindsay Lohan. She ain't dead, she's just dead to me. pic.twitter.com/aaw5zqmuB6

— Adil (@Kylieesi) October 11, 2017
@lindsaylohan by making this video YOU have now become part of the bigger societal issue that prevents women or men from speaking out

— Sheá (@Envy_Kills) October 11, 2017