Marisa Tomei Oscars Controversy Details
The Marisa Tomei Oscars Conspiracy That's Fascinated Hollywood For Decades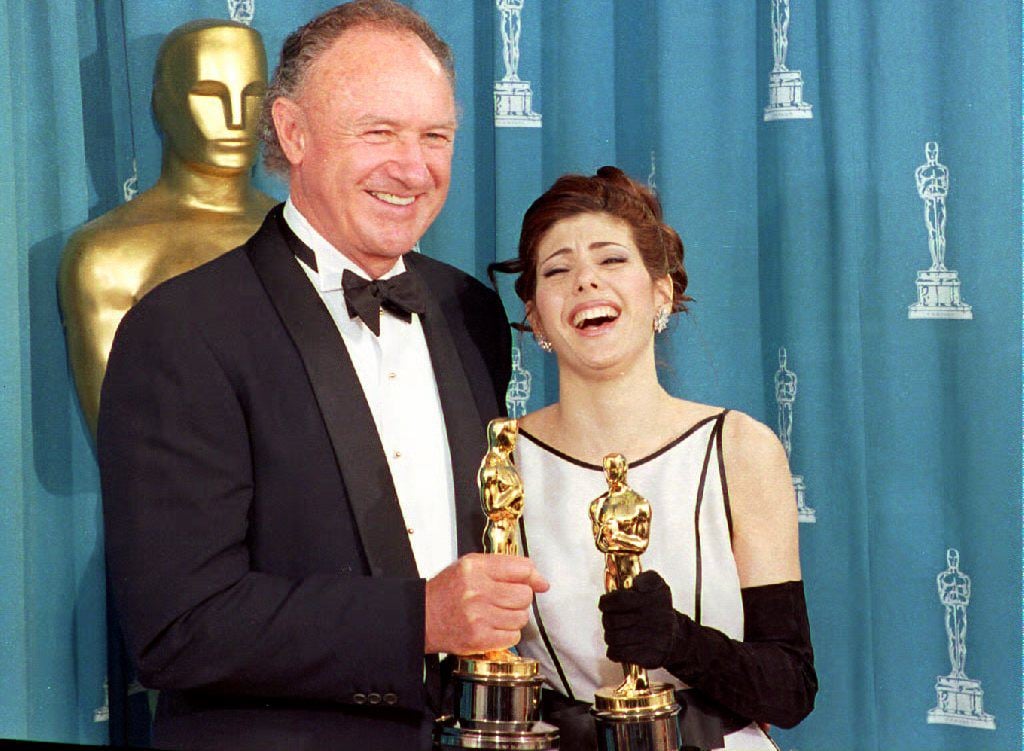 For anyone who watched the Academy Awards 2017, the jaw-dropping best picture mix-up for La La Land and Moonlight might have brought to mind a long-circulated Oscars conspiracy regarding Marisa Tomei. Although the two events aren't exactly alike, it's no wonder connections between the 2017 ceremony and a moment at the awards all the way back in 1993 are being drawn.
At the 65th Annual Academy Awards, a shocked Tomei took the stage to accept the Oscar for best supporting actress from presenter Jack Palance thanks to her work in My Cousin Vinnie. Elated and giggly, she celebrated other Hollywood actresses in her speech, profusely thanked costar Joe Pesci, proceeded to the press room to take photos with best supporting actor winner Gene Hackman, and that was that. Except, it wasn't; what should have been a purely celebratory milestone in her career ended up turning into one of Hollywood's oldest and most interesting award season rumors.
Although no one was knocking Tomei's talent, there were a lot of odds stacked against the young actress's win that upped the plausibility of a conspiracy that her surprise Oscars victory wasn't supposed to happen. For starters, her experience and name brand in the industry compared to those of the four other actresses nominated in her category — Miranda Richardson, Vanessa Redgrave, Judy Davis, and Joan Plowright — was severely lacking. Before playing Mona Lisa Vito in My Cousin Vinny in 1992, her most notable Hollywood achievement had been a 22-episode stint in the late '80s sitcom A Different World, along with a small handful of bit parts in films like Oscar and Zandalee. Not only did she not have the lengthy resumés of her competition, but she also had yet to garner the level of respect that is seen by many as critical for winning an Oscars campaign.
On top of her shallow IMDB credits, My Cousin Vinny isn't exactly Oscars bait. Redgrave's Howards End and Richardson's Damage, for instance, are the kind of darker dramas that typically appeal to the Academy's voters over mainstream comedies. Further damning the likelihood of a win for My Cousin Vinny was its release date (March 13, 1992), which happened over a year before the 1993 Oscars ceremony. In other words, it didn't premiere during the usual "Oscar season" in the late Fall and early Winter, when studios start pushing their heavier, high-brow films for consideration.
What finally got people talking about the fact the award might have originally been meant for a different actress, however, was a blurb in The Hollywood Reporter the morning after the Oscars that year, as Gawker's Rich Juzwiak pointed out in 2015. "And the loser is: bad Oscar rumor," the title of the item reads, before revealing that "the former son-in-law of a distinguished Academy Award winner" claimed presenter Palance wasn't able to read the name of the true winner inside of the envelope, so he just happened to call out Tomei's name instead, since hers was the last one on the teleprompter. Entertainment Weekly also acknowledged the conspiracy in a 1994 post, which insinuated the rumor had been started as a way to sully Tomei's otherwise blossoming career.
Despite multiple write-ups, the rumor has since proved false (it even has its own Snopes page).
At the time an Academy spokesman told EW that if the rumor were true and Palance pulled Tomei's name out of thin air, "It's the policy of the Academy that should wrong information be given, a Price Waterhouse rep is empowered to go on stage and make the correction." It's obvious the long-circulated conspiracy is false (no matter how juicy), and the recent La La Land and Moonlight snafu only further proves that a mistakenly announced winner would not be allowed to take the award for themselves, regardless of how awkward things might get onstage (a La La Land producer eventually cleared things up for the audience and told Moonlight to come onstage to accept their prize).
For her part, Tomei escaped the Hollywood rumor mill with nothing more than a potentially bruised ego. She went on to receive two more Oscar nominations for best supporting actress (for 2001's In the Bedroom and 2008's The Wrestler), and has had a steady career ever since. You'll be able to see her next as Peter Parker's Aunt May in Marvel's Spider-Man: Homecoming.
Image Source: Getty / SCOTT FLYNN