Meet Dubai Police's All-Female VIP Protection Squad
There's a Special Team of Women Who Protect Dubai's Very Important People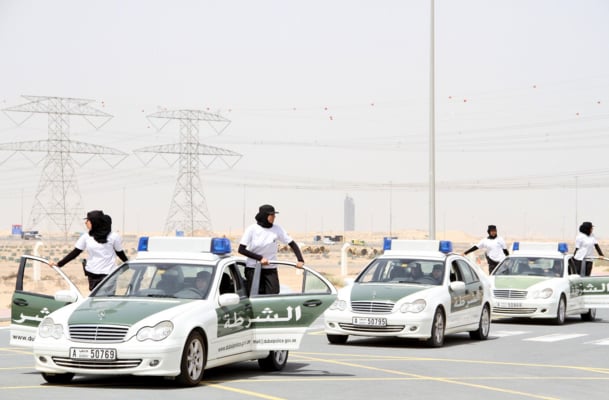 We told you about the all-girl squad of Dubai Police officers patrolling the streets of the Emirate back in March- and there's plenty more where that came from.
There's as seriously cool team of ladies who have revealed they're putting their lives at stake to protect visiting VIPs at big events in the UAE.
The women - belonging to the Security Management and VIP Protection Agency, which is part of Dubai Police - have carefully guarded 500+ people on more than 1,000 occasions.
Using a combination of technology and other training, the team of 15 motorbike riders, are well equipped to put a stop to any risk of a threat.
"Our officers undergo a rigorous training on a par with international standards. We use modern technology to provide simulation training which helps them be ready for any potential situation which puts a person's or event's security at risk," Brigadier Abdullah Al Gaithi, director of the Department of Administration and Emergency Security, said.
The elite squad get exactly the same treatment as men in similar roles and preparation for the job includes fighting, shooting, and driving different motors until they are ready to get out there.
Potential situations could be a VIP being held hostage, kidnapped, or caught up in a raid; the women are even taught how to jump out of a moving vehicle.
"The women in our department are on a par with the men as far as their professionalism and training is concerned," Lieutenant Colonel Obaid Bin Mubarak Yarouf, director of Security Management and VIP Protection Agency added. "Our women officers undergo rigorous fighting and shooting training to prepare them for any potential circumstances. They are also qualified to drive cars and motorbikes and can guard VIP personnel as well as any other male officer in our department. In fact, they get the position only after they've excelled in the training."
They're not the only group of females doing a job like this in the GCC. Qatar has its own squad of officers, who have trained with ladies in the US Armed Forces, to get into shape for the role.
Talk about exceeding expectations!
Image Source: Twitter user dubaipolicehq