Minnie Driver on Matt Damon Sexual Harassment Quotes
Minnie Driver Explains Why She Slammed Matt Damon's Disparaging Comments on Sexual Misconduct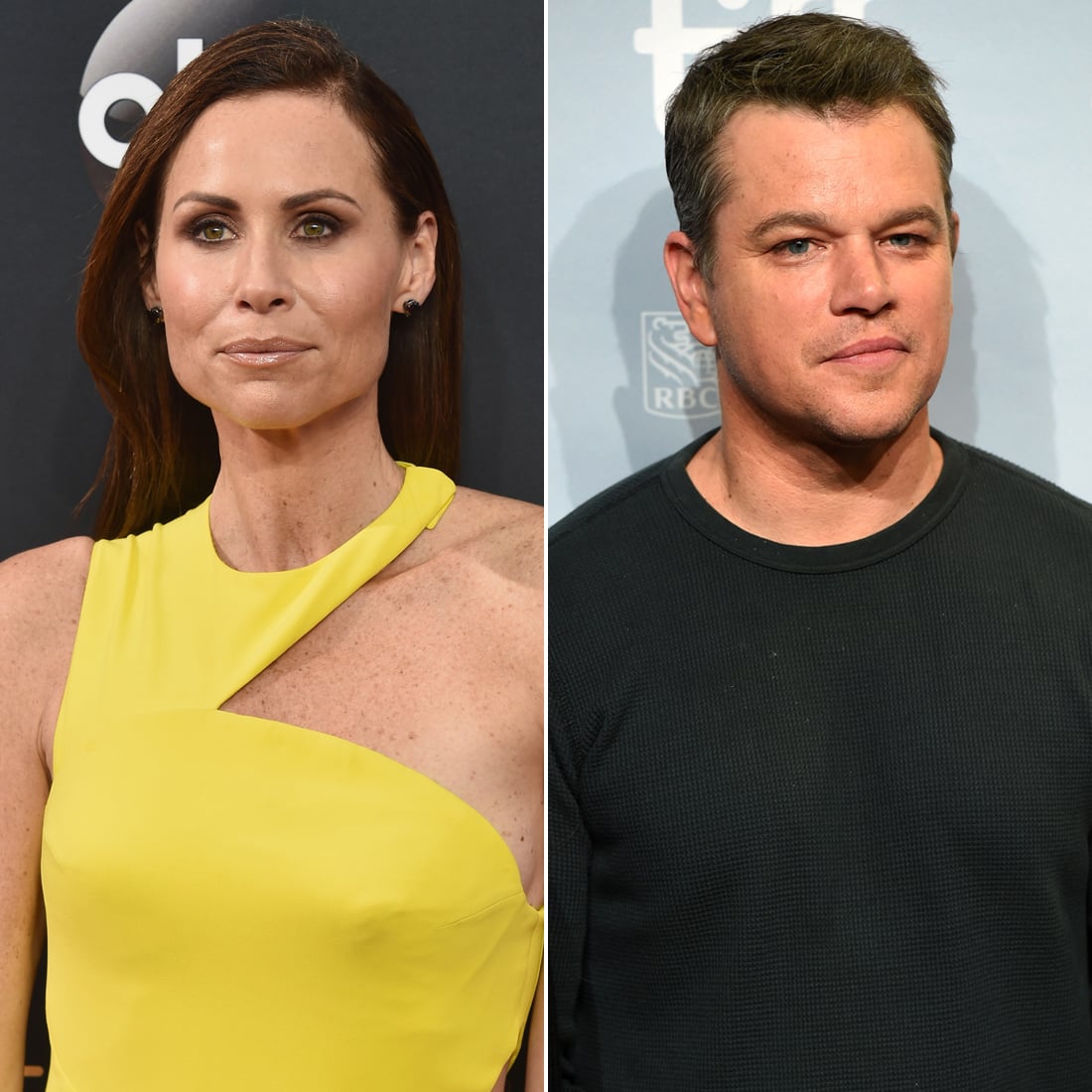 Matt Damon is the latest male star to offer his two cents on the recent spate of sexual misconduct allegations in Hollywood, and his disparaging comments were met with lots of eye-rolls — as well as a rebuke from his former girlfriend and costar Minnie Driver.
In a recent interview with ABC News, Matt was asked about the allegations of sexual assault and harassment against movie mogul Harvey Weinstein — whose former company, Miramax, produced many of Matt's movies — and comedian Louis C.K.; he told Peter Travers that those accused are being put into "one big bucket" and that there's a "spectrum of behavior" when it comes to sexual misconduct. "There's a difference between, you know, patting someone on the butt and rape or child molestation, right?" he said. "Both of those behaviors need to be confronted and eradicated without question, but they shouldn't be conflated, right?"
Matt also went on to defend Louis C.K., who admitted to masturbating in front of female coworkers without their permission, saying, "That's the sign of somebody who — well, we can work with that. I don't know Louis C.K. I've never met him. I'm a fan of his, but I don't imagine he's going to do those things again. You know what I mean? I imagine the price that he's paid at this point is so beyond anything."
"I honestly think that until we get on the same page, you can't tell a woman about their abuse. A man cannot do that. No one can."
The cringeworthy, completely off-base comments were met with backlash on social media, with Minnie tweeting, "God God, SERIOUSLY?" adding, "There are so many men I love who do NOT frame the differentiation between sexual misconduct assault and rape as an excuse or worse — our problem. Such bollocks." On Sunday, Minnie followed up on her comments in an interview with The Guardian. "I felt I desperately needed to say something. I've realized that most men, good men, the men that I love, there is a cut-off in their ability to understand. They simply cannot understand what abuse is like on a daily level." She went on: "I honestly think that until we get on the same page, you can't tell a woman about their abuse. A man cannot do that. No one can. It is so individual and so personal, it's galling when a powerful man steps up and starts dictating the terms, whether he intends it or not."
Minnie and Matt began dating in 1996 while working together on the Oscar-winning film Good Will Hunting. Their relationship came to an end in a shady way about a year later, as Matt made an appearance on Oprah and denied having a girlfriend. Both he and BFF Ben Affleck have come forward to condemn Harvey Weinstein's actions and claim that they did not know the extent of his behavior towards women.
Image Source: Getty / Alberto E. Rodriguez / Kevin Winter