Mohammed bin Salman in Most Admired Man in Saudi Arabia List
Mohammed bin Salman Is 1 of the Most Admired Men in Saudi Arabia ... Now See Who Topped the Women's List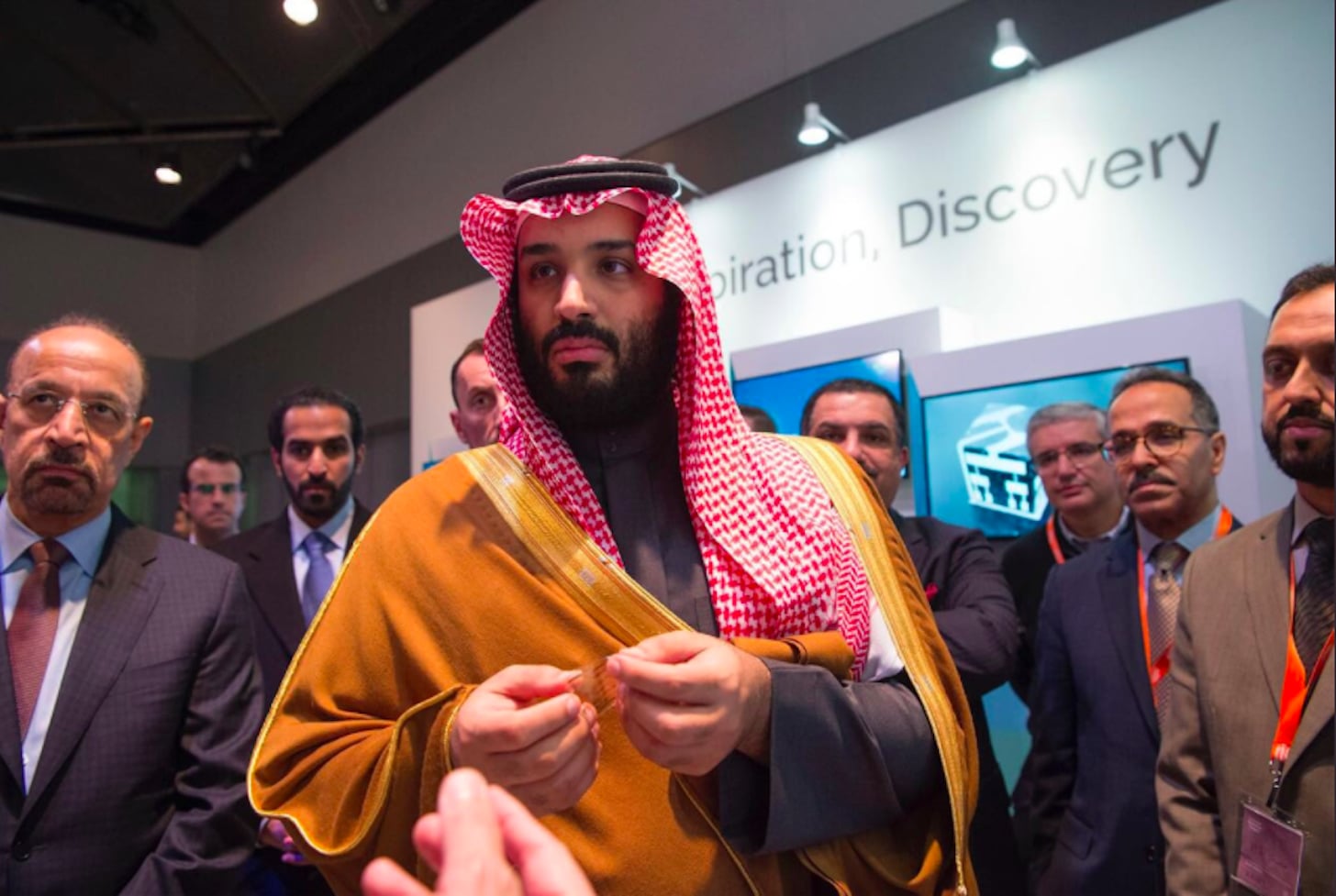 Saudi Arabia's Crown Prince, Mohammed bin Salman is one of the most admired men in the Kingdom, and is it any wonder? The man has been shaking up the country, particularly focused on giving women a voice and youth positive exposure to the world so that they can compete on a global level with their peers.
His no.3 ranking is from a yearly YouGov study (which has two separate categories for males and females) and this year, the opinion of 37,000 people in 35 countries made up the results.
The King of Saudi, Salman bin Abdulaziz Al Saud, got the admiration vote of 14.2 percent, while Ahmad Al Shugairi, Saudi activist and media figure, came in at a close second with 13.1 percent of the votes. The Crown Prince came in third with 10.8 percent. Not everyone on the list was a Saudi national though.
Famed Egyptian footballer, Mohamed Salah (5.9 percent) came in fifth while David Beckham came in fourteenth place (1.7 percent). Aside from political leaders and international sports figures, the list includes a variety of people in different fields including; actors, doctors, religious figures (none of which were local, interestingly enough).
The women's category is, however, surprising. The most admired woman in Saudi Arabia, apparently, is Angelina Jolie, with 15.7 percent of the vote. Incidentally, she also came first in the 2018 world's most admired people list. We're not quite convinced if the spot was won strictly for her activism and involvement with the UN – although she is definitely a lot more than just a pretty face and a good actress. Our fave Arab queen and one of the most stylish women in the world, Queen Rania, came second, with 10.6 percent of the vote. Now, that's something we can totally get behind.
No list is complete without the Queen of daytime television … do we even need to say her name? Queen O won our hearts and the hearts of 8.1 percent of Saudi voters. Again, the list is varied, with singers, actresses and politicians: Nancy Ajram came in 5th with 5.4 percent, Emma Watson 11th place with 2 percent, Angela Merkel in 7th place with 4.5 percent, and Indian actress Deepika Padukone, 13th with 1.9 percent, among others.
The survey asked two questions: "Who do you truly admire?" in which voters could make multiple selections, followed by "Who do you most admire?" for which they picked one person.
We have to say we're really proud of Saudis for picking some powerful, intellectual and worthy figures on their lists of those they admire most. It gives us hope for the future. Check out who ranked high in the UAE and see other places in MENA, below:
Saudi Arabia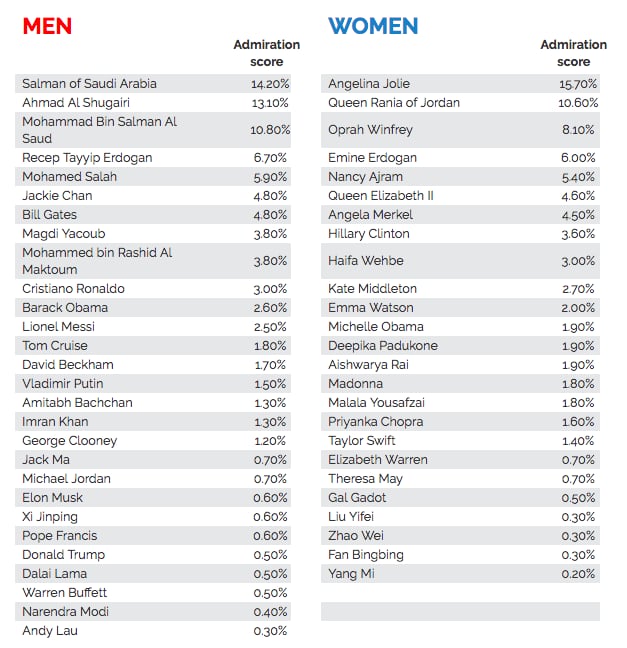 Morocco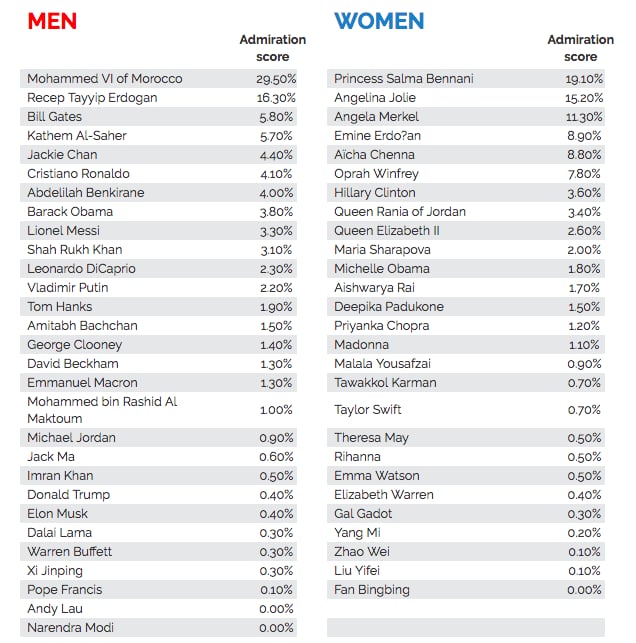 Egypt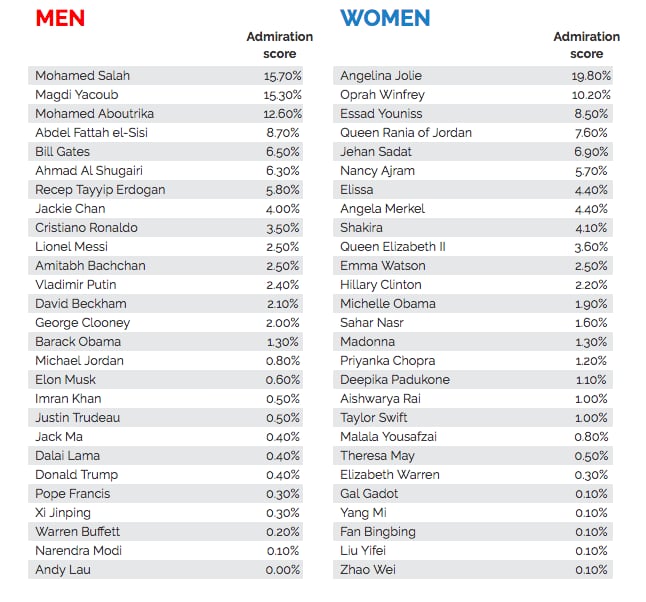 Image Source: Twitter user saudiembassyusa