Natalie Portman Thor Love and Thunder God of Thunder
Natalie Portman Is Coming Back to the Marvel Universe and, Her Role is Going to be Major
We have some great news for all of the Marvel fans out there! Oscar winner Natalie Portman is coming back to the Marvel Universe in the biggest way: as the first onscreen female Thor! That's right, the 38-year-old will be taking on the role of the goddess of thunder in the upcoming sequel, Thor: Love and Thunder.
The news was announced by Marvel President Kevin Feige at the San Diego Comic Con festival. He also stated that the film, which is set to hit our big screen in November, 2021, will be directed by Taika Waititi (the director of Thor: Ragnarok), and that it will star Chris Hemsworth, Tessa Thompson, and of course Natalie Portman.
After the exciting news, the Black Swan actress took to the stage to reveal that she "had always had hammer envy". She was then handed Thor's infamous hammer.
We're super excited to see Natalie return to the much loved franchise. The mum of two starred in both the first and second installment of the multi-million dollar film series but has been missing in action since Thor: The Dark World ⁠— not counting her brief cameo in Avengers: Endgame, that is. During an interview in 2016, the Closer actress went as far as to say: "As far as I know, I'm done." We are so glad that this isn't the case.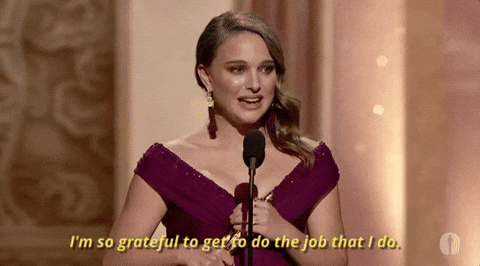 Natalie and Co will be returning to our big screen on Nov. 5, 2021. Until then, we'll be watching every film that the Harvard grad has ever starred in.