Pope Francis Meeting Donald Trump Meme
Pope Francis Met Trump, and He Looks Pretty Damn Unhappy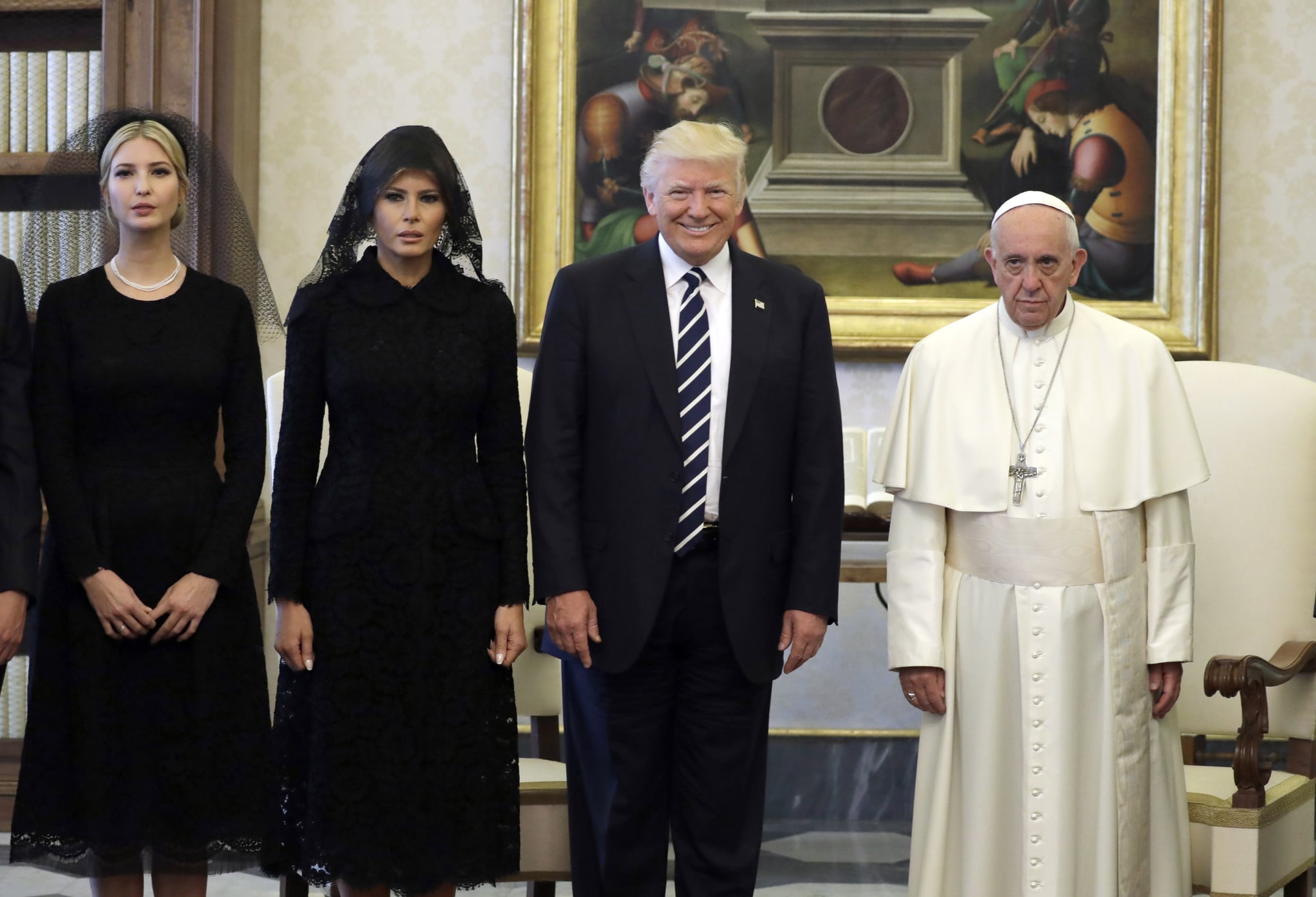 Image Source: EVAN VUCCI/AFP/Getty Images
President Donald Trump, who once compared himself to Pope Francis, finally met the leader of the Catholic Church on May 24. Their meeting was short, lasting only 30 minutes, and it looks like Pope Francis had quite possibly the worst time of his life — at least based on the look on his face in a photo. The internet quickly noticed and turned it into a meme.
While Trump called the meeting "fantastic," many online spectators have assumed the pope felt otherwise, since he's not smiling in the photo above. And in case you're thinking this was simply a bad photo, a video of their meeting also shows the pope not looking too happy.
That face expression from the pope says everything ​@POTUS @Pontifex #Trump #PopeFrancis pic.twitter.com/CRPzX1s69k

— Antonio Šećerović (@antsecerovic) May 24, 2017
The internet tried to understand what was going on in the pope's mind.
*record scratch*

*freeze frame*

POPE: Yep that's me. You're probably wondering how I ended up in this situation. pic.twitter.com/7RB3z2ByKL

— Benjy Sarlin (@BenjySarlin) May 24, 2017
Trump and Pope leaving room for the Holy Spirit pic.twitter.com/L66UtFChEw

— Bill Corbett (@BillCorbett) May 24, 2017
pope francis sweetie im so sorry pic.twitter.com/al5n8uk7gU

— shine (@Iubesirhc) May 24, 2017
tag yourself I'm The Pope pic.twitter.com/82YsXNLU2I

— merida (@hadelry) May 24, 2017
Pope Francis: "I'm just here so I won't get fined." pic.twitter.com/OUSoz3WDlR

— Gabe Ortíz (@TUSK81) May 24, 2017
Others made fun of everyone else's faces.
They're creepy and they're kooky
Mysterious and spooky
They're altogether loony
The Trump Family#pope francis pic.twitter.com/1zQA7o3uIC

— Outback Camel (@aussiecamel9745) May 24, 2017
Some understood why Trump's smile was so large.
How Trump will remember this photo. #PopeTrump #Vatican pic.twitter.com/xDYG9TKgMj

— Gareth (@GMLmusic) May 24, 2017
[that feeling when you've just been given an 2016 electoral college map but didn't ask for one] pic.twitter.com/1O2R8eWynD

— Kyle Griffin (@kylegriffin1) May 24, 2017
Former White House photographer Pete Souza also noticed how unhappy the pope looked and shared a photo of him in happier times.
The pope hasn't always been a fan of Trump, as he previously critiqued his plan to build a wall in February 2016. "A person who thinks only about building walls, wherever they may be, and not building bridges, is not Christian," Pope Francis said.