Prince William and Prince Harry Quotes Princess Diana
13 Sweet, Heartbreaking Things William and Harry Have Said About Princess Diana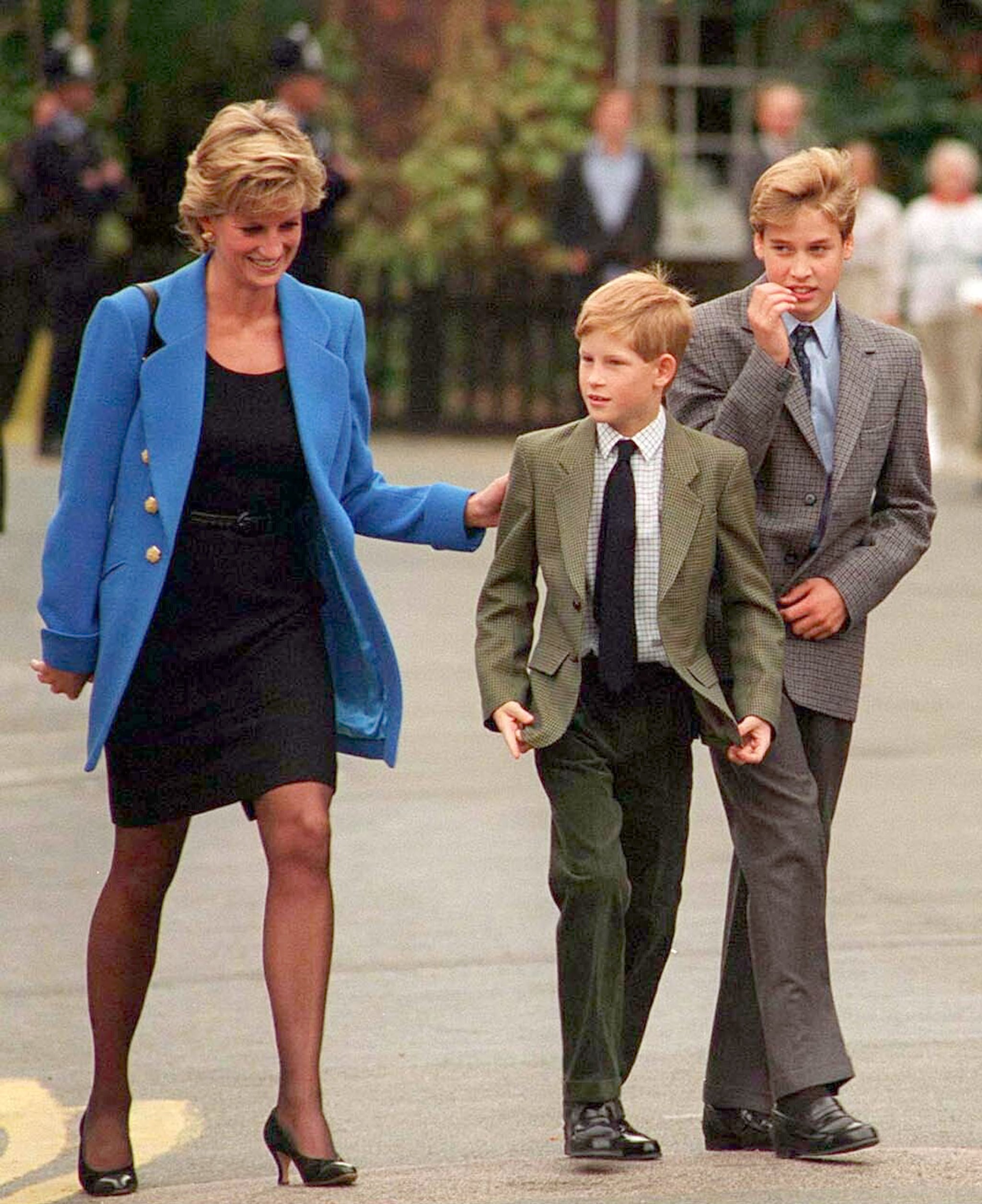 Princess Diana and Harry with William on his first day at Eton in September 1995.
It's been nearly 20 years since Princess Diana's tragic death, and the anniversary has brought a renewed interest in her extraordinary (and sometimes scandalous) life as a royal. When Diana passed away in a car accident in August 1997, she left behind her two sons, William and Harry, who were 15 and 12, respectively, at the time. The princes have begun opening up about their mother's death in recent years and have admitted that it took time for them to feel comfortable talking about the huge loss. William told a young boy at a charity event that he was "very angry" about Diana's death and "found it very difficult to talk about."
In addition to speaking about their mother in interviews, William and Harry have taken on a number of her charities and both consider her legacy as one of the driving forces behind their philanthropic efforts. Recently, William bonded with young children who have lost their own parents, telling a little girl, "I lost my mummy when I was young, too. It's very important to talk about it." He and Harry are also erecting a memorial statue in the public gardens of Kensington Palace this year to commemorate her death and her positive impact in the UK and around the world. See more of the sweet, heartbreaking things that Harry and William have said about their late mum.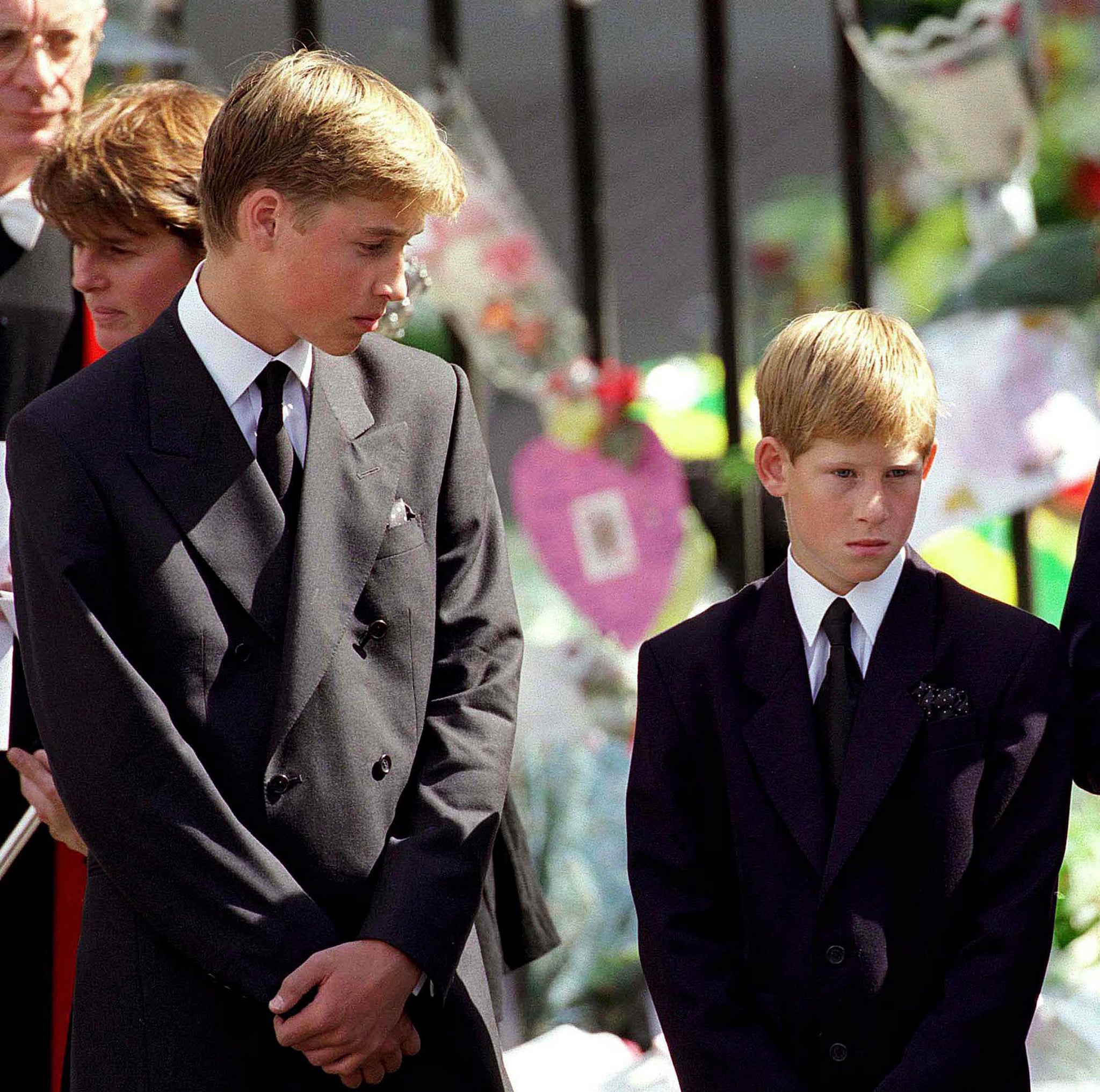 William and Harry at their mother's funeral in September 1997.
Prince William
"Time makes it easier. I still miss my mother every day — and it's 20 years after she died."
"Twenty-one years ago, my mother attended the launch of the Child Bereavement charity. Fifteen years later, I was honored to be invited to become patron of Child Bereavement UK to continue my mother's commitment to a charity which is very dear to me. What my mother recognized back then, and what I understand now, is that grief is the most painful experience that any child or parent can endure."
"I never realized quite how much of an impact she had. I applaud her for all her dedication and drive, and I think the infectious enthusiasm and all the energy she had really rubbed off on me for causes such as [AIDS research in Africa]."
"Initially, there is a sense of profound shock and disbelief that this could ever happen to you. Real grief often does not hit home until much later. For many it is a grief never entirely lost. Life is altered as you know it, and not a day goes past without you thinking about the one you have lost. I know that over time it is possible to learn to live with what has happened and, with the passing of years, to retain or rediscover cherished memories."
"Losing a close family member is one of the hardest experiences that anyone can ever endure. Never being able to say the word 'Mummy' again in your life sounds like a small thing. I too have felt — and still feel — the emptiness on such a day as Mother's Day."
Prince Harry
"I never really dealt with what had actually happened. So there was a lot of buried emotion, and I still didn't even want to think about it."
"I really regret not talking about it. It is OK to suffer, but as long as you talk about it. It is not a weakness. Weakness is having a problem and not recognizing it and not solving that problem."
"It's a huge shame she's not here. But I hope she'd be incredibly proud of what we managed to achieve."
"I first came [to Africa] in 1997, straight after my mum died. My dad told my brother and me to pack our bags — we were going to Africa to get away from it all."
"We will do everything we can to make sure she's never forgotten, and carry on all of the special gifts and such that she had and that she portrayed when she was alive. I hope that a lot of my mother's talents are shown in the work that I do."
"I hope she's looking down [at our family] with tears in her eyes being incredibly proud of what we've established. I'm sure she's longing for me to have kids so she can be a grandmother again . . . but I hope that everything we do privately and officially, that it makes her proud."
"Losing your mother at such a young age does end up shaping your life massively, of course it does. And now I find myself trying to be there and give advice to other people who are in similar positions."
"Every day, depending on what I'm doing, I wonder what it would be like if she was here, and what she would say, and how she would be making everybody else laugh. Who knows what the situation would be, what the world would be like, if she were still around."