Prince William Talks About Being an Air Ambulance Pilot 2016
Prince William Opened Up About the "Sad, Dark" Realities of Being an Air Ambulance Pilot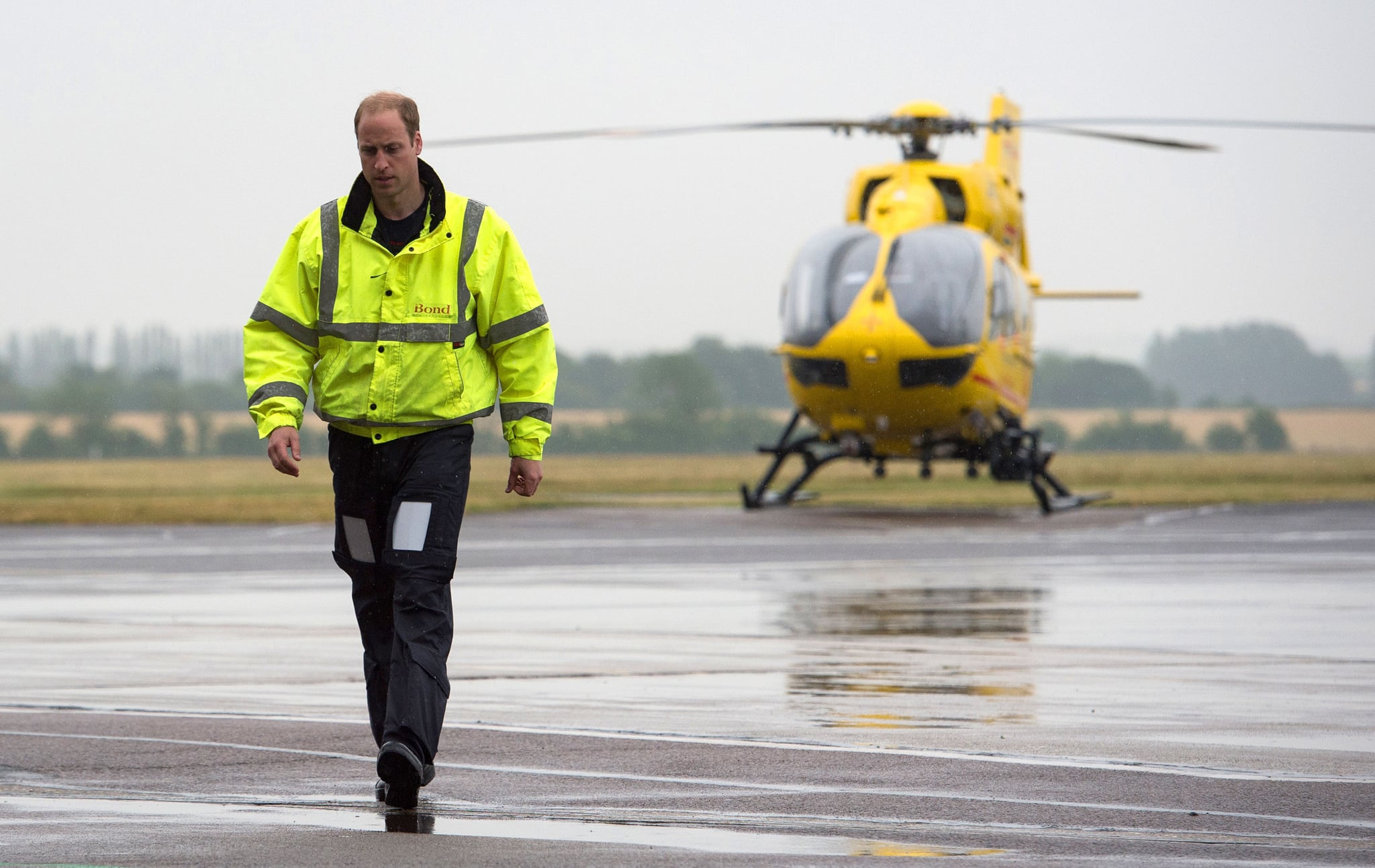 It might seem like Prince William's life is all fun and games, but it's important to remember that in between his charming outings with wife Kate Middleton and his adorable moments with Prince George and Princess Charlotte, he has a very serious, sometimes dangerous career as an air ambulance pilot. In a new BBC film celebrating National Air Ambulance Week in the UK, William opened up about the realities of his job, and how he and his coworkers get through it. "If you share the same, in some cases, sad incidents, then you can get over it together by being able to talk about it in the future. Being a close team you come away with a collective way of dealing with it together and it helps you move on to whatever you've got to do next," he said. "There are some very sad, dark moments and we talk about it a lot. But it's hard. You try not to take it away with you but it can be quite difficult."
William, who has been quite busy visiting a number of different charities lately, said that part of what keeps him going is the bond he has with his fellow pilots at the East Anglian Air Ambulance, who have now become his close friends. He joked around with a few of them in the BBC video, revealing more of his lighthearted nature than ever. "Within literally an hour of being with me, it's fairly obvious you can go quite far with me and I can take most things and I'm happy to give most things," he said. "When I first got here, it was very polite. It's now got a lot worse as they've gotten to know me and their inhibitions have gone. I've gotten worse nicknames, as I've gone up the ladder." The prince has been a part of the EAAA, based in Cambridge, since 2015, and even brought Queen Elizabeth II and Prince Philip to tour the air base in July.
Although he still very much maintains his duties as a member of the royal family, his two roles obviously could not be more different. "I look forward to coming here every day whether it is at 5:30, or going to bed at 2:00 in the morning," he added. "The shift work is exciting and it's challenging for its variety and the fact that I love working in a team. That's something that my other job doesn't necessarily do. You are more out there on your own a little bit but I very much enjoy working with [the team] and it's good fun."