Queen Elizabeth II and Prince Philip Marriage Facts
Surprising Things You Didn't Know About Queen Elizabeth II and Prince Philip's Royal Relationship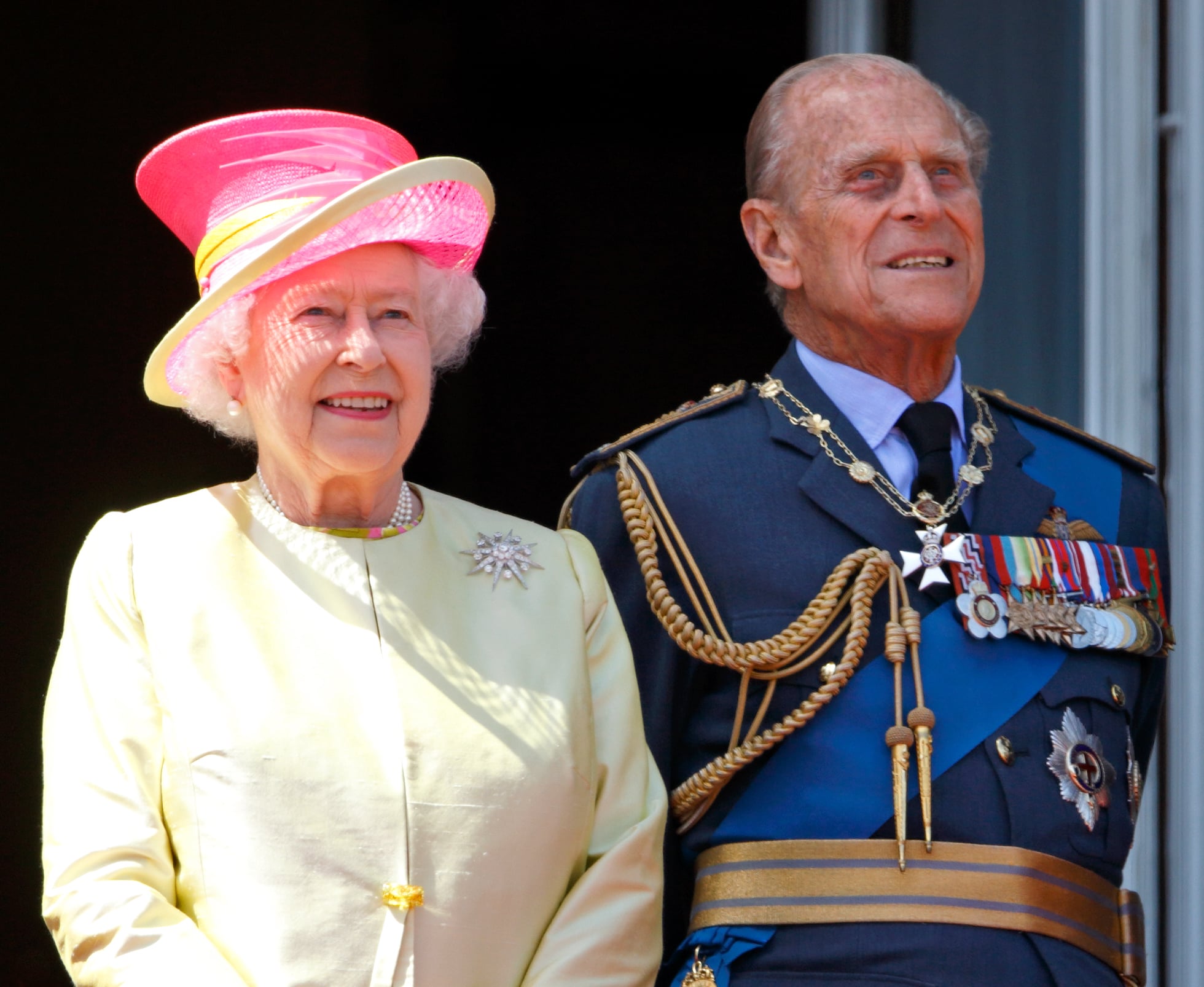 Queen Elizabeth II and Prince Philip on the balcony of Buckingham Palace in July 2015. Image Source: Getty / Max Mumby
Queen Elizabeth II and Prince Philip will be celebrating their 70th wedding anniversary this year, which is a pretty amazing feat regardless of the fact that they're royalty. Whether you think you know a lot about couple or are hankering for more details about their decades-long marriage, we've got a handful of facts about the royal couple that might surprise you.
For starters, they're related. That's right: Queen Elizabeth II and Prince Philip are actually second cousins once removed through King Christian IX of Denmark, and third cousins through their great great grandmother, Queen Victoria. Interestingly enough, Victoria married her first cousin, Prince Albert of Saxe-Coburg and Gotha, in 1840.
They met when Elizabeth was just a little girl. The future couple was first introduced in 1934, at the wedding of Philip's cousin, Princess Marina of Greece and Denmark, to Prince George, Duke of Kent (Elizabeth's uncle). At the time, she was just eight years old. They saw each other again three years later, but it was during a meeting at the Royal Naval College in Dartmouth in July 1939 — Elizabeth was 13 and Philip was 18 — that they fell in love and began to exchange letters.
Elizabeth's dad gave his blessing for their marriage (on one condition). Philip asked King George VI for his daughter's hand in marriage in 1946, and the king granted his permission under the condition that a formal engagement was delayed until Elizabeth turned 21 the following April; both he and his wife, Queen Elizabeth, felt that their daughter was "too young," and were disappointed that she wanted to marry the first man she met.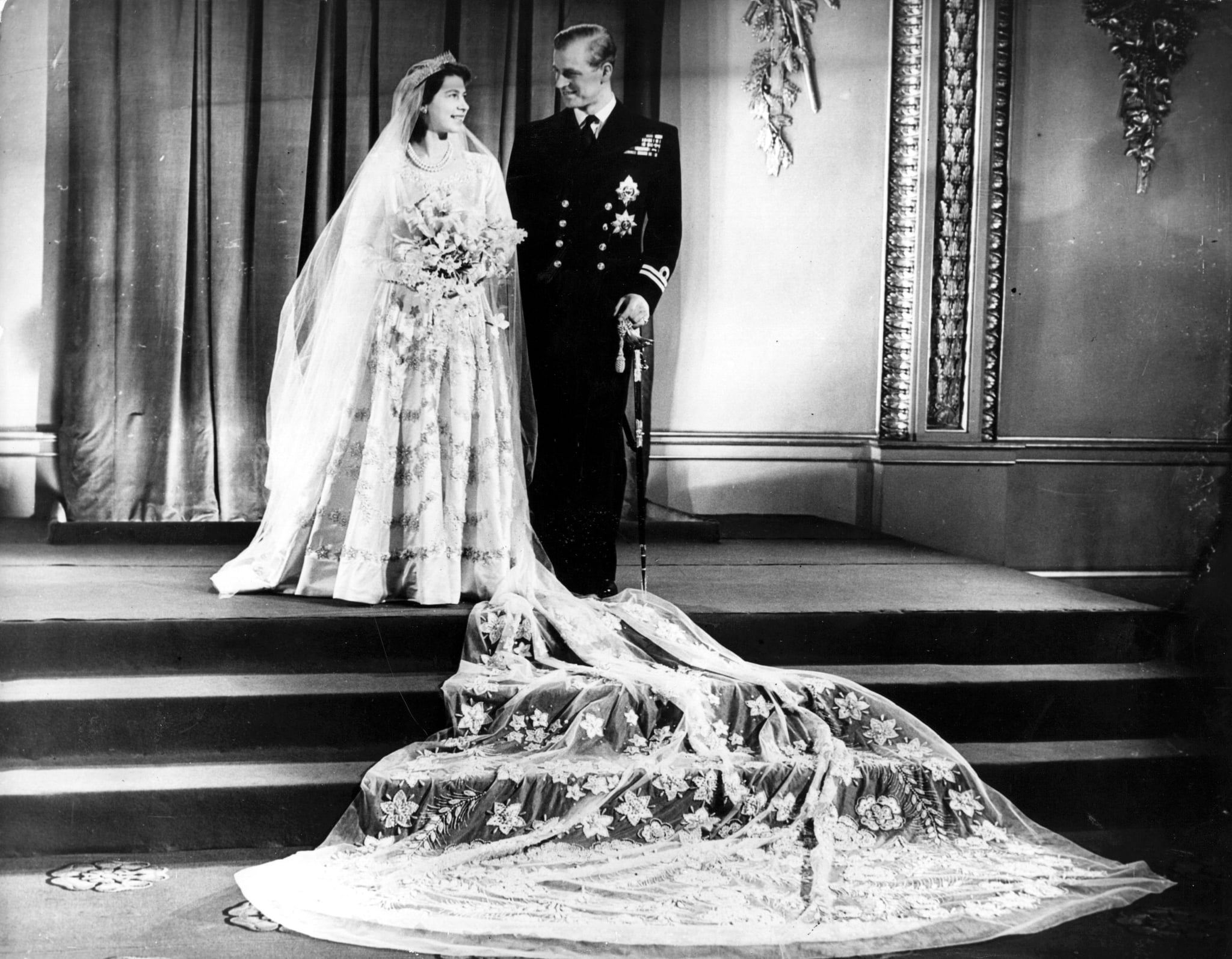 Queen Elizabeth II and Prince Philip on their wedding day in November 1947. Image Source: Getty / Hulton Archive
Their betrothal came with a bit of controversy. Philip and Elizabeth's engagement was officially announced in July 1947. The British public largely dismissed him as "a German" and the Queen Mother reportedly referred to him as "the Hun." Many of the king's advisors "did not think him good enough" for Elizabeth; he was foreign-born, didn't have money, and his three sisters all married German princes (some with Nazi ties).
Philip abandoned his royal titles before marrying Elizabeth. Born Prince Philip of Greece and Denmark, Philip renounced those titles in 1957 in an attempt to gain favorable media coverage and blend a bit more seamlessly into his fiancée's family. He took on the style of Lieutenant Philip Mountbatten, adopting the surname of his mother's British family. He also converted from Greek Orthodoxy to Anglicanism.
Some of their family members were not allowed at the wedding. Prince Philip and Queen Elizabeth II tied the knot at Westminster Abbey on November 20, 1947. Being that it was just two years after World War II ended, it was not cool for Philip's German family members (including his sisters) to be invited to the wedding. Also not invited was Elizabeth's uncle, the former King Edward VIII, who abdicated the throne in December 1936.
Elizabeth originally took her husband's name. On the morning of their wedding, Philip was made the Duke of Edinburgh. Upon tying the knot, Elizabeth took Philip's title and became Princess Elizabeth, Duchess of Edinburgh.
They started a family pretty quickly. Elizabeth gave birth to the couple's first child, Prince Charles on November 14, 1948, almost a year to the day of their wedding. Their welcomed a daughter, Princess Anne, two years later.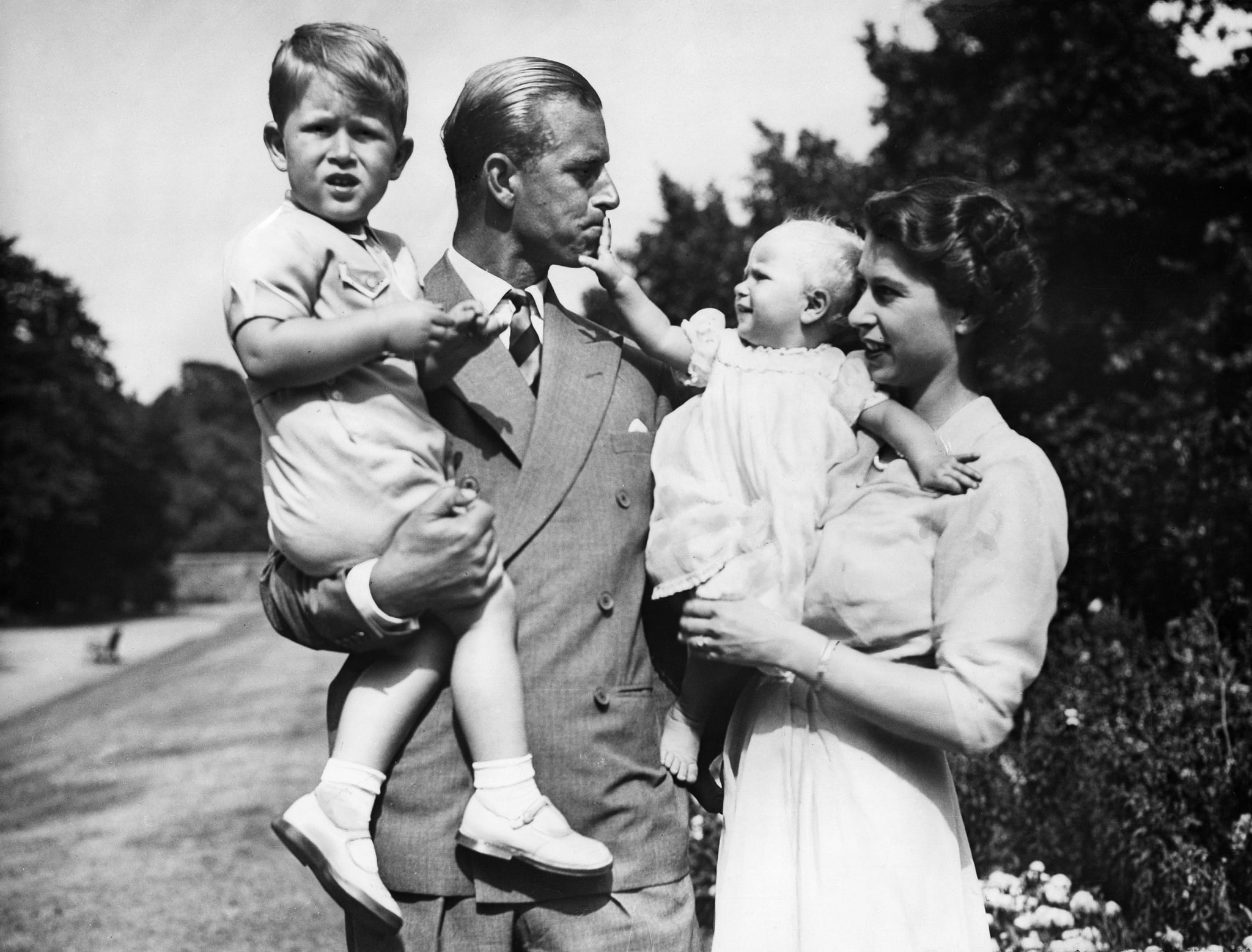 Prince Philip and Queen Elizabeth II with their children, Prince Charles and Princess Anne, in July 1951. Image Source: Getty / Ullstein Bild
They didn't always live with their kids. Between 1949 and 1951, Philip was stationed in Malta while serving as a Royal Navy officer. He and Elizabeth lived at Villa Guardamangia, the rented home of his uncle Lord Mountbatten, for several months at a time. Their two young children, Prince Charles and Princess Anne, stayed in Britain.
Philip was the bearer of bad news upon King George VI's death. When Elizabeth's father passed away after a long illness in 1952, she and Philip had just embarked on a royal tour of Australia and New Zealand with a stop in Kenya. They were at their Kenyan home, Sagana Lodge, when the news of George's death reached them. It was Philip who told Elizabeth that her father had died — and that she was now queen.
Philip didn't deal well with Elizabeth's rise to power. After King George's death, Philip gave up his career as a naval officer to support his wife's new royal duties and was known to butt heads with the Buckingham Palace staff. There were arguments about whether or not Elizabeth would keep his surname after she took the throne, but both the British Prime Minister Winston Churchill and Elizabeth's grandmother, Queen Mary, voted in favor to keep the family name as House of Windsor (rather than House of Mountbatten). This was also likely due to the fact that in the days after George's death, Philip's uncle, Louis "Dickie" Mountbatten, was overheard triumphantly declaring that "the House of Mountbatten now reigned," which understandably angered Queen Mary.

In April 1952, the Queen Mother issued a declaration that Windsor would continue to be the royal name. Philip, meanwhile, was pissed: he privately complained of being "nothing but a bloody amoeba," and railed against being "the only man in the country not allowed to give his name to his own children." But after both Queen Mary's death in 1953 and Churchill's resignation in 1955, the Queen Mother reversed the decision, aware of both Philip's frustration and the impending birth of their second son. In 1960, she issued an Order of Council stating that Elizabeth and Philip had adopted the surname Mountbatten-Windsor for their male-line descendants, saying, "The Queen has had this in mind for a long time and it is close to her heart." Their baby boy, Prince Andrew, was born just a week later. Today, it acts as a sort of optional last name for those in the family.