Queen Rania Meets Melania Trump in Washington D.C.
Queen Rania Met Melania Trump and Things Became Fashionably Interesting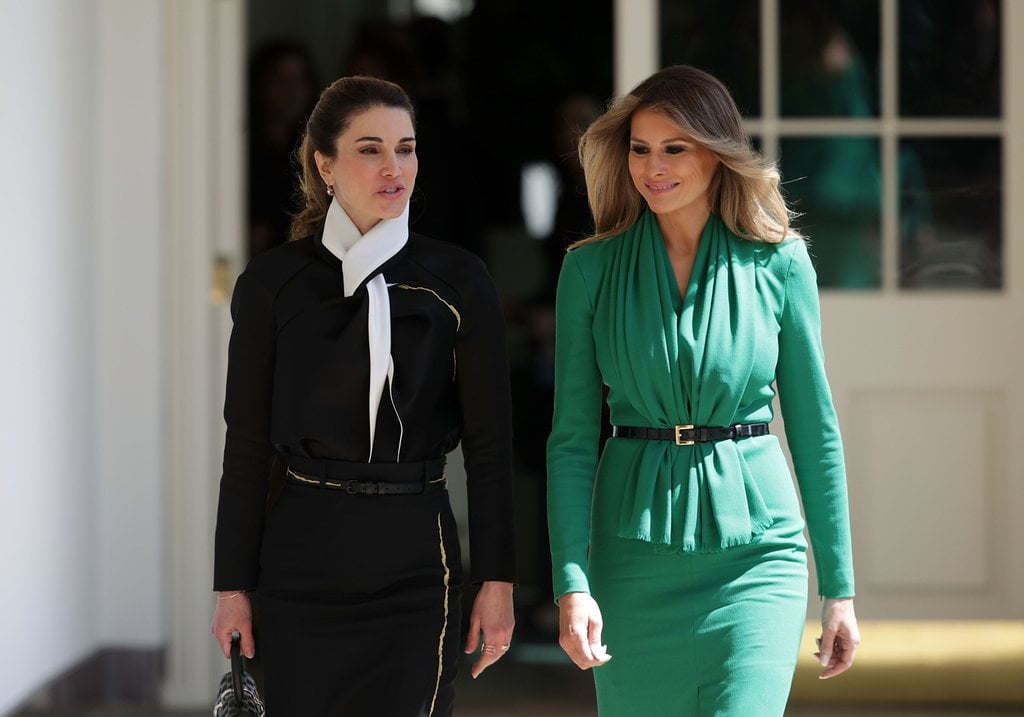 You've to give credit where credit is due for standing beside one of the most elegantly stylish royals is surely no easy feat. But props to first lady Melania Trump for not only holding her own but also managing to turn heads when meeting with Queen Rania of Jordan.
The Trumps greeted the Queen and her husband, King Abdullah II at the White House in Washington D.C. — the second time since the President's inauguration in January this year.
In a form-fitting emerald dress by Hervé Pierre, Melania's streamlined look mirrored that of Queen Rania's structured all-black Haider Ackermann ensemble with a white contrasting collar. Both completed their looks with sky-high stilettos and an air of power and elegance.
MORE PICS: Queen Rania and First Lady Melania Trump. pic.twitter.com/xFF0VhGzuU

— TRUMP 24/7 (@MichaelDelauzon) April 6, 2017
According to Queen Rania's Instagram, the Queen and the First Lady toured the Excel Academy Public Charter School — an all-girls institute to establish a narrative on gender equality, the empowerment of women, and to prepare young girls to succeed in a global community.
This definitely doesn't come as a surprise since the Jordanian Queen is a well-known education activist. The First Lady, however, seemed to draw inspiration and follow in the Queen's footsteps.
"Education is critical to our efforts to shine a light on the topic of gender equality and empowerment of women," the first lady said, according to the New York Times.
Image Source: Getty / Alex Wong